printer friendly version
Support for new space telescope
1st Quarter 2019 Editor's Choice Pneumatic systems & components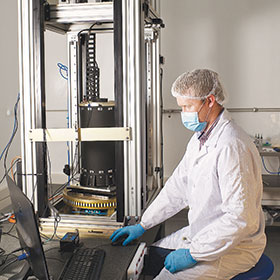 A new space telescope, for launch into low Earth orbit as part of an electro-optical payload for a satellite, was recently designed and assembled by Simera in Somerset West. To execute the ultra-precise specifications required for the Simera SX1 Imager's optical calibration, the company contracted Tectra Automation to design and supply a purpose-built assembly tower to integrate and align the telescope lenses.
Requiring a sturdy, highly stable design to mitigate the effects of external vibrations when installing and aligning the lenses, the tower structure was built using the Bosch Rexroth range of heavy duty modular aluminium profiles and accessories. Inside the tower, a vertically translating carriage mechanism was designed to assist with the alignment of optical elements.
To achieve absolute control and smooth guidance of this mechanism, Tectra Automation used Bosch Rexroth ball rail system linear guides with pneumatic brakes for maximum rigidity. Four counterbalances positioned at each of the four corners of the carriage were used to maintain optimum positioning control for the 30 kilogram telescope in the assembly process. The pneumatic brakes were controlled by an Aventics panel whilst a linear scale with digital readout provided an accurate indication of the position of the carriage. The tower was mounted on a solid granite table suspended on vibration isolators to isolate the structure from any possible external vibrations.
"The design and construction of the optical tower provided the highly accurate and smooth vertically translating carriage Simera required to ensure optimum calibration of the telescope lenses," said Simera mechanical engineer, Rosca de Waal.
For more information contact Kevin Lombard, Tectra Automation, +27 11 971 9400, kevin.lombard@tectra.co.za, www.hytecgroup.co.za
Credit(s)
Further reading:
A very smart material
Second Quarter 2021 , Editor's Choice, Electrical switching & drive systems & components
Shape memory materials (SMMs) are strong, lightweight materials that have the ability to recover their original shape after being deformed if a stimulus is applied. They can be programmed to remember 
...
Read more...
---
Tectra Automation contracted for PG Bison's MFB press upgrade
Second Quarter 2021, Tectra Automation , Pneumatic systems & components
Tectra Automation has provided all the pneumatic and vacuum equipment required for the installation and commissioning of PG Bison's sixth melamine-faced board (MFB) press. The press, which came online 
...
Read more...
---
The benefits of collaborative robots
Second Quarter 2021, SMC Corporation South Africa , Editor's Choice, Robotics & Mechatronics
While robotics led the way for the rapid growth of automation, cobots are the democratisation of robotics technology. They eliminate the cost and complex programming that robots usually require while providing much greater flexibility.
Read more...
---
Fast, safe transport on the factory floor
Second Quarter 2021, Omron Electronics , Editor's Choice
The Philips site in Klagenfurt produces over 23 million linear cutting elements for hair and beard trimmers each year. These beard trimmers use lift-and-trim technology: the beard hair is first lifted 
...
Read more...
---
SKF bearings help Mars Rover collect rock
Second Quarter 2021, SKF South Africa , Editor's Choice, Shaft power components
Enabling the Mars Rover's core operations in the harsh environment on Mars are Kaydon RealiSlim thin-section ball bearings, designed and manufactured by SKF at the company's global thin-section bearing 
...
Read more...
---
Hacking for a difference
Second Quarter 2021, RS Components SA , Editor's Choice, News & events
The annual Geekulcha Hackathon recently saw more than 100 coders, developers and programmers challenge each other in an online contest.The event has become a highlight in the African developer world. 
...
Read more...
---
Energy efficiency in the chemical industry
Second Quarter 2021, Danfoss , Editor's Choice
Danfoss has widespread experience and expertise in refrigeration and in controlling the speed of AC motors in all main chemicals sectors: petrochemicals, basic inorganics, polymers, specialty and 
...
Read more...
---
Mars helicopter makes history
Second Quarter 2021, DNH Tradeserve , Editor's Choice
This is the first time in the history of powered, unmanned spaceflight that a device has flown in a controlled manner on another planet – with the help of DC motors from maxon motor. The helicopter flew 
...
Read more...
---
Land Cruiser wet brakes for mining
First Quarter 2021, Axiom Hydraulics , Editor's Choice, Hydraulic systems & components
Unfortunately, the vehicle's OEM brakes are not built for mining; they compromise safety while suffering frequent and expensive maintenance. Simply put, the brakes were never designed for use in the highly 
...
Read more...
---
Automated cake cutting
First Quarter 2021, Tectra Automation , Electrical switching & drive systems & components
Tectra Automation has engineered a unique automated cake cutting system for Brenell Quality Desserts in Pietermaritzburg. The company was looking for an automated solution that would be more productive, 
...
Read more...
---