printer friendly version
Conveyor belt skirting system
1st Quarter 2019
Other technologies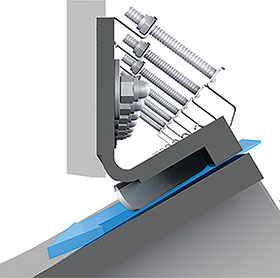 New to the range of bulk handling systems from BLT World is the contact-free AirScrape conveyor belt skirting system, which significantly reduces material spill, dust formation and explosion hazards at transfer points and other critical sections in the conveyor chain. Because this system hovers freely above the conveyor belt, skirt friction and belt damage is eliminated and service life is extended.
"The AirScrape system operates according to a new principle where it hovers at 1 to 2 mm on the left and right side above the conveyor belt. These blades deflect larger particles inwards, while using the air flow of the conveyor belt and conveyed material to create an inward suction, flowing any dust and fine particles back into the product flow," explains managing director, Ken Mouritzen. "Through these diagonally fitted plates and the speed of the running belt, air is drawn from the outside inwards. As a result, neither the dust nor material can escape."
With the AirScrape dust-free and contact-free side sealing system for belt conveyors, there is no skirt contact and therefore no belt wear or damage. Motor power requirements are reduced as there is no belt-skirt friction and because there is continuous skirting with no gaps, product loss is minimal. This system, designed and manufactured in Germany to the highest quality standards by ScrapeTec, is available throughout Africa and the Indian Ocean Islands.
For more information contact Ken Mouritzen, BLT World, +27 31 274 8270, ken@bltworld.com, www.bltworld.com
Further reading:
Schneider Electric brings digital competence to mining applications
First Quarter 2020, Schneider Electric South Africa , Other technologies
Schneider Electric is dedicated to the deployment of digital technologies in mining to address the rising pressures on business sustainability and reduced energy consumption. "The organisation has 
...
Read more...
---
Gearmotors for electrified monorail system
First Quarter 2020 , Other technologies
A leading systems integrator for the automotive industry has adapted a Maxolution electrified monorail system (EMS) and 23 HK Series gear units for overhead trolley systems, from SEW-Eurodrive, for a 
...
Read more...
---
3D printing of face masks
First Quarter 2020 , Other technologies
SEW-Eurodrive has joined a nationwide campaign to use 3D printing technology to produce much needed face masks and shields for healthcare workers and first responders. Since the announcement of a national 
...
Read more...
---
Pressure measurement converter for harsh industrial conditions
First Quarter 2020, Instrotech , Other technologies
Instrotech is offering Kobold's PNK pressure measurement converter, used for the electrical remote transmission of pressure. For use in heavy machinery, engines, shipbuilding and automotive engineering, 
...
Read more...
---
Three lubrication myths
First Quarter 2020 , Other technologies
As specialists in lubrication reliability solutions, the team at Lubrication Engineers (LE) South Africa frequently comes up against myths relating to lubricants. "People believe things or are taught 
...
Read more...
---
Top 5 industrial automation trends in 2020
First Quarter 2020 , Other technologies
1. Deploying IIoT edge 2.0 solutions
The edge of IIoT enabled architectures is becoming increasingly important due to their role in digital transformation strategies. Initially focused on delivering 
...
Read more...
---
Food grade chain hoists
First Quarter 2020, Becker Mining South Africa , Other technologies
New to Becker's range of Kito hoists are food grade electric chain hoists, designed for safe lifting applications in contaminant controlled and corrosive processing environments, where pristine cleanliness 
...
Read more...
---
Digital factory revenues to jump to US$375 billion by 2030
First Quarter 2020 , Other technologies
Technology investments in the industrial and manufacturing sector are set to skyrocket, jumping from $59 billion in 2019 to $375 billion in 2030. Including hardware revenues, that figure climbs to over 
...
Read more...
---
Why are half of IIoT deployments failing?
First Quarter 2020 , Other technologies
The global Industrial IIoT business is arriving at a tipping point, with the industry reaching a connectivity milestone next year that will pave the way for market-changing events like the proliferation 
...
Read more...
---
How real is augmented reality?
First Quarter 2020, Absolute Perspectives , Other technologies
The early morning air was cold when we arrived at the mine for an underground visit. Our hosts were keen to show us the practical challenges of the drilling and blasting operation, and the many ways in 
...
Read more...
---