printer friendly version
Expanded power ranges and capabilities for drives
1 February 2019 Electrical switching & drive systems & components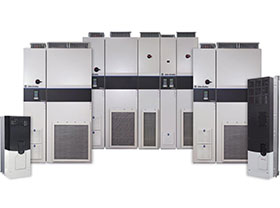 Rockwell Automation has expanded the power ranges and capabilities of TotalFORCE technology for its Allen-Bradley PowerFlex 755T AC drives. The drives now offer an expanded power range, helping engineers with applications from 7,5 to 4500 kW improve productivity and reduce their lifecycle costs. The expansion brings harmonic mitigation, regeneration and common bus-system configurations to a wider range of high demand applications.
Enhancements to the patented TotalFORCE technology include more powerful adaptive control capabilities, which allow the drives to monitor machine characteristics that can change over time and automatically compensate for the changes that occur. An adaptive tuning feature uses up to four automatic tracking notch filters to block resonance and vibration that can impact quality, waste energy and prematurely wear out a machine.
In addition, predictive maintenance features provide real-time information about the health of the drive. By monitoring operational characteristics such as temperature, voltage and current, the drive is able to calculate the remaining life of critical components and notify users. This allows users to act so unplanned downtime can be prevented.
"TotalFORCE technology enables PowerFlex 755T drive users to take a proactive approach in improving machine uptime. The drives can deliver information about the status of an application to the control system, which can be critical for reducing downtime and increasing productivity," said Adrian van Wyk, Power and Components, Rockwell Automation Sub-Saharan Africa. "The drives' ability to be self-aware also enhances reliability and simplifies service."
The PowerFlex 755T variable frequency drives were previously designed for 120 to 2250 kW power applications. The expanded power range makes PowerFlex drives ideally suited for large power applications, such as pumps and fans requiring harmonic mitigation, and regenerative applications requiring anti-sway functionality, such as cranes and hoists. The offering includes:
PowerFlex 755TL drive: The PowerFlex 755TL drive uses active front-end technology and an internal harmonic filter to reduce harmonic distortion. The drive is now available from 7,5 to 1400 kW.
PowerFlex 755TR drive: Delivering power from 7,5 to 4500 kW, the PowerFlex 755TR drive includes both regenerative and harmonic mitigation solutions. The drive helps reduce energy consumption and costs by delivering energy back to the incoming supply, resulting in a more energy-efficient solution.
PowerFlex 755TM drive system: This allows users to build the system that best fits their needs for regeneration and coordination of multiple motors in common bus configurations. To optimise their system requirements and meet power consumption needs, users can select from a series of predesigned modules with a power range from 160 to 4500 kW for motor side inverters and a range of 70 to 4800 kW for regenerative bus supplies.
Other new capabilities include an integrated safety module that delivers several advanced safety functions on an EtherNet/IP network, an anti-sway feature that helps lifting applications achieve greater stability and permanent magnet motor control for increased energy savings.
Combined, these new TotalFORCE technology capabilities help reduce time to commission, optimise performance and enable simplified maintenance and serviceability throughout the full lifecycle of PowerFlex 755T drives for a broad range of applications.
For more information contact Adrian van Wyk, Rockwell Automation, +27 11 654 9700, avanwyk@ra.rockwell.com, www.rockwellautomation.co.za
Credit(s)
Further reading:
Powerful pump set tested
First Quarter 2020 , Electrical switching & drive systems & components
With 1350 Kw of raw power produced by a massive V16 diesel motor, the SABS in conjunction with KSB Pumps and Valves has tested one of the most impressive pump sets to be assembled on South African soil 
...
Read more...
---
Magnetic levitation technology for the Far East
First Quarter 2020 , Electrical switching & drive systems & components
German construction engineering specialist, Max Bögl, is commissioning a local public transport system based on magnetic levitation in Chengdu, China. Beginning at Max Bögl's main factory in Sengenthal, 
...
Read more...
---
SEW-Eurodrive's pick-and-place solution for brick and block plant
First Quarter 2020, SEW-Eurodrive , Electrical switching & drive systems & components
When a local Original Equipment Manufacturer (OEM) of concrete brick, block, and paving machinery had the unique opportunity to build a greenfield plant for a longstanding customer in the East London area, it turned to SEW-Eurodrive for its easily configurable HandlingKinematics pick-and-place solution.
Read more...
---
Production boost for glass manufacturers
First Quarter 2020 , Electrical switching & drive systems & components
A pair of 5 MW standby power systems from Cummins are providing extra protection at two glass manufacturing facilities in Lahore, Pakistan that are growing their businesses, allowing production lines 
...
Read more...
---
New app supports predictive services for drive systems
First Quarter 2020, Siemens Digital Industries , Electrical switching & drive systems & components
With Predictive Services for Drive Systems, Siemens makes maintenance more efficient for Sinamics drive systems and/or Simotics motors in the low voltage range. With its new service portfolio including 
...
Read more...
---
Motor efficiency high on global agenda
First Quarter 2020, Zest WEG Group Africa , Electrical switching & drive systems & components
With electric motors consuming almost 70% of industry's energy, companies are always looking for better motor efficiencies. For many years, motor efficiency has been well defined; however, when driven 
...
Read more...
---
Modernised irrigation control system
First Quarter 2020, Varispeed (Div. of Hudaco Trading) , Electrical switching & drive systems & components
As a preferred supplier to the agricultural industry due to proven reliability and performance, Varispeed designs, manufactures and distributes constant pressure solutions. With a good knowledge of the 
...
Read more...
---
Cam clutches for bulk handling
First Quarter 2020, Bearing Man Group T/A BMG , Electrical switching & drive systems & components
New to BMG's extensive range of Tsubaki cam clutches is the BS-F series, designed for high speed inclined and long overland belt conveyors and bucket elevators used in the mining and bulk handling sectors. 
...
Read more...
---
New automated drive analyser
First Quarter 2020, Comtest , Electrical switching & drive systems & components
Fluke's MDA-500 Series is designed to help users easily test and troubleshoot typical problems on three-phase and single-phase inverter type motor-drive systems. The on-screen information, and step-by-step 
...
Read more...
---
Maximised precision and speed
First Quarter 2020, Beckhoff Automation , Electrical switching & drive systems & components
Due to the outstanding quality characteristics of its beam, the fibre laser has become the technology of choice in the fine cutting of metal sheets. It delivers highly precise cuts with very narrow kerfs 
...
Read more...
---