printer friendly version
Energy-saving drives and motors
2nd Quarter 2019
Electrical switching & drive systems & components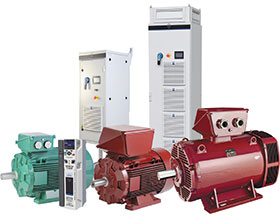 Vert Energy is the exclusive distributor in southern Africa of Leroy Somer electric motors, geared motors, drives and alternators. Managing director, Grant Robertson says that with the implementation of variable speed and the optimisation of mechanical speed reduction efficiencies, maximum saving of electricity consumption can be obtained in any power transmission system.
"Feedback from our customers indicates that by combining Leroy Somer Dyneo permanent magnet technology with variable speed technologies, they have not only significantly reduced energy consumption, but also enjoy a good return on investment and lower overall cost of ownership," he says. "Through Dyneo permanent magnet solutions with sensorless control and interchangeability with standard IEC mechanisms, we are able to offer our customers the benefits of the high performance of permanent magnet motors with the simplicity of mounting and installation equivalent to traditional asynchronous motors."
The Dyneo range, which is manufactured in France, includes the option of an aluminium frame size up to 500 kW. Benefits include European quality standards, with certified ratings and efficiencies from approved regulatory bodies; better heat dissipation than with traditional cast-iron frames; and fewer losses due to improved thermal characteristics.
Leroy Somer's Dyneo permanent magnet solutions enable the construction of lighter units with a reduced footprint, which is particularly beneficial to OEMs. The compact design and fewer mechanical components mean a reduced size of the chassis supporting the motor. This design also facilitates easy installation of the motor onsite, the simplification of lifting equipment required and reduced transport costs. The motor-drive unit ensures high efficiency levels over the whole operating speed range, especially at speeds below the synchronous speed, where efficiency is higher than with asynchronous motors.
Dyneo technology, which also guarantees optimum torque over wide speed ranges without de-rating or forced ventilation, significantly improves the drive's efficiency and enhances specific output power, offering better performance than conventional technologies. Other important features include adaptation of the motor speed to the speed of the driven machine, improved speed performance of the driven machine, potential elimination of gearing, a low rotor temperature rise and better bearing performance.
The permanent magnet motors are built using the same high quality European mechanical components as Leroy Somer asynchronous motors, to offer reliability and flexibility. This interchangeable range, with standard dimensions in terms of frame size, flange and shaft extension, provides an immediate energy-efficient solution, without the need for modification of the existing system.
Advantages of the sensorless control design include less wiring and fewer connections for simplicity of installation. Encoders or long cable lengths are not required and there are no environmental constraints like vibration, temperature and abrasive dust affecting the machine. These high performance, energy-efficient variable speed solutions are designed for applications requiring high torque at high speed. They enhance power transmission performance in pumping, ventilation, compression, conveying, extrusion, process control and generators.
In a recent project, a variable speed screw compressor equipped with a Dyneo permanent magnet solution was added to the existing four fixed-speed screw compressors used in refrigeration during the production of beer. This upgrade achieved energy savings of 600 000 kWh/yr, an increase in the maximum speed and improved performance of the system.
In a drinking water plant, the replacement of two asynchronous motors with a single 350 kW Dineo motor-drive unit reduced energy consumption by 10% per m³ transferred. The pump has also increased water flow by 15%. The payback period for this system was 14 months.
Another successful installation formed part of a modernisation programme at a rubber extrusion facility, where Vert Energy's Dyneo solution eliminated the machine off-centre pulley and belt system. The motor can now withstand operation at 50°C above ambient temperature and because of its compact design, it has been installed under the screw.
Another Dyneo solution was selected for a ventilation axial fan upgrade for air treatment towers due to its high specific output power and direct coupling to the impeller. This system had an optimised motor-drive assembly, with sensorless control, ensuring high efficiency over the entire speed range.
Vert Energy's service to the electromechanical power transmission sector, encompasses the supply of dependable products that combine high performance, energy efficiency, reduced downtime and extended service life, to meet stringent quality, safety and environmental standards. Field services include re-assembly, installation and commissioning, inspections and diagnostics, as well as onsite maintenance and repair work. The company's factory and OEM trained technicians travel throughout Africa to assist customers with any electro mechanical breakdown situation or routine preventative maintenance procedures.
For more information contact Ryan Robertson, Vert Energy, 086 111 VERT (8378), ryan.robertson@vertgroup.co.za, www.vertgroup.co.za
Further reading:
M&C rewinds compressor motor stator
Fourth Quarter 2019 , Electrical switching & drive systems & components
Marthinusen & Coutts (M&C) recently provided a solution to an irregularity that occurred in the stator of a large 36 MW compressor motor deployed at Sasol's Secunda plant.The results of final tests, conducted 
...
Read more...
---
Control for additive manufacturing
Fourth Quarter 2019, Beckhoff Automation , Editor's Choice, Electrical switching & drive systems & components
Colossus plans to manufacture large functional or decorative objects such as outdoor furniture and ornaments with a new 3D printer that processes recycled plastics, and this creates further special 
...
Read more...
---
Varispeed VSDs now available from Bearings International
Fourth Quarter 2019 , Electrical switching & drive systems & components
Being part of the broader Hudaco Group allows BI to leverage synergies across a broad range of companies, meaning it can offer a complete product basket at its extensive branch network countrywide. One 
...
Read more...
---
On the way towards fully electrified mining machines
Fourth Quarter 2019, Parker Hannifin - Sales Company South Africa , Editor's Choice, Electrical switching & drive systems & components
The more time humans spend working in mining conditions, and near mining vehicles, the more likely they are to be injured, contract illnesses or die in accidents. According to the UN's International 
...
Read more...
---
Future-proof chair lift system
Fourth Quarter 2019, Siemens Digital Industries , Editor's Choice, Electrical switching & drive systems & components
At Snow Space, a winter sports resort near Salzburg, Bergbahnen Wagrain operates the Sonntagskogelbahn 2, a chair lift for taking skiing enthusiasts to the piste. New innovative drive technology guarantees 
...
Read more...
---
New series of industrial gear units
Fourth Quarter 2019, SEW-Eurodrive , Electrical switching & drive systems & components
The latest technology unveiled by German drive engineering specialist SEW-Eurodrive at Hannover Messe 2019 has finally made its way to South African shores. Raymond Obermeyer, MD of SEW-Eurodrive, personally 
...
Read more...
---
IE3 compliant motor control
Fourth Quarter 2019, Zest WEG Group Africa , Electrical switching & drive systems & components
The increased move towards the use of IE3 electric motors has made it increasingly important that the most appropriate starting method be selected to ensure optimum performance. With this move it is essential 
...
Read more...
---
Cummins engines power expansion projects in Ghana
Fourth Quarter 2019 , Electrical switching & drive systems & components
A pair of Cummins QSK95 engines is helping power expansion projects at the Ghana Ports and Harbours Authority (GPHA). GPHA is the national port authority of Ghana, responsible for the governance, maintenance 
...
Read more...
---
Motors, drives, alternators and ATEX induction motors
Fourth Quarter 2019 , Electrical switching & drive systems & components
Vert Energy is the sole distributors for Leroy-Somer in southern Africa and supplies and supports the entire LS range, which includes standard and adapted AC and DC motors, geared and brake motors, variable 
...
Read more...
---
Mechatronic drive system for improved bakery industry efficiency
Fourth Quarter 2019, SEW-Eurodrive , Electrical switching & drive systems & components
SEW-Eurodrive is assisting the bakery industry in improving efficiencies and reducing its energy consumption by means of the introduction of its Movigear mechatronic drive system. The drive specialist 
...
Read more...
---