printer friendly version
High-speed manual chain hoist series
2nd Quarter 2019
Other technologies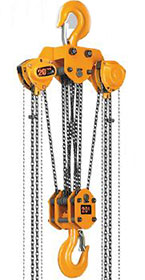 Becker Mining South Africa has recently launched Kito's new high-speed CB manual chain hoist series.These hoists, which offer swift lifting and lowering speeds for increased productivity, are designed to safely handle rated loads between 2,5 and 50 tons.
"The Kito high-speed CB series is based on Kito's original automatic high/low-speed clutch technology and is suitable for heavy duty applications, where a load is repeatedly positioned and the empty hook is returned," explains senior general manager, Rick Jacobs.
"This versatile hoist encompasses a reliable load-sensing magnetic clutch and high performance planetary gear system, which switches automatically from normal operation to seven times the lifting and lowering speeds of conventional hoists, when repositioning an unloaded hook – if the load is up to 10% of the working load limit. A mechanical brake activates instantly and holds the load securely, for greater safety on site.
The load-sensing mechanism of this advanced hoist provides the user with significant time and cost savings, as well as improved worker productivity and reduced operator fatigue. Other key features of these robust hoists include an impact resistant housing and a double pawl with double spring system. Maintenance-free sealed bearings increase reliability and reduce hand chain pull. Heat treated gear and load bearing parts are hardened for dependable performance, minimal maintenance requirements and extended service life.
Highly abrasion resistant, heat treated Kito nickel-plated DIN EN 818-7 load chain grade 100 for high uniform strength is supplied in lengths to suit exact requirements.
For more information contact Rick Jacobs, Becker Mining South Africa, +27 11 617 6300, info@za.becker-mining.com, www.za.becker-mining.com
Credit(s)
Further reading:
Pressure measurement converter for harsh industrial conditions
First Quarter 2020, Instrotech , Other technologies
Instrotech is offering Kobold's PNK pressure measurement converter, used for the electrical remote transmission of pressure. For use in heavy machinery, engines, shipbuilding and automotive engineering, 
...
Read more...
---
Three lubrication myths
First Quarter 2020 , Other technologies
As specialists in lubrication reliability solutions, the team at Lubrication Engineers (LE) South Africa frequently comes up against myths relating to lubricants. "People believe things or are taught 
...
Read more...
---
Top 5 industrial automation trends in 2020
First Quarter 2020 , Other technologies
1. Deploying IIoT edge 2.0 solutions
The edge of IIoT enabled architectures is becoming increasingly important due to their role in digital transformation strategies. Initially focused on delivering 
...
Read more...
---
Food grade chain hoists
First Quarter 2020, Becker Mining South Africa , Other technologies
New to Becker's range of Kito hoists are food grade electric chain hoists, designed for safe lifting applications in contaminant controlled and corrosive processing environments, where pristine cleanliness 
...
Read more...
---
Digital factory revenues to jump to US$375 billion by 2030
First Quarter 2020 , Other technologies
Technology investments in the industrial and manufacturing sector are set to skyrocket, jumping from $59 billion in 2019 to $375 billion in 2030. Including hardware revenues, that figure climbs to over 
...
Read more...
---
Why are half of IIoT deployments failing?
First Quarter 2020 , Other technologies
The global Industrial IIoT business is arriving at a tipping point, with the industry reaching a connectivity milestone next year that will pave the way for market-changing events like the proliferation 
...
Read more...
---
How real is augmented reality?
First Quarter 2020, Absolute Perspectives , Other technologies
The early morning air was cold when we arrived at the mine for an underground visit. Our hosts were keen to show us the practical challenges of the drilling and blasting operation, and the many ways in 
...
Read more...
---
Switched interlocked socket range
First Quarter 2020, Powermite - Div. of Hudaco Trading , Other technologies
Powermite's range of plastic switched interlocked sockets form part of a new series of cutting edge Gen 2 plastic industrial plugs and connectors which are poised to raise the bar for efficiency, versatility 
...
Read more...
---
Universal industrial Ethernet absolute encoder
First Quarter 2020, Vepac Electronics , Other technologies
Do you use different protocols on your machines or carry out repairs and don't always know what to expect? With Vepac's WDGA universal IE encoder you are completely flexible. You do not have to worry 
...
Read more...
---
Protecting with lubrication
First Quarter 2020 , Other technologies
Proper lubrication is essential to the correct functioning of mechanical equipment and ensures its longevity. "Even over-lubricating is problematic as it causes grease churning and overheating, which 
...
Read more...
---