printer friendly version
Unique 360° lifting solutions
2nd Quarter 2019
Other technologies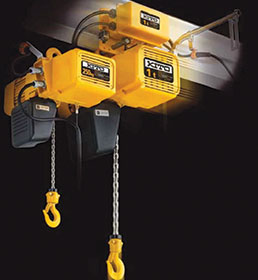 A unique service whereby lifting machines and lifting tackle can be examined and tested on-site, giving clients peace of mind that they comply fully with all regulatory requirements, as well as ensuring the safety of all personnel, is available from the newly established Mandirk Lifting. The company is part of the Mandirk Group, a specialist supplier of engineering tools and equipment for maintenance, repair, and operating (MRO) applications in a wide range of industrial sectors. The internationally renowned brands represented by Mandirk Lifting include KITO, Ingersoll Rand, Enerpac and Liftall. Lifting tackle brands available are Myte, McKinnon Chain, and Umoya.. All brands are SANS- and SABS-compliant and subscribe to all relevant international regulations and accreditation.
The importance of the on-site service offered by Mandirk Lifting is that testing and certification of lifting equipment is not only a legal requirement in South Africa, but must be carried out by qualified specialists with access to calibrated testing equipment. Mandirk also issues certificates for all new equipment sold, in addition to inspecting, testing, and certifying equipment that is already in the field.
Here Mandirk Lifting complies fully with all relevant regulatory requirements. The scope of approvals offered includes lever hoists, chain block, and lifting tackles.
The equipment range catered for includes mechanical ratchet jacks, hydraulic pumps and cylinders, chain and lever blocks, geared and plain crawls, pneumatic hoists and winches, Tirfors and ropes, mechanical grabs and clamps, and slings (chains, polyester, and steel wire rope), together with inspection and proof load testing services.
For more information contact Jaclyn Bilson, Mandirk, +27 11 922 5300, jbilson@mandirk.co.za, www.mandirk.co.za
Further reading:
Smart sensors for motion control
Fourth Quarter 2019, Parker Hannifin - Sales Company South Africa , Other technologies
They can also receive commands and parameter information from the controller and thus adapt to new requirements on a continuous basis. Two-way data flow helps facilitate what can be defined as a true 
...
Read more...
---
Rescue from the sky
Fourth Quarter 2019, Siemens Digital Industries , Editor's Choice, Other technologies
Zipline International designs and builds autonomous flying drones that transport medical supplies in hard to reach regions. The company uses design solutions from Siemens PLM Software. This enables the 
...
Read more...
---
Incremental encoders with optimum flexibility
Fourth Quarter 2019, Countapulse Controls , Other technologies
Hengstler incremental encoders offer users optimum flexibility. With an encoder available for every application, there are over 20 standard models from which to choose, including encoders for solid or 
...
Read more...
---
Food grade lubricants
Fourth Quarter 2019 , Other technologies
Food safety precautions and regulations need to extend to every component in the food and beverages processing environment. This includes the lubricants used in machinery. Callum Ford, national marketing 
...
Read more...
---
Flexible, affordable light crane systems
Fourth Quarter 2019 , Other technologies
Super light, highly flexible and affordable, Demag's KBK light crane systems are easily adaptable to individual lifting requirements. With their modular system they can be combined to create individual 
...
Read more...
---
Electrical window for safe compliance
Fourth Quarter 2019, Comtest , Other technologies
Fluke's new PQ400 electrical measurement window, with a permanently installed interface, gives technicians safe and near instant access to electrical panels for making critical power quality and energy 
...
Read more...
---
Lube oil filters
Fourth Quarter 2019, Hytec Fluid Technology , Other technologies
Power stations, pipelines, and marine engines work hard, with run times of 98% standard in many industries. Winslow lube oil filters from Fleetguard provide engines with contaminant protection and extended 
...
Read more...
---
Solutions for bulk materials handling on mine conveyors
Fourth Quarter 2019 , Other technologies
BLT World offers dependable solutions for specific problems at the transfer points of conveyor systems in bulk materials handling on the mines. One of these is ScrapeTec Trading's German-engineered products, 
...
Read more...
---
The benefits of oil analysis and monitoring
Fourth Quarter 2019 , Other technologies
Even when using top quality lubrication products and following correct storage and usage programmes, a lubrication solution can fall flat without consistent, accurate monitoring of the condition of your 
...
Read more...
---
Does edge computing have the edge?
Third Quarter 2019, Omron Electronics , Editor's Choice, Other technologies
Implementing artificial intelligence in industrial manufacturing.
Read more...
---