printer friendly version
Festo inspires with smart digital solutions
Third Quarter 2019
News & events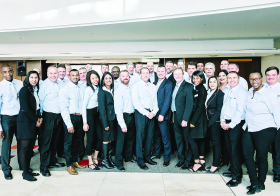 Festo recently hosted its second highly successful series of Automation Expo seminars and exhibitions that focused on higher productivity through digitalisation in automation. They were held at venues across the country, the Johannesburg one being in a packed conference centre ballrooom at the Sandton Convention Centre. These prestigious expos attracted industry leaders, engineering professionals, senior executives and technology enthusiasts. They showcased Festo's latest smart and intuitive solutions, which are aimed at increasing productivity, maximising competitiveness and simplifying life in the workplace.
With the theme of 'Introduction to Industry 4.0: Core elements and business opportunities', the aim was to educate industry professionals on how Industry 4.0 can enhance productivity in the workplace and improve efficiency. In addition, customers that attended this course were accredited with 0,5 CPD points and awarded a certificate of attendance.
Nico Landman, who heads up Festo Didactic, entertained delegates by taking them on a fun and interactive digital journey, which brought home the sort of changes we can expect in the very near future and the societal and technological upheavals resulting from digitalisation. Festo's industry specialists covered the company's four pillars of digitalisation: Learn, Build, Operate and Inspire. Landman introduced the concept of Qualification 4.0. He explained how Industry 4.0 will affect business models and how Festo Didactic can help prepare us for digital automation in a rapidly changing work environment – the Learn. Business unit manager of process automation, Russell Schwulst then explained the Build process and how easy it is to jumpstart digitalisation with the free Festo Software engineering tools. Business development manager, Skye Prato covered the Operate angle, including the Motion Terminal VTEM and IIoT dashboard, which is the world's first pneumatic automation platform controlled by apps, all in one smart package that can replace over 50 individual components. This is set to catapult pneumatics into the age of industry 4.0 and revolutionise automation technology.
National sales manager, Adrian Bromfield was then able to Inspire the room with his account of Festo's highly innovative Bionic Learning Network and explained how Festo gets its inspiration from nature. The Festo CP factory is another smart solution that was showcased. This holistic learning factory solution can be used to qualify personnel in the operation of a production process or in a specific field of work, such as production technology.
And what better way to end such a successful day than through a German-themed cocktail function – a great platform for networking with industry specialists.
For more information contact Kershia Beharie, Festo, 086 003 3786, kershia.beharie@festo.com, www.festo.co.za
Credit(s)
Further reading:
From the editor's desk: The reality of augmented reality
Third Quarter 2019, Technews Publishing , News & events
Augmented reality (AR) in various forms has been around for a while, think Pokemon, but its application on the factory floor is only now starting to take off. At the Electra Mining Expo I had a chance 
...
Read more...
---
A Digital Enterprise journey
Third Quarter 2019, Siemens Digital Industries , News & events
Siemens recently demonstrated its Digital Enterprise portfolio at the Africa Automation Fair (AAF), showcasing its current and future digital automation technologies.
Read more...
---
Underwater robot with a unique fin
Third Quarter 2019, Festo , This Week's Editor's Pick, Robotics & Mechatronics
Swimming like the natural model
The longitudinal fins of the polyclad and the cuttlefish extend from the head to the tail along their backs, their undersides or the two sides of their torsos. To 
...
Read more...
---
South Africa wins international student cluster competition
Third Quarter 2019 , News & events
A team of six South African undergraduate students recently took first prize against 13 teams at the International Supercomputing Conference (ISC) in Germany. This spectacular success followed four days 
...
Read more...
---
SKF's Meet The World initiative
Third Quarter 2019, SKF South Africa , News & events
Gothia Cup is the world's largest youth football tournament. Each year, around 1700 teams from 80 nations travel to Gothenburg to take part and play 4500 games on 110 fields. Wiith its headquarters in 
...
Read more...
---
Bosch Rexroth hosts customers at the Bosch Rexroth HUBB
Third Quarter 2019 , News & events
The Bosch Rexroth South Africa Group of Companies recently held its first customer day at the Rexroth HUBB in Kempton Park. In a celebration of the Group's relationships with its customers and business 
...
Read more...
---
Engineering is shaping the future
Third Quarter 2019, ESTEQ, Siemens Digital Industries , News & events
This year's highly successful Engineering Community Conference hosted by technology specialist, ESTEQ at the CSIR International Conference Centre focused on how to future-proof your businesses, ideas, 
...
Read more...
---
A pioneer and role model
Third Quarter 2019 , News & events
There is a serious shortage of women in engineering. Globally it is a male dominated field. According to ECSA, only 11% of the total number of engineers registered are female and only 4% of these are 
...
Read more...
---
Celebrating 100 years of the spherical roller bearing
Third Quarter 2019, SKF South Africa , News & events
The spherical roller bearing (SRB), that helps engineers accommodate heavy radial and axial loads in applications prone to misalignment or shaft deflections, celebrates its 100th birthday this year thanks 
...
Read more...
---
Double win for Schneider Electric
Third Quarter 2019, Schneider Electric South Africa , News & events
Schneider Electric has once again gained recognition for its efforts in sustainable development, being awarded both first and second place at the annual Steel and Engineering Industry Federation of South 
...
Read more...
---