printer friendly version
Festo inspires with smart digital solutions
Third Quarter 2019
News & events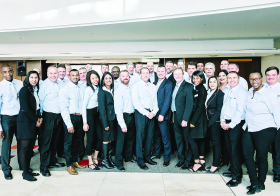 Festo recently hosted its second highly successful series of Automation Expo seminars and exhibitions that focused on higher productivity through digitalisation in automation. They were held at venues across the country, the Johannesburg one being in a packed conference centre ballrooom at the Sandton Convention Centre. These prestigious expos attracted industry leaders, engineering professionals, senior executives and technology enthusiasts. They showcased Festo's latest smart and intuitive solutions, which are aimed at increasing productivity, maximising competitiveness and simplifying life in the workplace.
With the theme of 'Introduction to Industry 4.0: Core elements and business opportunities', the aim was to educate industry professionals on how Industry 4.0 can enhance productivity in the workplace and improve efficiency. In addition, customers that attended this course were accredited with 0,5 CPD points and awarded a certificate of attendance.
Nico Landman, who heads up Festo Didactic, entertained delegates by taking them on a fun and interactive digital journey, which brought home the sort of changes we can expect in the very near future and the societal and technological upheavals resulting from digitalisation. Festo's industry specialists covered the company's four pillars of digitalisation: Learn, Build, Operate and Inspire. Landman introduced the concept of Qualification 4.0. He explained how Industry 4.0 will affect business models and how Festo Didactic can help prepare us for digital automation in a rapidly changing work environment – the Learn. Business unit manager of process automation, Russell Schwulst then explained the Build process and how easy it is to jumpstart digitalisation with the free Festo Software engineering tools. Business development manager, Skye Prato covered the Operate angle, including the Motion Terminal VTEM and IIoT dashboard, which is the world's first pneumatic automation platform controlled by apps, all in one smart package that can replace over 50 individual components. This is set to catapult pneumatics into the age of industry 4.0 and revolutionise automation technology.
National sales manager, Adrian Bromfield was then able to Inspire the room with his account of Festo's highly innovative Bionic Learning Network and explained how Festo gets its inspiration from nature. The Festo CP factory is another smart solution that was showcased. This holistic learning factory solution can be used to qualify personnel in the operation of a production process or in a specific field of work, such as production technology.
And what better way to end such a successful day than through a German-themed cocktail function – a great platform for networking with industry specialists.
For more information contact Kershia Beharie, Festo, 086 003 3786, kershia.beharie@festo.com, www.festo.co.za
Credit(s)
Further reading:
In memoriam: Vivienne Caroline Dorrington - 19 June 1958 – 21 April 2020
First Quarter 2020, Technews Publishing , News & events
It is with great sadness that we announce the death of our CEO, Vivienne Dorrington, after a long and brave battle with cancer. Like her father, Ray Beaumont, who founded Technews Publishing in 1985, 
...
Read more...
---
BI leverages synergies across Hudaco Group
First Quarter 2020 , News & events
Being part of the broader Hudaco Group allows Bearings International (BI) to leverage synergies across a broad range of companies, meaning it can offer a complete product basket at its extensive branch 
...
Read more...
---
IIoT, Industrie 4.0 or 4IR?
First Quarter 2020, Technews Publishing , News & events
We always overestimate the change that will occur in the next two years and underestimate the change that will occur in the next ten: Bill Gates
Read more...
---
Nidec extends warranty on Commander drives
First Quarter 2020, Nidec Industrial Automation Southern Africa , News & events
Control Techniques has launched a free, five-year warranty for its Commander range of general-purpose drives. Anyone who purchases a drive from the Commander range will now be able to register to extend 
...
Read more...
---
Stone-Stamcor boosts Cape Town operation
First Quarter 2020, Stone Stamcor , News & events
In order to enhance its service to its Western and Eastern Cape customers, Stone-Stamcor has embarked on a business improvement project for its Cape Town branch. The new location of the branch will make 
...
Read more...
---
Local finishing for switchgear
First Quarter 2020, Schneider Electric South Africa , News & events
Schneider Electric South Africa has announced that its PIX Easy Air Insulated Switchgear, previously 100% manufactured internationally, will now have a 68% local finishing process, reducing the customer 
...
Read more...
---
Training rigs for Coca-Cola bottler
First Quarter 2020 , News & events
The first on-site Bosch Rexroth pneumatic training rigs have been installed in Africa. The rigs were supplied to Nairobi Bottlers, the base for Coca-Cola Beverages Africa Kenya, by Bosch Rexroth Kenya, 
...
Read more...
---
Lubrication Engineers partners with Umuzi Engineers
First Quarter 2020 , News & events
Lubrication Engineers (LE) has partnered with Umuzi Engineers to tap the potential in new markets. Colin Ford, managing director at LE South Africa, says that Umuzi Engineers will operate as an independent 
...
Read more...
---
Sasol award for Actom Turbo Machines
First Quarter 2020 , News & events
Petrochemical giant Sasol has recognised Actom Turbo Machines with one of its top 2019 awards for exceptional service in repair, refurbishment and ongoing maintenance. Actom Turbo Machines is the only 
...
Read more...
---
Hytec Hydraulics Botswana opens service centre
First Quarter 2020 , News & events
Hytec Hydraulics Botswana recently officially opened its service centre in Gaborone. Tillmann Olsen, CEO for Bosch Rexroth South Africa, said the company is the largest manufacturer and supplier of hydraulic, 
...
Read more...
---