printer friendly version
Festo inspires with smart digital solutions
Third Quarter 2019
News & events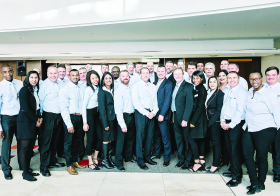 Festo recently hosted its second highly successful series of Automation Expo seminars and exhibitions that focused on higher productivity through digitalisation in automation. They were held at venues across the country, the Johannesburg one being in a packed conference centre ballrooom at the Sandton Convention Centre. These prestigious expos attracted industry leaders, engineering professionals, senior executives and technology enthusiasts. They showcased Festo's latest smart and intuitive solutions, which are aimed at increasing productivity, maximising competitiveness and simplifying life in the workplace.
With the theme of 'Introduction to Industry 4.0: Core elements and business opportunities', the aim was to educate industry professionals on how Industry 4.0 can enhance productivity in the workplace and improve efficiency. In addition, customers that attended this course were accredited with 0,5 CPD points and awarded a certificate of attendance.
Nico Landman, who heads up Festo Didactic, entertained delegates by taking them on a fun and interactive digital journey, which brought home the sort of changes we can expect in the very near future and the societal and technological upheavals resulting from digitalisation. Festo's industry specialists covered the company's four pillars of digitalisation: Learn, Build, Operate and Inspire. Landman introduced the concept of Qualification 4.0. He explained how Industry 4.0 will affect business models and how Festo Didactic can help prepare us for digital automation in a rapidly changing work environment – the Learn. Business unit manager of process automation, Russell Schwulst then explained the Build process and how easy it is to jumpstart digitalisation with the free Festo Software engineering tools. Business development manager, Skye Prato covered the Operate angle, including the Motion Terminal VTEM and IIoT dashboard, which is the world's first pneumatic automation platform controlled by apps, all in one smart package that can replace over 50 individual components. This is set to catapult pneumatics into the age of industry 4.0 and revolutionise automation technology.
National sales manager, Adrian Bromfield was then able to Inspire the room with his account of Festo's highly innovative Bionic Learning Network and explained how Festo gets its inspiration from nature. The Festo CP factory is another smart solution that was showcased. This holistic learning factory solution can be used to qualify personnel in the operation of a production process or in a specific field of work, such as production technology.
And what better way to end such a successful day than through a German-themed cocktail function – a great platform for networking with industry specialists.
For more information contact Kershia Beharie, Festo, 086 003 3786, kershia.beharie@festo.com, www.festo.co.za
Credit(s)
Further reading:
SEW-Eurodrive's new head office and factory
Fourth Quarter 2020, SEW-Eurodrive , News & events
SEW-Eurodrive has commenced construction of a new R200 million head office and factory in Everton, Johannesburg in order to accommodate the company's growth. The 25 000 sqm building is being constructed 
...
Read more...
---
Thirty years of linear motion technology
Fourth Quarter 2020, Tectra Automation , News & events
This year, factory automation specialist Bosch Rexroth celebrates 30 years of linear motion technology and innovation. Constantly updating its range of innovative linear axes, the company has a product 
...
Read more...
---
ABB and BI extend partnership to high-efficiency IE3 motors
Fourth Quarter 2020 , News & events
Low-voltage IE3 motors from ABB Africa will now be distributed by Bearings International (BI). This is an extension of the existing partnership between the two companies, with BI already a distributor 
...
Read more...
---
Festo helps young South Africans realise their dreams
Fourth Quarter 2020, Festo South Africa , News & events
Festo has been a leading worldwide supplier of automation technology and a performance leader in industrial training and education programmes for almost half a century. The company is more than just an 
...
Read more...
---
Hydraulics training course with CPD points
Third Quarter 2020 , News & events
The Bosch Rexroth South Africa Group training department has received its first CESA-validated CPD points for its three day hydraulics training course. Already merSETA accredited, the course has now been 
...
Read more...
---
Siemens joins forces with the National Ventilator Project
Third Quarter 2020, Siemens Digital Industries , News & events
Siemens has been a long-standing partner of the CSIR in South Africa and has co-operated in various fields of research, including manufacturing and mining. The CSIR, in collaboration with a number of 
...
Read more...
---
HAW has the stockholding to meet customer demand
Third Quarter 2020 , News & events
Hydraulic and Automation Warehouse has taken measures to assist with seamless production for its customers' operations with its new large stockholding of products. The company increased its stockholding 
...
Read more...
---
Festo Motion Terminal VTEM bolsters productivity
Third Quarter 2020, Festo , Pneumatic systems & components
The world's first valve to be controlled by apps.
Read more...
---
Hytec opens branch in Lephalale
Third Quarter 2020 , News & events
Hytec South Africa, a member of the Bosch Rexroth South Africa Group, officially opened its new branch in Lephalale, Limpopo in January 2020. The branch will provide a fast turnaround service, supply 
...
Read more...
---
FIRST Lego League goes from strength to strength
Third Quarter 2020 , News & events
FIRST (for inspiration and recognition of science and technology) is an international organisation that aims to generate an interest in mathematics, science and technology through the use of robotics 
...
Read more...
---