printer friendly version
Double win for Schneider Electric
Third Quarter 2019
News & events
Schneider Electric has once again gained recognition for its efforts in sustainable development, being awarded both first and second place at the annual Steel and Engineering Industry Federation of South Africa (SEIFSA) Awards for Excellence for Best Corporate Social Investment. In addition, on the same evening, the company won the Best Business Collaboration France-South Africa at the French South African Chamber of Commerce and Industry (FSACCI) Annual Gala Awards. "At the core of our sustainable development strategy we have had an in-depth focus on providing access to energy and access to education," said Zanelle Dalglish, head of Sustainable Development and Academy for Anglophone Africa.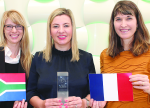 Professor Suné von Solms, University of Johannesburg, who forms part of the F'SASEC network; Zanélle Dalglish, head of Sustainable Development and Academy Anglophone Africa Cluster, Schneider Electric; Carina van Zyl, sustainable development specialist, Schneider Electric.
The Isiboniso project based at Isiboniso Primary School, situated in the impoverished community of Orange Farm has addressed numerous challenges and through strategic partnerships, Schneider Electric has implemented sustainable solutions. Thus far, the company has provided two container classrooms for the young learners and in collaboration with UJ supplied off-grid electrification through solar solutions, to power the use of computers, printing copiers and lighting in the classrooms. In addition, safe electricity workshops were run to educate learners on the suitable and safe use of electricity, with electrical plug points installed for the first time in all the classrooms.
Its second SEIFSA Awards entry, French South African Schneider Electric Education Centre (F'SASEC), received the second placed Best Corporate Social Investment Award. The F'SASEC network accelerates practical training for potential artisans in the field of energy and consists of the Vaal University of Technology, Sedibeng TVET College, University of Johannesburg, College of Cape Town, Cape Peninsula University of Technology and Don Bosco Mozambique. The F'SASEC network introduces advanced teaching methods and training that is in line with the Department of Higher Education and Training's vision of accelerating artisans using state of the art equipment, focusing on preparing young South Africans from previously disadvantaged social backgrounds for the job market, with a particular focus on women. Schneider Electric was recognised as the company that has best displayed a positive social/educational/governmental interaction between the communities of France and South Africa.
"It was a wonderful night for us. The awards serve as a validation of the power of partnerships and our core belief that access to energy and education enable sustainable impact," concluded Dalglish.
For more information contact Prisca Mashanda, Schneider Electric SA, +27 11 254 6400, prisca.mashanda@se.com, prisca.mashanda@schneider-electric.com, www.se.com/za
Credit(s)
Further reading:
BI leverages synergies across Hudaco Group
First Quarter 2020 , News & events
Being part of the broader Hudaco Group allows Bearings International (BI) to leverage synergies across a broad range of companies, meaning it can offer a complete product basket at its extensive branch 
...
Read more...
---
IIoT, Industrie 4.0 or 4IR?
First Quarter 2020, Technews Publishing , News & events
We always overestimate the change that will occur in the next two years and underestimate the change that will occur in the next ten: Bill Gates
Read more...
---
Nidec extends warranty on Commander drives
First Quarter 2020, Nidec Industrial Automation Southern Africa , News & events
Control Techniques has launched a free, five-year warranty for its Commander range of general-purpose drives. Anyone who purchases a drive from the Commander range will now be able to register to extend 
...
Read more...
---
Stone-Stamcor boosts Cape Town operation
First Quarter 2020, Stone Stamcor , News & events
In order to enhance its service to its Western and Eastern Cape customers, Stone-Stamcor has embarked on a business improvement project for its Cape Town branch. The new location of the branch will make 
...
Read more...
---
Local finishing for switchgear
First Quarter 2020, Schneider Electric South Africa , News & events
Schneider Electric South Africa has announced that its PIX Easy Air Insulated Switchgear, previously 100% manufactured internationally, will now have a 68% local finishing process, reducing the customer 
...
Read more...
---
Training rigs for Coca-Cola bottler
First Quarter 2020 , News & events
The first on-site Bosch Rexroth pneumatic training rigs have been installed in Africa. The rigs were supplied to Nairobi Bottlers, the base for Coca-Cola Beverages Africa Kenya, by Bosch Rexroth Kenya, 
...
Read more...
---
Lubrication Engineers partners with Umuzi Engineers
First Quarter 2020 , News & events
Lubrication Engineers (LE) has partnered with Umuzi Engineers to tap the potential in new markets. Colin Ford, managing director at LE South Africa, says that Umuzi Engineers will operate as an independent 
...
Read more...
---
Sasol award for Actom Turbo Machines
First Quarter 2020 , News & events
Petrochemical giant Sasol has recognised Actom Turbo Machines with one of its top 2019 awards for exceptional service in repair, refurbishment and ongoing maintenance. Actom Turbo Machines is the only 
...
Read more...
---
Hytec Hydraulics Botswana opens service centre
First Quarter 2020 , News & events
Hytec Hydraulics Botswana recently officially opened its service centre in Gaborone. Tillmann Olsen, CEO for Bosch Rexroth South Africa, said the company is the largest manufacturer and supplier of hydraulic, 
...
Read more...
---
Consolidation of tooling companies
First Quarter 2020 , News & events
INDUSTRI Tools & Equipment has recently been launched as part of the Engineering Solutions Group (ESG) of Invicta Holdings. Through the consolidation of six independent tooling companies – Man-Dirk, Tool 
...
Read more...
---