printer friendly version
Contactless energy transfer system for automotive assembly line
Third Quarter 2019 Editor's Choice Electrical switching & drive systems & components
The Movitrans contactless energy transfer system from SEW-Eurodrive, in conjunction with its Movipro SDC decentralised drive, position and application controller, has played a critical role in an assembly line extension at a major automotive producer in Port Elizabeth.
The big advantage of the Movitrans system is that it is based on contactless energy transfer. In this system, electrical energy is transferred without contact from a fixed conductor to one or more mobile consumers. The electromagnetic connection is made via an air gap. Not being subject to wear has the added benefit of it being maintenance-free.
In addition, this type of power supply is emission-free, and therefore environmentally friendly.
"Movitrans is the ideal supply system for all mobile applications, and has been tested according to BGV B11. It is perfect for equipment that has to cover long distances at high speeds, for example, or if maintenance-free operation is required. It is also suited for applications in sensitive environments where outside contaminants are not permitted, and in wet and damp environments," explains electronics support technician, Juandré La Cock.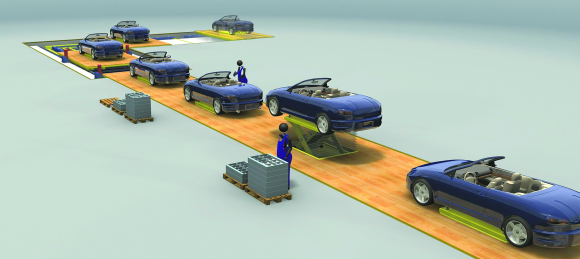 Wherever a trolley/skillet (conveyor) system is implemented, such as with an automotive assembly line, a custom designed drive concept is required that must correspond to the necessary load bearing capacity, the desired transport speed, the existing space restrictions, and the specific ambient conditions of the application.
Here the Movipro SDC is an ideal solution for both horizontal and vertical trolley/skillet applications. It not only integrates all necessary functions, but allows for decentralised installation of up to 15 kW. The solution is characterised by its design robustness, especially in terms of reliability and precise positioning requirements. With its modular, standardised design and freely configurable software components, this decentralised drive and positioning control system facilitates the integration of numerous functions, while reducing the complexity of the machine or system.
At the Port Elizabeth plant, SEW-Eurodrive was required to replace an existing Movitrans system installed originally in 2006, in order to be able to add a further four skillets to the existing line. La Cock explains that this was done in order to upgrade the technology to the latest iteration developed by the research and development department in Germany,
The Movipro SDC provides wireless communication for the Movitrans system, based on WiFi routers. Adding to the complexity of the solution required is the fact that the 30 different stations along the assembly line have different height requirements. "This means we had to design a height table into the system," La Cock points out.
SEW-Eurodrive's scope of work on this project was not only to commission the extension of the assembly line, but also to ensure that the entire plant was up to date with the latest technology. "This involved resetting all of the Movipros, replacing and extending the leaky WiFi cable, and then replacing the Movitrans system with the latest version,"
La Cock continues. He adds that since its original installation in 2006, the entire system has functioned flawlessly.
While SEW-Eurodrive's Maxolution has developed products and solutions specifically for the automotive industry, La Cock stresses that the system supplied for the Port Elizabeth project has been customised specifically for the automotive manufacturer. "This demonstrates our flexibility in being able to adapt to specific client requirements, and also how we ensure our long-standing clients remain up to date with the latest developments," he concludes.
For more information contact Jana Klut, SEW-Eurodrive, +27 11 248 7000, jklut@sew.co.za, www.sew-eurodrive.co.za
Credit(s)
Further reading:
SEW-Eurodrive's pick-and-place solution for brick and block plant
First Quarter 2020, SEW-Eurodrive , Electrical switching & drive systems & components
When a local Original Equipment Manufacturer (OEM) of concrete brick, block, and paving machinery had the unique opportunity to build a greenfield plant for a longstanding customer in the East London area, it turned to SEW-Eurodrive for its easily configurable HandlingKinematics pick-and-place solution.
Read more...
---
Geared servo motors for food and beverage project
First Quarter 2020, SEW-Eurodrive , Electrical switching & drive systems & components
SEW-Eurodrive supplied 64 Movigear geared servo motors to a major local OEM. Based in Paarl, H.G. Molenaar in turn designed, manufactured and supplied a weighing conveyor system to a leading German company 
...
Read more...
---
Addressing evolving hydraulics challenges
Fourth Quarter 2019 , Editor's Choice, Hydraulic systems & components
Using materials science and design technologies, Gates' engineers come up with innovative hydraulic hose solutions for ever-changing needs and challenges.
Read more...
---
Control for additive manufacturing
Fourth Quarter 2019, Beckhoff Automation , Editor's Choice, Electrical switching & drive systems & components
Colossus plans to manufacture large functional or decorative objects such as outdoor furniture and ornaments with a new 3D printer that processes recycled plastics, and this creates further special 
...
Read more...
---
Varispeed VSDs now available from Bearings International
Fourth Quarter 2019 , Electrical switching & drive systems & components
Being part of the broader Hudaco Group allows BI to leverage synergies across a broad range of companies, meaning it can offer a complete product basket at its extensive branch network countrywide. One 
...
Read more...
---
On the way towards fully electrified mining machines
Fourth Quarter 2019, Parker Hannifin - Sales Company South Africa , Editor's Choice, Electrical switching & drive systems & components
The more time humans spend working in mining conditions, and near mining vehicles, the more likely they are to be injured, contract illnesses or die in accidents. According to the UN's International 
...
Read more...
---
The Bloodhound
Fourth Quarter 2019, Bloodhound Technologies , Editor's Choice, News & events
The Bloodhound project is back on track. The British team developing a car capable of reaching 1600 kmph is in South Africa for several weeks of high-speed testing on the dry desert track at Hakskeenpan 
...
Read more...
---
Robot with air-water actuators has fluid motion
Fourth Quarter 2019 , Editor's Choice, Robotics & Mechatronics
Hydraulics and pneumatics are widely used for power transmission: hydraulics for moving heavy loads with highly controlled motion, and pneumatics for lighter loads and rapid, repetitive motions. Many 
...
Read more...
---
Future-proof chair lift system
Fourth Quarter 2019, Siemens Digital Industries , Editor's Choice, Electrical switching & drive systems & components
At Snow Space, a winter sports resort near Salzburg, Bergbahnen Wagrain operates the Sonntagskogelbahn 2, a chair lift for taking skiing enthusiasts to the piste. New innovative drive technology guarantees 
...
Read more...
---
Rescue from the sky
Fourth Quarter 2019, Siemens Digital Industries , Editor's Choice, Other technologies
Zipline International designs and builds autonomous flying drones that transport medical supplies in hard to reach regions. The company uses design solutions from Siemens PLM Software. This enables the 
...
Read more...
---