printer friendly version
New docking system for space rendezvous
Third Quarter 2019 Editor's Choice Electrical switching & drive systems & components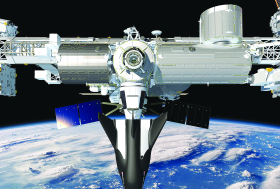 The European Space Agency (ESA) is working on a new system to enable easy docking between two spacecraft. maxon motor developed two special drive systems for this purpose. Even though it has been done many times before, the docking manoeuvre between two objects in space is always a delicate and potentially dangerous procedure. The speed is extremely high, about 28 000 km/h in the case of the International Space Station (ISS), and correc-tions are difficult. For example, when the two objects are about to meet, manoeuvring thrusters can no longer be used, since their exhaust plumes can cause damage. To prevent harm, cargo transporters are caught by a robotic arm installed in the ISS and berthed manually. Manned spacecraft on the other hand dock directly in a computer-controlled process.
This type of docking manoeuvre is going to become easier and safer in the future, so the European Space Agency (ESA) has commissioned its industry partners to design a new docking system called International Berthing and Docking Mechanism (IBDM). The mechanism's first missions will be with the Dream Chaser, a craft that will soon perform cargo flights to the ISS.
Docking energy is absorbed
The IBDM is an androgynous coupling system. This means that the connector is identical on both sides. It consists of a hard inner ring (Hard Capture System) and a soft outer ring (Soft Capture System) that has six degrees of freedom and force sensors. The outer ring first absorbs the docking energy. Then the final airtight connection is made and secured by mechanical hooks which pull the two spacecraft tightly together.
SENER is in charge of developing and installing the Hard Capture System. The company is currently working on the qualification model, which is due for testing in 2020. "The IBDM needs to be used as quickly as possible on a supply flight for the ISS," says SENER's Gabriel Ybarra. "One of the next steps would be to use it in NASA's Lunar Space Station, which is planned to go into orbit around the moon and could serve as a launch point for manned missions to Mars in the future."
Dual systems for maximum safety
This is a challenging project for the engineers at SENER: "We first needed to fully understand all the requirements set by ESA and NASA, especially with regard to safety, because the docking mechanism can also cope with manned flights," continues Ybarra. "As well as being lightweight and delivering the required torque, the electrical drives that are used must also be extremely
reliable. This is why SENER has been working with drive specialist maxon for several years."
For the hard capture system maxon developed an EC 32 flat motor with two windings and a GPX 22 UP planetary gearhead. There are twelve maxon drive systems powering the locking hooks. Each consists of two brushless EC-4pole 30 motors and a GPX 42 UP gearhead. maxon's engineers have developed two drives that can be used to execute a huge variety of functions. This first drive consists of two brushless EC-4pole motors and a GPX UP gearhead. Twelve of these actuators power the locking hooks in the IBDM docking mechanism. The second drive combines a flat motor with a planetary gearhead. It is used in eleven places to manage the plug-in connections and the retaining eyes, as well as other ancillary functions. As the IBDM docking mechanism is a flight-critical application, redundant drive systems are required. The backup must function even if the primary drive fails. This is often solved by means of a backup motor that can take over in an emergency. This is the approach used for the locking hook actuator. For the other drive system however, the maxon engineers found a different, unconventional solution: an additionalstator is used instead of an extra motor. The flat motor therefore has two stators and hence two windings, each of which is capable of independently driving the rotor – an ingenuous solution, which guarantees safety while saving space.
Ybarra praises the collaboration with maxon: "The team understands our requirements and is very quick with design modifications. Moreover, both partners have a passion for mechatronic systems. It feels great to be involved in the entire cycle, from design to production and testing. This makes it extremely interesting. And when the system moves for the first time, it's like watching your children take their first steps."
For more information contact Hans Burri, DNH Tradeserve, +27 11 468 2722, hans.burri@dnhtrade.co.za, www.dnhtrade.co.za
Credit(s)
Further reading:
Addressing evolving hydraulics challenges
Fourth Quarter 2019 , Editor's Choice, Hydraulic systems & components
Using materials science and design technologies, Gates' engineers come up with innovative hydraulic hose solutions for ever-changing needs and challenges.
Read more...
---
Control for additive manufacturing
Fourth Quarter 2019, Beckhoff Automation , Editor's Choice, Electrical switching & drive systems & components
Colossus plans to manufacture large functional or decorative objects such as outdoor furniture and ornaments with a new 3D printer that processes recycled plastics, and this creates further special 
...
Read more...
---
Varispeed VSDs now available from Bearings International
Fourth Quarter 2019 , Electrical switching & drive systems & components
Being part of the broader Hudaco Group allows BI to leverage synergies across a broad range of companies, meaning it can offer a complete product basket at its extensive branch network countrywide. One 
...
Read more...
---
On the way towards fully electrified mining machines
Fourth Quarter 2019, Parker Hannifin - Sales Company South Africa , Editor's Choice, Electrical switching & drive systems & components
The more time humans spend working in mining conditions, and near mining vehicles, the more likely they are to be injured, contract illnesses or die in accidents. According to the UN's International 
...
Read more...
---
The Bloodhound
Fourth Quarter 2019, Bloodhound Technologies , Editor's Choice, News & events
The Bloodhound project is back on track. The British team developing a car capable of reaching 1600 kmph is in South Africa for several weeks of high-speed testing on the dry desert track at Hakskeenpan 
...
Read more...
---
Robot with air-water actuators has fluid motion
Fourth Quarter 2019 , Editor's Choice, Robotics & Mechatronics
Hydraulics and pneumatics are widely used for power transmission: hydraulics for moving heavy loads with highly controlled motion, and pneumatics for lighter loads and rapid, repetitive motions. Many 
...
Read more...
---
Future-proof chair lift system
Fourth Quarter 2019, Siemens Digital Industries , Editor's Choice, Electrical switching & drive systems & components
At Snow Space, a winter sports resort near Salzburg, Bergbahnen Wagrain operates the Sonntagskogelbahn 2, a chair lift for taking skiing enthusiasts to the piste. New innovative drive technology guarantees 
...
Read more...
---
Rescue from the sky
Fourth Quarter 2019, Siemens Digital Industries , Editor's Choice, Other technologies
Zipline International designs and builds autonomous flying drones that transport medical supplies in hard to reach regions. The company uses design solutions from Siemens PLM Software. This enables the 
...
Read more...
---
Does edge computing have the edge?
Third Quarter 2019, Omron Electronics , Editor's Choice, Other technologies
Implementing artificial intelligence in industrial manufacturing.
Read more...
---
Underwater robot with a unique fin
Third Quarter 2019, Festo , Editor's Choice, Robotics & Mechatronics
Swimming like the natural model
The longitudinal fins of the polyclad and the cuttlefish extend from the head to the tail along their backs, their undersides or the two sides of their torsos. To 
...
Read more...
---