printer friendly version
BionicOpter
Fourth Quarter 2019
News & events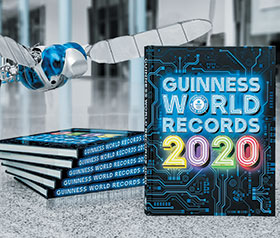 Each year Guinness World Records presents thousands of exciting records from all over the world. Festo's BionicOpter will be included in the 2020 edition. The 'Robots' chapter presents the most amazing records from the world of super robots and artificial intelligence. The Festo BionicOpter, an ultra-light flying object based on the dragonfly, has scooped the world record for the biggest flying robotic insect.
The BionicOpter is an ultralight flying object. Just like its model in nature, it can fly in all directions and execute the most complicated flight manoeuvres. Its ability to move each of its wings independently enables it to slow down and turn abruptly, to accelerate swiftly and even to fly backwards. This means that for the first time there is a model that can master all the flight conditions of a helicopter, plane and even a glider. Despite its complexity, the highly integrated system can be operated easily and intuitively via a smartphone.
The principles of ultra-lightweight construction are applied throughout the flying object. With a wingspan of 63 cm and a body length of 44 cm, the model dragonfly weighs just 175 grams. The wings consist of a carbon fibre frame and a thin foil covering. The intelligent kinematics correct any vibrations during flight and ensure flight stability. In order to stabilise the flying object, data on the position and the twisting of the wings is continuously recorded and evaluated in real time during the flight of the dragonfly.
Credit(s)
Further reading:
From the editor's desk: Would you like an NFT?
Technews Publishing News & events
One of my favourite light-hearted books is called Fifty Flippen Brilliant South Africans and Elon Musk stands out as one of the giants. He is one of the most iconic inventors and entrepreneurs of our 
...
Read more...
---
Fuchs Lubricants sees major growth in Africa
News & events
Moving to a centralised new head office in Isando, Johannesburg and launching a new unified product brand image in mid-November is all part of a long-term strategy for sustained growth and expansion at 
...
Read more...
---
Hytec Rustenburg establishes permanent site in Marikana
News & events
Hytec Rustenburg has established its first 24/7 satellite mine site at a prominent mine in the North West province. This enables Hytec SA to provide a tailored maintenance programme and stock a selection 
...
Read more...
---
Danfoss acquires Eaton's hydraulics business
Danfoss News & events
Danfoss has officially finalised its $3,3 billion acquisition of Eaton's hydraulics business. The move will see the Danfoss Group grow in size by a third and establish itself as a global leader in mobile 
...
Read more...
---
Festo Didactic helps customers unpack their full learning potential
Festo News & events
Technological changes are continually transforming tasks in companies today. Investment in technologies and machines alone is not enough to ensure success. Festo recognises that skilled employees are 
...
Read more...
---
Engineering Solutions Group achieves Level 2 B-BEEE status
News & events
Invicta Holdings' Engineering Solutions Group (ESG) − distributors of engineering consumables, automotive components, technical services and related solutions − has achieved recognition as a Level 2 contributor 
...
Read more...
---
BMG opens new branch in Maun
News & events
BMG has extended its service in Botswana, with the opening of a new branch in Maun. "BMG now has two dedicated branches in Botswana – one in Gaborone, which was established in 1998 to service and supply 
...
Read more...
---
Fuchs Lubricants achieves top certification
News & events
Fuchs Lubricants South Africa has achieved IATF 16949:2016 certification, which aims at providing improved quality products to automotive customers worldwide. IATF 16949, specified by The International 
...
Read more...
---
Festo's life science webinar on gas handling opens up new horizons
Festo News & events
How piezo technology more efficiently regulates flow rate and pressure.
Read more...
---
Parker Hannifin announces new two-day online oil and gas event
Parker Hannifin - Sales Company South Africa News & events
Parker Hannifin has announced that it will hold an online trade show dedicated to the oil and gas industry, on 6 and 7 October.
Read more...
---