printer friendly version
Hydrasales celebrates turning forty
Fourth Quarter 2019
News & events
Hydrasales is a specialist distributor of hydraulic filtration and accessories, providing value-driven solutions to its clients and building mutually beneficial relationships with its longstanding suppliers. The ethos of 'go together' is inculcated into the company's service-driven culture. Hydrasales recently celebrated its fortieth anniversary with team members, stakeholders and friends. Representatives from MP Filtri, Faster and Mintor shared happy memories and stories going back over the decades.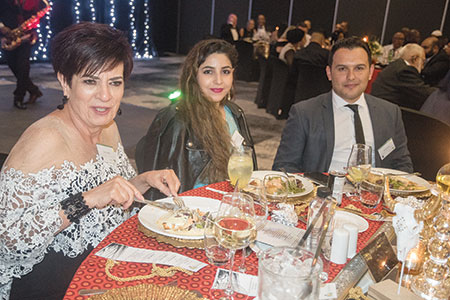 Elvira Caripis, Hydrasales, with Mr and Mrs Al Fey from Faster Couplings, Italy.
Managing member, Haroun Pochee said: "We celebrate and remember the many who contributed to our achievement, especially our founding father, Maurice Allenby, whose dream it was to create a specialist hydraulic filtration and accessories business." Pochee also honoured the dynamic leaders from MP Filtri, Mintor and Faster, who acted as mentors, role models and inspiration for the Hydrasales team with foresight, drive and wisdom.
From this innovative and visionary move in 1979, Hydrasales has grown into an expert solution provider for contamination prevention and allied control monitoring systems. Over the years, it has also championed the cause of women in a male dominated industry and has created opportunities for them in various levels of leadership. Today's management team comprises women with exceptional talents, and Pochee paid tribute to them and celebrated their contribution to the company's sustained growth over forty years. With the collaboration and continued support of leading international manufacturers, Hydrasales continues to be the link between manufacturer and the local market. "This is a matrix of win-win, competitiveness and securing the solution," said general manager, Elvira Caripis.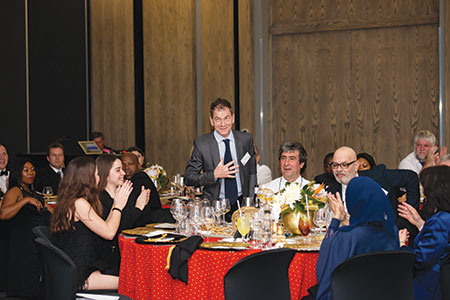 Special guest, Andrea Lossi of Mintor being welcomed to South Africa.
To celebrate the occasion a new corporate logo and brand were unveiled, encompassing the concept of a fresh, clean earth that is green and environmentally friendly. The logo represents the challenge of new frontiers and opportunities, with Hydrasales relying on the support of its suppliers in overcoming challenges. General manager of MP Filtri UK, Phil Keep complimented Hydrasales on reaching forty years. "Our special and close relationship with Hydrasales dates all the way back to 1979," he said.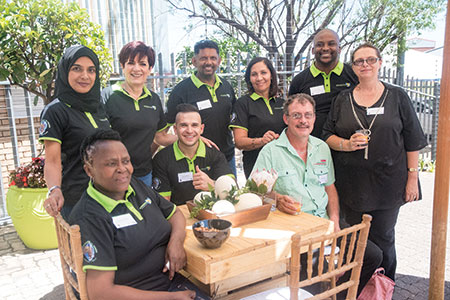 Hydrasales team members networking with guests.
Hydrasales will continue to provide training on filtration and contamination control for field service professionals and workshop technicians. "Many learn on the job and they need an understanding of the importance of filtration and contamination control within a hydraulic system," said Lucas Thela. "To achieve this, technical experts from our suppliers provide skills and technology transfer when they visit southern Africa, and Hydrasales team members also undergo training overseas."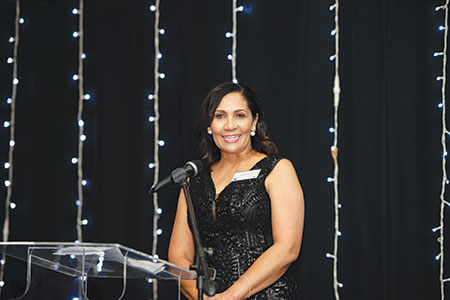 Cheryl Johnson, Hydrasales
Mike Wilson from Concept Oil recently won a trip to visit MP Filtri, Faster and Mintor in Milan with members of the Hydrasales team. "It was a mind-blowing experience," he reflected. "The training was excellent and I learnt from world renowned experts, who deal with major OEMs and leaders in the field. I was impressed with the test laboratories, the investment in technology and how these market leaders strive for product perfection."
Hydrasales carries an extensive range of filtration equipment, quick release couplings, flowmeters, sight glasses, contamination monitors and a full range of hydraulic accessories.
Credit(s)
Further reading:
Bosch Rexroth Tanzania expands footprint
Second Quarter 2021 , News & events
Magare Company, the newly appointed Sales Partner for Hytec Services Africa, has secured a HSA containerised hydraulic hose workshop to further extend its reach in the country, supplementing the Mwanza 
...
Read more...
---
Become a Bosch Rexroth Distributor in Africa
Second Quarter 2021 , News & events
Bosch Rexroth South Africa is looking to welcome new sales partners into its African distribution network. Through Hytec Services Africa (HSA), the Group is looking to expand its network by bringing its 
...
Read more...
---
Africa Automation Technology Fair postponed to 9-11 May, 2023. Virtual Connect! launched
Second Quarter 2021 , News & events
The Africa Automation Technology Fair (AATF) has made the decision to postpone the September 2021 in-person event and reschedule it for 9-11 May 2023.
Read more...
---
Honingcraft goes solar
Second Quarter 2021, Honingcraft , News & events
Honingcraft has implemented the next part of its initiative to move to renewable energy sources. The company has installed a solar energy system that will decrease its carbon footprint and free it from 
...
Read more...
---
BMG contributes to YES programme
Second Quarter 2021, Bearing Man Group T/A BMG , News & events
BMG – part of the Engineering Solutions Group (ESG) of Invicta Holdings – is participating in South Africa's Youth Employment Service (YES) Programme, which is a joint initiative between the government 
...
Read more...
---
BI rolls out IE1 motors from ABB Africa
Second Quarter 2021 , News & events
Bearings International (BI) now has sufficient stock of IE1 motors from ABB Africa to be able to supply the local market in accordance with the new partnership between the two companies, reports BI offer 
...
Read more...
---
Non-genuine parts affect performance and warranty
Second Quarter 2021 , News & events
Counterfeit products illegally make use of Cummins trademarks, copyrights and patents. A counterfeit product is any non-genuine product with a Cummins logo, whereas 'will-fit' parts are usually reverse-engineered 
...
Read more...
---
Hacking for a difference
Second Quarter 2021, RS Components SA , Editor's Choice, News & events
The annual Geekulcha Hackathon recently saw more than 100 coders, developers and programmers challenge each other in an online contest.The event has become a highlight in the African developer world. 
...
Read more...
---
From the editor's desk: Watch this space
Second Quarter 2021, Technews Publishing , News & events
Space adventures capture our imagination − the thrill of space exploration never goes away − and this issue of Motion Control has a couple of articles relating to the ground-breaking exploits of NASA's 
...
Read more...
---
Danfoss continues to invest in sustainable transformation
First Quarter 2021, Danfoss , News & events
There has been growing momentum in the energy sector, and governments across the world are committing to a transition to low-carbon economies. At the recent opening of the Investing in Africa Mining Indaba, 
...
Read more...
---