printer friendly version
Custom-designed 6000 ton power pack
Fourth Quarter 2019
News & events
Hytec South Africa recently custom designed and manufactured a 6000 ton power pack for a mine in Lephalale. Supplied in a three metre shipping container, the solution is equipped with a pressurisation unit, control electronics and automated lighting. The power pack was designed, manufactured and commissioned at the Rexroth HUBB in Kempton Park.
The containerised power pack controls the belt feeder on a coal conveyor to determine the amount of coal feeding into the line using proportional control. Independent knife gate control systems control the chute closing with a 350 kN force. Its pressurisation unit supplies clean filtered air at a positive pressure to the inside of the unit, ensuring dust is kept out, and all filters have a 100% backup system to prevent downtime.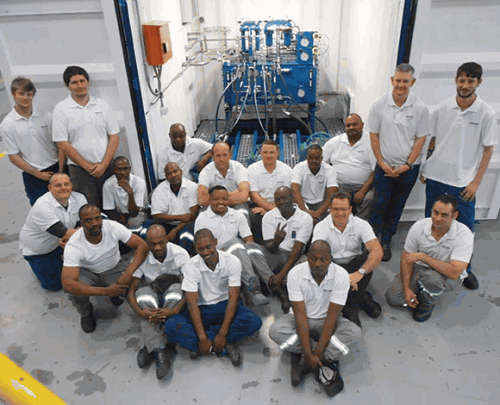 "In using a shipping container, we are able to offer the customer a movable hydraulic room," says Hytec projects manager, Neil Griezel. The 6000 ton power pack has an automated lighting system, which is activated when the door is opened, and the inside of the container acts as a secondary containment system in the event of hydraulic liquids being expelled from the system. Sliding mounts for the electric motor and pump combinations are fitted for ease of maintenance. The whole system consists of transducers and switches, which continuously monitor system performance, and is equipped with an integrated air blast cooler.
The plug-and-play unit will be connected on site to all the hydraulic actuators, switched on and be ready for use.
For more information contact Neil Griezel, Hytec South Africa, +27 82 887 9813, neil.griezel@boschrexroth.co.za, www.hytecgroup.co.za
Credit(s)
Further reading:
BI leverages synergies across Hudaco Group
First Quarter 2020 , News & events
Being part of the broader Hudaco Group allows Bearings International (BI) to leverage synergies across a broad range of companies, meaning it can offer a complete product basket at its extensive branch 
...
Read more...
---
IIoT, Industrie 4.0 or 4IR?
First Quarter 2020, Technews Publishing , News & events
We always overestimate the change that will occur in the next two years and underestimate the change that will occur in the next ten: Bill Gates
Read more...
---
Nidec extends warranty on Commander drives
First Quarter 2020, Nidec Industrial Automation Southern Africa , News & events
Control Techniques has launched a free, five-year warranty for its Commander range of general-purpose drives. Anyone who purchases a drive from the Commander range will now be able to register to extend 
...
Read more...
---
Stone-Stamcor boosts Cape Town operation
First Quarter 2020, Stone Stamcor , News & events
In order to enhance its service to its Western and Eastern Cape customers, Stone-Stamcor has embarked on a business improvement project for its Cape Town branch. The new location of the branch will make 
...
Read more...
---
Local finishing for switchgear
First Quarter 2020, Schneider Electric South Africa , News & events
Schneider Electric South Africa has announced that its PIX Easy Air Insulated Switchgear, previously 100% manufactured internationally, will now have a 68% local finishing process, reducing the customer 
...
Read more...
---
Training rigs for Coca-Cola bottler
First Quarter 2020 , News & events
The first on-site Bosch Rexroth pneumatic training rigs have been installed in Africa. The rigs were supplied to Nairobi Bottlers, the base for Coca-Cola Beverages Africa Kenya, by Bosch Rexroth Kenya, 
...
Read more...
---
Lubrication Engineers partners with Umuzi Engineers
First Quarter 2020 , News & events
Lubrication Engineers (LE) has partnered with Umuzi Engineers to tap the potential in new markets. Colin Ford, managing director at LE South Africa, says that Umuzi Engineers will operate as an independent 
...
Read more...
---
Sasol award for Actom Turbo Machines
First Quarter 2020 , News & events
Petrochemical giant Sasol has recognised Actom Turbo Machines with one of its top 2019 awards for exceptional service in repair, refurbishment and ongoing maintenance. Actom Turbo Machines is the only 
...
Read more...
---
Hytec Hydraulics Botswana opens service centre
First Quarter 2020 , News & events
Hytec Hydraulics Botswana recently officially opened its service centre in Gaborone. Tillmann Olsen, CEO for Bosch Rexroth South Africa, said the company is the largest manufacturer and supplier of hydraulic, 
...
Read more...
---
Consolidation of tooling companies
First Quarter 2020 , News & events
INDUSTRI Tools & Equipment has recently been launched as part of the Engineering Solutions Group (ESG) of Invicta Holdings. Through the consolidation of six independent tooling companies – Man-Dirk, Tool 
...
Read more...
---