printer friendly version
BMG's Food & Beverage Expo
1 November 2019 News & events
BMG's Food & Beverage Expo, which was held recently at the BMG World distribution and engineering facility, has been voted a great success. "Highlights of the event included presentations from guest speaker, Linda Jackson, director of Food Focus, who stressed the importance of knowing the latest standards for equipment in the food and beverage sector, to ensure food safety," says group product and sales manager, Mark Barbour. "It is critical that equipment suppliers to the industry understand the complexity of food production environments and have a thorough understanding of the key processes necessary to meet stringent food safety requirements by avoiding contamination risks.
"This two-day expo was the ideal forum for the BMG team to collaborate with industry leaders and to network with customers. We also focused on recent changes in legislation, which include the new regulation R638 for 'Regulations governing general hygiene requirements for food premises, the transport of food and related matters."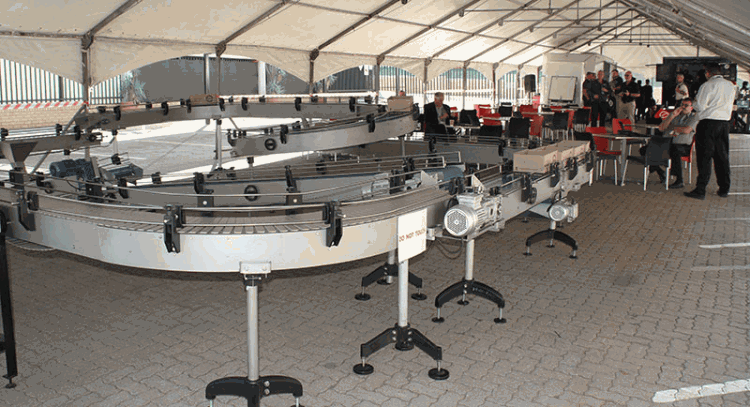 The event concentrated on the importance of investing in the correct equipment to prevent food safety hazards; what the risks of food safety are; and what food safety auditors look at when they audit equipment. On display were BMG systems and components that assist both manufacturers and end-users to achieve compliance with new specifications and deliver on food safety and environmental and energy-efficient initiatives.
BMG exhibited power transmission components, light materials handling and belting products, gearboxes, motors and variable speed drives, seals and bearings, valves, tools and equipment, as well as fasteners, lubricants and maintenance chemicals.
This show not only highlighted the company's extensive range of engineering components and expertise, but also focused on how BMG integrates its vast product range and extensive technical services into tangible operational efficiencies in the food and beverage sector. The company's solutions for the food and beverage sector extend from processing, where raw ingredients are transformed, to packaging, where products are enclosed and protected for safe distribution.
In addition to biannual industrial expos held at BMG World, the company will follow this food and beverage expo with other specialist industry events, including water and wastewater, power generation and mining.
For more information contact Mark Barbour, BMG, +27 11 620 1611, markb@bmgworld.net, www.bmgworld.net
Credit(s)
Further reading:
Focusing on bearings
First Quarter 2020, Bearing Man Group T/A BMG , Shaft power components
BMG's comprehensive range of bearings extends from precision miniature bearings used in machine tools and electronics applications, to giant size bearings that meet the demands of steel and mining industries. "To 
...
Read more...
---
BI leverages synergies across Hudaco Group
First Quarter 2020 , News & events
Being part of the broader Hudaco Group allows Bearings International (BI) to leverage synergies across a broad range of companies, meaning it can offer a complete product basket at its extensive branch 
...
Read more...
---
IIoT, Industrie 4.0 or 4IR?
First Quarter 2020, Technews Publishing , News & events
We always overestimate the change that will occur in the next two years and underestimate the change that will occur in the next ten: Bill Gates
Read more...
---
Nidec extends warranty on Commander drives
First Quarter 2020, Nidec Industrial Automation Southern Africa , News & events
Control Techniques has launched a free, five-year warranty for its Commander range of general-purpose drives. Anyone who purchases a drive from the Commander range will now be able to register to extend 
...
Read more...
---
Stone-Stamcor boosts Cape Town operation
First Quarter 2020, Stone Stamcor , News & events
In order to enhance its service to its Western and Eastern Cape customers, Stone-Stamcor has embarked on a business improvement project for its Cape Town branch. The new location of the branch will make 
...
Read more...
---
Local finishing for switchgear
First Quarter 2020, Schneider Electric South Africa , News & events
Schneider Electric South Africa has announced that its PIX Easy Air Insulated Switchgear, previously 100% manufactured internationally, will now have a 68% local finishing process, reducing the customer 
...
Read more...
---
Training rigs for Coca-Cola bottler
First Quarter 2020 , News & events
The first on-site Bosch Rexroth pneumatic training rigs have been installed in Africa. The rigs were supplied to Nairobi Bottlers, the base for Coca-Cola Beverages Africa Kenya, by Bosch Rexroth Kenya, 
...
Read more...
---
Lubrication Engineers partners with Umuzi Engineers
First Quarter 2020 , News & events
Lubrication Engineers (LE) has partnered with Umuzi Engineers to tap the potential in new markets. Colin Ford, managing director at LE South Africa, says that Umuzi Engineers will operate as an independent 
...
Read more...
---
Sasol award for Actom Turbo Machines
First Quarter 2020 , News & events
Petrochemical giant Sasol has recognised Actom Turbo Machines with one of its top 2019 awards for exceptional service in repair, refurbishment and ongoing maintenance. Actom Turbo Machines is the only 
...
Read more...
---
Hytec Hydraulics Botswana opens service centre
First Quarter 2020 , News & events
Hytec Hydraulics Botswana recently officially opened its service centre in Gaborone. Tillmann Olsen, CEO for Bosch Rexroth South Africa, said the company is the largest manufacturer and supplier of hydraulic, 
...
Read more...
---