printer friendly version
Lube oil filters
Fourth Quarter 2019
Other technologies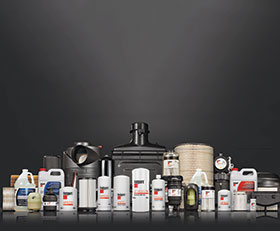 Power stations, pipelines, and marine engines work hard, with run times of 98% standard in many industries. Winslow lube oil filters from Fleetguard provide engines with contaminant protection and extended service life unmatched by other systems. Hytec Fluid Technology (HFT) is a Mega Distributor of Fleetguard's filtration products in South Africa and Africa.
Repair statistics show that the majority of engine problems stem from contaminated fuel. Condensation, leaking filler pipes, caps, inspection covers and breathers, and emulsified water generated during the filling process or movement of the fuel in the storage tank results in water contamination. Due to water contamination, fuel loses its lubricating properties, which makes the fuel system inefficient. When water combines with sulphur it forms acid, which is highly corrosive to engines.
Fleetguard filtration solutions are ideal for diesel and fuel engines in industry, construction, marine and consumer applications. They ensure optimal fuel system protection in line with demanding OEM specifications. The Winslow Stationary Multiple Element Design Fuel Coalescer removes 99% of water and dirt from fuel. Cleaner fuel means prolonged engine life, lower maintenance costs and reduced exhaust emissions.
It follows a two-stage process. Through fibrous media, emulsified water is attracted and held. Water droplets unite into larger droplets to form free water. The free water is released during the water repellent second stage. Separated water drops into the water collection sump, effectively cleaning fuel of water contamination. It removes 99% per SAE J1488 of emulsified water with 99% efficiency per SAE J1839 of free water.
For more information contact Sandor Bottyan, Hytec Fluid Technology, +27 11 976 7300, sandor.bottyan@boschrexroth.co.za, www.hytecgroup.co.za
Credit(s)
Further reading:
Pressure measurement converter for harsh industrial conditions
First Quarter 2020, Instrotech , Other technologies
Instrotech is offering Kobold's PNK pressure measurement converter, used for the electrical remote transmission of pressure. For use in heavy machinery, engines, shipbuilding and automotive engineering, 
...
Read more...
---
Three lubrication myths
First Quarter 2020 , Other technologies
As specialists in lubrication reliability solutions, the team at Lubrication Engineers (LE) South Africa frequently comes up against myths relating to lubricants. "People believe things or are taught 
...
Read more...
---
Top 5 industrial automation trends in 2020
First Quarter 2020 , Other technologies
1. Deploying IIoT edge 2.0 solutions
The edge of IIoT enabled architectures is becoming increasingly important due to their role in digital transformation strategies. Initially focused on delivering 
...
Read more...
---
Food grade chain hoists
First Quarter 2020, Becker Mining South Africa , Other technologies
New to Becker's range of Kito hoists are food grade electric chain hoists, designed for safe lifting applications in contaminant controlled and corrosive processing environments, where pristine cleanliness 
...
Read more...
---
Digital factory revenues to jump to US$375 billion by 2030
First Quarter 2020 , Other technologies
Technology investments in the industrial and manufacturing sector are set to skyrocket, jumping from $59 billion in 2019 to $375 billion in 2030. Including hardware revenues, that figure climbs to over 
...
Read more...
---
Why are half of IIoT deployments failing?
First Quarter 2020 , Other technologies
The global Industrial IIoT business is arriving at a tipping point, with the industry reaching a connectivity milestone next year that will pave the way for market-changing events like the proliferation 
...
Read more...
---
How real is augmented reality?
First Quarter 2020, Absolute Perspectives , Other technologies
The early morning air was cold when we arrived at the mine for an underground visit. Our hosts were keen to show us the practical challenges of the drilling and blasting operation, and the many ways in 
...
Read more...
---
Switched interlocked socket range
First Quarter 2020, Powermite - Div. of Hudaco Trading , Other technologies
Powermite's range of plastic switched interlocked sockets form part of a new series of cutting edge Gen 2 plastic industrial plugs and connectors which are poised to raise the bar for efficiency, versatility 
...
Read more...
---
Universal industrial Ethernet absolute encoder
First Quarter 2020, Vepac Electronics , Other technologies
Do you use different protocols on your machines or carry out repairs and don't always know what to expect? With Vepac's WDGA universal IE encoder you are completely flexible. You do not have to worry 
...
Read more...
---
Protecting with lubrication
First Quarter 2020 , Other technologies
Proper lubrication is essential to the correct functioning of mechanical equipment and ensures its longevity. "Even over-lubricating is problematic as it causes grease churning and overheating, which 
...
Read more...
---