printer friendly version
A new world
1st Quarter 2019
News & events
The soft side of IoT
At the start of a new year it's fun to have a look at what's in store for us technology-wise, and Gartner Group generally has something to say. Its latest report on Top Strategic IoT Trends and Technologies Through 2023 identifies the ten technology trends that are expected to have the most impact worldwide. These are artificial intelligence; social, legal and ethical IoT; infonomics and data broking (the buying and selling of IoT data); the shift to intelligent edge and intelligent mesh (from centralised and cloud to more complex edge architectures); IoT governance; sensor innovation; trusted hardware and operating systems (security is a huge technical concern in IoT systems); new user experiences; innovation on the chip; and new wireless networking technologies.
Some of these are already well on their way – artificial intelligence, wireless networking, edge computing – but Gartner says that the softer trends are also affecting IoT's future. Human concerns such as social, legal and ethical IoT and IoT governance are equally important, as is user experience. Some of the issues to be faced are ownership of data and the conclusions that are drawn, privacy and compliance with regulations. Governance frameworks also need to be drawn up to draft rules about the creation, storage, use and deletion of information in order to manage people's behaviour.
Gartner also says that user experience is a critical trend. IoT is radically changing the way people and companies interact with technology, and IoT solutions need to be socially acceptable as well as technically effective. User experience design is becoming a key element of competitive advantage. Before, all that was needed was a web design. Now you also need innovation in product development, customer strategy and business transformation. Human/IoT interactions are increasingly without screens and keyboards, and user experience designers must use new technologies and adopt new ideas to create interfaces that reduce friction, lock in users and encourage their use and retention. All this will be driven by four building blocks: new sensors, new algorithms, new experience architectures, and socially aware experiences. The conventions are still being drafted. How they develop will determine the future of IoT.
Unlocking the value of digital transformation
Closer to home, another recent research report, this one by Accenture together with the World Economic Forum, says that digital technologies could unlock over R5 trillion in value in South Africa by 2026. In recent issues of Motion Control we have covered how South Africa is responding to 4IR through the impressive Intsimbi Future Production Technologies Initiative. This drive is aimed at changing the face of automation in South Africa in a partnership between government and industry. The Accenture report is right in line with this programme.
Unlocking Digital Value for Business and Society in South Africa finds that by implementing digital technologies in government services and key industry sectors, value to society and industry amounting to R2 trillion and R3,6 trillion respectively could be unlocked in the next decade. Drawing on expert interviews, local statistics and industry reports, the research measures the impact digital technologies such as analytics, blockchain, virtual reality and artificial intelligence could have on the environment, consumers, labour and government.
What the research does is to highlight major areas in which South Africa can unlock value. It is also intended to lay down groundwork, stimulate dialogue, encourage public-private sector collaboration, and offer recommendations for national digital transformation strategies and investments that can lead to economic growth.
Accenture says the three core digital technologies and enablers that have the greatest potential for value creation are IoT and connected devices, artificial intelligence and platforms. The potential value of IoT will be the highest as a result of the combined effect of greater affordability of smart devices together with their widespread adoption.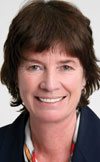 Digitalisation in agriculture, manufacturing and financial services has the highest potential for growth. In the agricultural sector, for example, the combined use of autonomous vehicles, drones and sensors can make precision agriculture possible, improving the use of resources and increasing yields. In the manufacturing sector there is the opportunity to improve response to demand and introduce added value services, turning product companies into service companies; and Accenture says that digitalisation of public infrastructure maintenance, public administration and healthcare alone could add over R1.2 trillion to society over the next decade through its impact on economic activity, productivity and service delivery.
However, the report warns that progress will require effort and investment in connectivity, as well as public-private partnerships. Skills development will also be critical. Let's see what happens, for now I think I will look at this as a glass half full.
Kim Roberts
Editor
Credit(s)
Further reading:
BI launches new e-commerce platform
News & events
Bearings International (BI) is entering the fast-growing realm of e-commerce by expanding its current website to provide more detailed information. "The aim is to create a 24/7 access experience for 
...
Read more...
---
TUKS campus taken over by robots!
RS Components SA News & events
Several teams of third-year engineering students took to the track for the ultimate robot showdown as the highly anticipated annual TUKS Robot Race Day took place at the campus recently. Now in its 
...
Read more...
---
From the editor's desk: Killer science and alternative energy
Technews Publishing News & events
I couldn't resist watching The World Industrial Reporter's video on Ten Scientists Killed By Their Own Experiments. Some of them would have deserved the Darwin Award for taking themselves out of the 
...
Read more...
---
Bosch Rexroth SA celebrates women in hydraulics
News & events
Bosch Rexroth South Africa is committed to social investment and the advancement of all its employees, breaking down barriers to create a diverse and dynamic workplace. This upcoming Women's Day presents 
...
Read more...
---
ABB's lifeline to unemployed graduate
News & events
When a kind stranger took a photograph of Momelezi Sifumba standing at a busy roadside with a cardboard sign stating: 'Help Me to Find a Job' and posted it on LinkedIn, little did the unemployed graduate 
...
Read more...
---
Port and rail upgrades essential for SA
News & events
Bearings International (BI) has welcomed the assertion by President Cyril Ramaphosa in his State of the Nation address on 10 February that the economy cannot grow without efficient ports and railways. 
...
Read more...
---
From the editor's desk: Making sense of the metaverse
Technews Publishing News & events
It wasn't so long ago that nobody had heard of IIoT. Then the hype began and now it's an integral part of the manufacturing environment. Recently I've been hearing more and more about the metaverse 
...
Read more...
---
Innovation for sustainable agriculture
News & events
Panasonic Industry has announced the Gold sponsorship of ETH Zurich's Robotic Weeding System (Rowesys) project and will assist the student team with engineering know-how, as well as components and products 
...
Read more...
---
New head office and warehouse for Fuchs Lubricants
News & events
The new head office and warehouse for Fuchs Lubricants South Africa is on track to be completed this month. The company is investing over R250 million in the expansion at its existing location in Isando, 
...
Read more...
---
Bosch Rexroth Africa Development appoints Tanzanian distributor
News & events
Bosch Rexroth Africa Development has appointed a Tanzanian company as its in-country distributor. Transec is a general mining equipment supplier with an established countrywide presence. In line with 
...
Read more...
---