printer friendly version
A new world
1st Quarter 2019
News & events
The soft side of IoT
At the start of a new year it's fun to have a look at what's in store for us technology-wise, and Gartner Group generally has something to say. Its latest report on Top Strategic IoT Trends and Technologies Through 2023 identifies the ten technology trends that are expected to have the most impact worldwide. These are artificial intelligence; social, legal and ethical IoT; infonomics and data broking (the buying and selling of IoT data); the shift to intelligent edge and intelligent mesh (from centralised and cloud to more complex edge architectures); IoT governance; sensor innovation; trusted hardware and operating systems (security is a huge technical concern in IoT systems); new user experiences; innovation on the chip; and new wireless networking technologies.
Some of these are already well on their way – artificial intelligence, wireless networking, edge computing – but Gartner says that the softer trends are also affecting IoT's future. Human concerns such as social, legal and ethical IoT and IoT governance are equally important, as is user experience. Some of the issues to be faced are ownership of data and the conclusions that are drawn, privacy and compliance with regulations. Governance frameworks also need to be drawn up to draft rules about the creation, storage, use and deletion of information in order to manage people's behaviour.
Gartner also says that user experience is a critical trend. IoT is radically changing the way people and companies interact with technology, and IoT solutions need to be socially acceptable as well as technically effective. User experience design is becoming a key element of competitive advantage. Before, all that was needed was a web design. Now you also need innovation in product development, customer strategy and business transformation. Human/IoT interactions are increasingly without screens and keyboards, and user experience designers must use new technologies and adopt new ideas to create interfaces that reduce friction, lock in users and encourage their use and retention. All this will be driven by four building blocks: new sensors, new algorithms, new experience architectures, and socially aware experiences. The conventions are still being drafted. How they develop will determine the future of IoT.
Unlocking the value of digital transformation
Closer to home, another recent research report, this one by Accenture together with the World Economic Forum, says that digital technologies could unlock over R5 trillion in value in South Africa by 2026. In recent issues of Motion Control we have covered how South Africa is responding to 4IR through the impressive Intsimbi Future Production Technologies Initiative. This drive is aimed at changing the face of automation in South Africa in a partnership between government and industry. The Accenture report is right in line with this programme.
Unlocking Digital Value for Business and Society in South Africa finds that by implementing digital technologies in government services and key industry sectors, value to society and industry amounting to R2 trillion and R3,6 trillion respectively could be unlocked in the next decade. Drawing on expert interviews, local statistics and industry reports, the research measures the impact digital technologies such as analytics, blockchain, virtual reality and artificial intelligence could have on the environment, consumers, labour and government.
What the research does is to highlight major areas in which South Africa can unlock value. It is also intended to lay down groundwork, stimulate dialogue, encourage public-private sector collaboration, and offer recommendations for national digital transformation strategies and investments that can lead to economic growth.
Accenture says the three core digital technologies and enablers that have the greatest potential for value creation are IoT and connected devices, artificial intelligence and platforms. The potential value of IoT will be the highest as a result of the combined effect of greater affordability of smart devices together with their widespread adoption.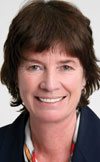 Digitalisation in agriculture, manufacturing and financial services has the highest potential for growth. In the agricultural sector, for example, the combined use of autonomous vehicles, drones and sensors can make precision agriculture possible, improving the use of resources and increasing yields. In the manufacturing sector there is the opportunity to improve response to demand and introduce added value services, turning product companies into service companies; and Accenture says that digitalisation of public infrastructure maintenance, public administration and healthcare alone could add over R1.2 trillion to society over the next decade through its impact on economic activity, productivity and service delivery.
However, the report warns that progress will require effort and investment in connectivity, as well as public-private partnerships. Skills development will also be critical. Let's see what happens, for now I think I will look at this as a glass half full.
Kim Roberts
Editor
Credit(s)
Further reading:
Obituary: Steven James Meyer
January 1957 - January 2022
Technews Publishing News & events
It is with deep sadness and shock that we announce the sudden death of SA Instrumentation & Control Editor, Steven Meyer. Steven joined Technews in October 2007 in the position of Deputy Editor. His 
...
Read more...
---
From the editor's desk: Would you like an NFT?
Technews Publishing News & events
One of my favourite light-hearted books is called Fifty Flippen Brilliant South Africans and Elon Musk stands out as one of the giants. He is one of the most iconic inventors and entrepreneurs of our 
...
Read more...
---
Fuchs Lubricants sees major growth in Africa
News & events
Moving to a centralised new head office in Isando, Johannesburg and launching a new unified product brand image in mid-November is all part of a long-term strategy for sustained growth and expansion at 
...
Read more...
---
Hytec Rustenburg establishes permanent site in Marikana
News & events
Hytec Rustenburg has established its first 24/7 satellite mine site at a prominent mine in the North West province. This enables Hytec SA to provide a tailored maintenance programme and stock a selection 
...
Read more...
---
Danfoss acquires Eaton's hydraulics business
Danfoss News & events
Danfoss has officially finalised its $3,3 billion acquisition of Eaton's hydraulics business. The move will see the Danfoss Group grow in size by a third and establish itself as a global leader in mobile 
...
Read more...
---
Festo Didactic helps customers unpack their full learning potential
Festo News & events
Technological changes are continually transforming tasks in companies today. Investment in technologies and machines alone is not enough to ensure success. Festo recognises that skilled employees are 
...
Read more...
---
Engineering Solutions Group achieves Level 2 B-BEEE status
News & events
Invicta Holdings' Engineering Solutions Group (ESG) − distributors of engineering consumables, automotive components, technical services and related solutions − has achieved recognition as a Level 2 contributor 
...
Read more...
---
BMG opens new branch in Maun
News & events
BMG has extended its service in Botswana, with the opening of a new branch in Maun. "BMG now has two dedicated branches in Botswana – one in Gaborone, which was established in 1998 to service and supply 
...
Read more...
---
Fuchs Lubricants achieves top certification
News & events
Fuchs Lubricants South Africa has achieved IATF 16949:2016 certification, which aims at providing improved quality products to automotive customers worldwide. IATF 16949, specified by The International 
...
Read more...
---
Festo's life science webinar on gas handling opens up new horizons
Festo News & events
How piezo technology more efficiently regulates flow rate and pressure.
Read more...
---