printer friendly version
From the editor's desk: What's driving 4IR?
Fourth Quarter 2019
News & events
When the fourth industrial revolution (4IR) first came onto our radar, and it wasn't that long ago, there was mainly a focus on the technology, backed up by a couple of killer apps like condition monitoring. This was followed by a large amount of hype, with more speculation going on than real progress. It appears to me that this megatrend is becoming more mature. Recently there has been more of an emphasis on the contribution of people to making 4IR work. For example Motion Control has run features on cobots, with people and robots working alongside each other. This has led to a debate on the attributes needed to make it in 4IR.
I recently attended a fascinating talk by Kobus Neethling, who has six degrees in creativity (I don't think you can get more qualified than that). He outlined the essential skills you need to thrive in 4IR, and creativity was high on the list. The other ones he described were complex problem solving, critical thinking, people management, emotional intelligence (the ability to read people's emotions and react accordingly), decision-making, service orientation, negotiation and cognitive flexibility. Whew! "Don't make yesterday better," he said. "You have to create a whole new tomorrow."
The World Economic Forum (WEF) has called the driving force for 4IR a 'fusion of technologies that is blurring the lines between the physical, digital and biological spheres.' It says that by 2020 creative thinking will be third on the list of the most important skills needed to survive and thrive in 4IR. The top three skills needed will be complex problem solving, critical thinking and creativity. These are qualities where algorithms and robots can't compete with humans.
But these skills are out there. A great example is the story about South African engineer, Neo Hutiri, who won the Africa Prize for Engineering Innovation founded by the Royal Academy for Engineering. This is for a smart locker system designed to dispense medicine to patients with chronic conditions; and I love Elon Musk's 'fail fast, then fix' motto. His SpaceX Crew Dragon capsule is aiming to take humans, not just cargo, to the international space station in the first quarter of 2020.
Companies are also using 4IR creatively on the service side, and we are hearing about servitisation, equipment-as-a-service, subscription and pay-per-use. Traditional technology-focused businesses are moving into service. With increasingly complex, high-tech equipment, customers need their equipment dealers for service expertise, and servitisation is reinventing the manufacturing business model. Manufacturers are selling an entire field service support system around a product. This means they don't have to rely on equipment sales only but can create new revenue streams.
Basically the machines capture data and analyse it to identify patterns and predict problems, creating insights that can increase uptime and decrease service costs. This package of equipment and services is then offered as a per-use or recurring fee in a subscription. Servitisation decreases the cost of owning a machine. It combines service costs into a monthly fee. It can guarantee constant machine uptime. By renting equipment rather than buying it, customers can shift capex costs to opex costs. This leads to improvements in taxes, support infrastructure and a machine's lifecycle.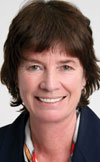 Kim Roberts, Editor
An example of servitisation is Rolls-Royce's aeroplane engine programme. Customers pay a set amount of money based on the number of hours the plane is flown. In return, Rolls-Royce repairs, replaces broken parts, and modifies and monitors the engine remotely. This new package creates a long-term relationship with its customers and is bringing in more than 50% of its revenue. This innovative approach shows the power that creativity and imagination have to let loose the potential of 4IR. Harvesting data is just square one, and even analysing that data with state-of-the-art technology is basic. The real business outcomes are when you put those insights into motion in new ways that benefit both companies and customers.
We have become used to being in a state of flux as economic systems stagnate, people migrate and leadership gaps widen. Talk about the future reflects uncertainty rather than clarity. Governments and industries are often unsure of exactly what 4IR means for the future, while people try to adjust to increasingly complex and automated ways of life. The WEF says that creativity thrives in three conditions: when we apply and combine old ideas in new ways, when we feel enough pressure and incentive to encourage flexible thinking, and when we don't get too comfortable.
These are skills that can help us rise to these challenges. According to a recent PwC Global Industry 4.0 survey: "The biggest challenge for industrial leaders isn't technology, it's the people."
Further reading:
BI leverages synergies across Hudaco Group
First Quarter 2020 , News & events
Being part of the broader Hudaco Group allows Bearings International (BI) to leverage synergies across a broad range of companies, meaning it can offer a complete product basket at its extensive branch 
...
Read more...
---
IIoT, Industrie 4.0 or 4IR?
First Quarter 2020, Technews Publishing , News & events
We always overestimate the change that will occur in the next two years and underestimate the change that will occur in the next ten: Bill Gates
Read more...
---
Nidec extends warranty on Commander drives
First Quarter 2020, Nidec Industrial Automation Southern Africa , News & events
Control Techniques has launched a free, five-year warranty for its Commander range of general-purpose drives. Anyone who purchases a drive from the Commander range will now be able to register to extend 
...
Read more...
---
Stone-Stamcor boosts Cape Town operation
First Quarter 2020, Stone Stamcor , News & events
In order to enhance its service to its Western and Eastern Cape customers, Stone-Stamcor has embarked on a business improvement project for its Cape Town branch. The new location of the branch will make 
...
Read more...
---
Local finishing for switchgear
First Quarter 2020, Schneider Electric South Africa , News & events
Schneider Electric South Africa has announced that its PIX Easy Air Insulated Switchgear, previously 100% manufactured internationally, will now have a 68% local finishing process, reducing the customer 
...
Read more...
---
Training rigs for Coca-Cola bottler
First Quarter 2020 , News & events
The first on-site Bosch Rexroth pneumatic training rigs have been installed in Africa. The rigs were supplied to Nairobi Bottlers, the base for Coca-Cola Beverages Africa Kenya, by Bosch Rexroth Kenya, 
...
Read more...
---
Lubrication Engineers partners with Umuzi Engineers
First Quarter 2020 , News & events
Lubrication Engineers (LE) has partnered with Umuzi Engineers to tap the potential in new markets. Colin Ford, managing director at LE South Africa, says that Umuzi Engineers will operate as an independent 
...
Read more...
---
Sasol award for Actom Turbo Machines
First Quarter 2020 , News & events
Petrochemical giant Sasol has recognised Actom Turbo Machines with one of its top 2019 awards for exceptional service in repair, refurbishment and ongoing maintenance. Actom Turbo Machines is the only 
...
Read more...
---
Hytec Hydraulics Botswana opens service centre
First Quarter 2020 , News & events
Hytec Hydraulics Botswana recently officially opened its service centre in Gaborone. Tillmann Olsen, CEO for Bosch Rexroth South Africa, said the company is the largest manufacturer and supplier of hydraulic, 
...
Read more...
---
Consolidation of tooling companies
First Quarter 2020 , News & events
INDUSTRI Tools & Equipment has recently been launched as part of the Engineering Solutions Group (ESG) of Invicta Holdings. Through the consolidation of six independent tooling companies – Man-Dirk, Tool 
...
Read more...
---