printer friendly version
Pneumax on track with fail-safe rail switch prototype
4th Quarter 2018
Pneumatic systems & components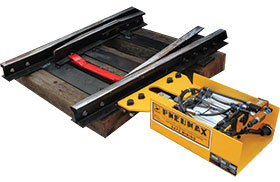 With the spotlight on safety in mining, the new prototype Air Rail Switch from Torre Industries' pneumatic automation business, Pneumax is set to reduce risk in underground rail traffic.
Pneumax has joined forces with power electronic engineering technology leaders, Battery Electric, to incorporate a fail-safe design into a uniquely assembled South African product that will ensure safe rail switching in high risk areas. "Up to this point, mines have seen rail track changeover safety as a real problem with no fail-safe solution," says Pneumax national sales manager, Eugene Van Der Lith, "This prototype is specifically designed to protect the health and safety of mineworkers, employing the latest in electrical engineering and pneumatics to work towards best practice in the mining industry."
In the case of rail accidents and fatalities, the common cause is an unexpected switching of lanes to the wrong track, either by human error – manually misusing the metal industrial crowbar known as a 'gwala' in South African mines – or when components have deteriorated and failed inside switch devices. One of the worst rail mining disasters on record was in 1995 when 104 miners lost their lives at Vaal Reef when an underground locomotive carriage fell down a lift shaft and landed onto a cage loaded with night shift miners.
This prototype with its control box replaces the need for a gwala. It overcomes the darkness and noise factor of mines with its in-built visual and audio safety features. In addition it has an emergency air shutoff valve to quickly stop any moving parts, thereby minimising the risk of injury.
"Pneumatically, we knew that we had a viable safety concept for the mines. Applying a non-perishable reservoir of air to a rail switch creates a fail-safe design," says Van Der Lith. "The advantage of Pneumax partnering with mining industry specialists, Battery Electric is that we have created an integrated concept that features RFID controlled access via a card reader, proximity detection, and warning systems, all backed up by expertise in pneumatic actuated switching."
For safety, only an operator with a licensed RFID access card can choose to open or close the Air Rail Switch by inserting the RFID access card and selecting the open/close button switch. Mechanically, a pneumatic actuator is used to move the switch, which changes the direction of traffic on the rails. The air is fed in from the mine's airline and collected in a reservoir which is used to feed the system in the event of air loss. Pressurised, filtered air is then used to keep the rail switch in the open (default) position in a critical situation. For instance, in cases where the switch had not been activated, or if there is a loss in power or air to the system it will remain in an unchanged position. The inbuilt contingencies of the switch will keep rail traffic on track even if the licensed authorisation card has been removed.
Safety is the sole purpose of the switch, and the system design requires the operator to move away from unsafe environments before operating on the moving components of the product. When an RFID card is inserted, flashing lights are activated to indicate possible operation. During the mechanical movement of the rail switch, a warning buzzer is used to alert locomotive operators of its position as they approach. And while the switch is moving to change tracks, creep speed control is automatically applied to any locomotive in close proximity.
"The default position is also known as the fail-safe position and locomotive traffic is controlled in the direction of the straight track," explains Van Der Lith. "Importantly, the Air Rail Switch is completely free of electricity – an added safety feature that eliminates the hazard of water on underground rails and makes the Air Rail Switch ideally suited for use in harsh mining environments."
Standard equipment includes: a rail switch, control box, RFID system and indicators (flashing lights for visual signalling, and a buzzer for audio signalling. Every pneumatic component of the switch is locally stocked and replaceable.
The team is now in test phase, working together with Lonmin and mine engineers for approval, and in the process of writing a risk assessment. A complete safety pack will be drawn up.
For more information contact Mbali Msimango, Pneumax, +27 11 923 7000, mbali@torreindustries.com, www.torreindustries.com
Further reading:
Compressed air purity analyser
Second Quarter 2021, Artic Driers International , Pneumatic systems & components
Compressed air treatment using filters and dryers is an effective barrier to airline contamination. Until recently, auditing the compressed air quality in a system was difficult, but clients and professional 
...
Read more...
---
Critical compressed air on platinum mine
Second Quarter 2021 , Pneumatic systems & components
The mining industry is a vital cog in the economic workings of South Africa, in particular platinum mines, of which the country has significant reserves, that are among the largest worldwide. Yet, if 
...
Read more...
---
Tectra Automation contracted for PG Bison's MFB press upgrade
Second Quarter 2021, Tectra Automation , Pneumatic systems & components
Tectra Automation has provided all the pneumatic and vacuum equipment required for the installation and commissioning of PG Bison's sixth melamine-faced board (MFB) press. The press, which came online 
...
Read more...
---
Festo at the heart of absolute automation
Second Quarter 2021, Festo , Pneumatic systems & components
Festo is renowned as one of the leading pneumatic automation suppliers. Over the years, the company has also set the pace in both Process and Electric Automation. This is backed by its proven record of 
...
Read more...
---
Highly flexible pick and place with digitised pneumatics from Festo
First Quarter 2021, Festo , Pneumatic systems & components
A wide range of products, functions and complete solution packages are integrated into the Festo Motion Terminal. One of these products is Motion Apps, which heralds a new Industry 4.0 era. Motion Apps 
...
Read more...
---
Smart positioners of the future
First Quarter 2021 , Pneumatic systems & components
SMC's new range of smart positioners was designed to pair perfectly with a variety of process control valves and actuators.
Read more...
---
Locally built air dryers for hospitals
Fourth Quarter 2020, Artic Driers International , Pneumatic systems & components
Artic Driers recently partnered with an NGO (non-governmental organisation) called Save-P to develop a locally designed compressed air dryer and filter bank providing breathing-quality air for hospitals 
...
Read more...
---
Efficient pneumatic performance with multifunctional sensor
Fourth Quarter 2020, SICK Automation Southern Africa , Pneumatic systems & components
SICK Automation's recently introduced multifunctional FTMg (flow thermal meter for gases) flow sensor detects pneumatic system leakages well before pressure loss causes machine failure. It is engineered 
...
Read more...
---
Festo Motion Terminal VTEM bolsters productivity
Third Quarter 2020, Festo , Pneumatic systems & components
The world's first valve to be controlled by apps.
Read more...
---
SMC launches wireless valve bank in SA
Third Quarter 2020 , Pneumatic systems & components
In response to customer demand for a reliable communication system, which could limit the number of cables needed to communicate between multiple valve banks/field sensors and a PLC, a wireless communication 
...
Read more...
---