printer friendly version
Industry 5.0 – the best of both worlds
2nd Quarter 2019 Editor's Choice Robotics & Mechatronics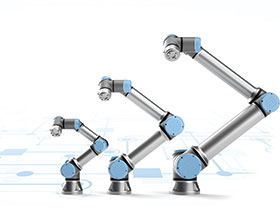 There's long been a global movement under way towards highly automated factories equipped with largely unmanned robots, and in which many different items of equipment communicate with each other digitally – the so-called Industry 4.0 approach.
However, a new phenomenon is now already emerging, aiming to bring the human touch back into a wide range of manufacturing and production contexts. This trend has been dubbed Industry 5.0 – a term used to denote contexts in which robot capabilities and human skills converge.
Whereas Industry 4.0 setups are largely about consistency of quality, consistency of flow and data collection in larger scale manufacturing contexts based around largely unmanned robots, Industry 5.0 is about highly skilled people and robots working side by side to create individualised products, services and experiences – by pairing the technical capabilities and consistent repetitiveness of robots with the unique skills of craftspeople and other human specialists.
Unlike Industry 4.0 robots, Industry 5.0 collaborative robots (cobots) also have the big indirect advantage of keeping valuable knowledge in-house, close to the artisan, the producer and the manufacturer. For any commercial operation, this know-how and the painfully, slowly acquired experience and the craftsmanship touch represent a crucial, high value asset that's a key differentiator from the volume production focus at the heart of Industry 4.0 robotics.
Best of both worlds
In most production processes, automation can be used to its fullest potential only when there's also a spark of human creativity influencing and driving the more repetitive, routine processes. On its own, an automated production setup featuring traditional industrial robots will do only what it is told – and often only after long, complex and expensive programming efforts.
Cobots, however, work in sync with human employees. These two different kinds of workforce complement each other, because the human can add the 'secret sauce' of human skills, experience and judgement, while the robot moves things around, prepares the product for human attention or processes the product further. This empowers the human worker and enables him or her to use the cobot as a multi-functional tool – as a screwdriver, pizza dough mixer, seedling separator, packaging device, palletiser, etc. The robot is not meant to replace the human workforce, but to take over strenuous, repetitive or even dangerous tasks and to enable human workers to use their creativity on more gratifying tasks and more complex projects.
Transformation of modern manufacturing
The agenda behind Industry 5.0 is all about the transformation of modern manufacturing as well as a wide range of other processes – commercial as well as non-commercial – to enable man and machine to work collaboratively, pairing the exact and repetitive technical capabilities of robots with the unique, cognitive skills of workers.
This collaborative approach is essential for tackling new kinds of market requirements and consumer expectations, which often involve small batch exclusivity and greater degrees of personalisation, as well as customisation to individual preferences. The personal touch is both fashionable and an extremely effective way to match production capabilities with countless different configurations of customer preferences and requirements.
Creating value
At Universal Robots, the Industry 5.0 moniker is basically a question of cobots and skilled humans working closely together in myriads of different ways – many as yet unthought of and unexplored – to create maximum human value by getting the best of both worlds and both types of capabilities.
It is about combining people's creativity and craftsmanship with the speed, productivity and consistency of robots, and exploring how to make the very best of the many possible overlaps to mould hitherto unseen commercial and societal capabilities – from more people-centric, individually customised products to craftsmanship and specialist skills made much more widely available.
With the Industry 5.0 mindset, robotic capabilities become a personal tool that members of any workforce can use to apply their distinctive creative skills more effectively, to provide greater human value.
For more information contact Frederik Langenhoven, Cobots, +27 12 764 7284, frederik@cobots.co.za, www.cobots.co.za
Credit(s)
Further reading:
Addressing evolving hydraulics challenges
Fourth Quarter 2019 , Editor's Choice, Hydraulic systems & components
Using materials science and design technologies, Gates' engineers come up with innovative hydraulic hose solutions for ever-changing needs and challenges.
Read more...
---
Control for additive manufacturing
Fourth Quarter 2019, Beckhoff Automation , Editor's Choice, Electrical switching & drive systems & components
Colossus plans to manufacture large functional or decorative objects such as outdoor furniture and ornaments with a new 3D printer that processes recycled plastics, and this creates further special 
...
Read more...
---
On the way towards fully electrified mining machines
Fourth Quarter 2019, Parker Hannifin - Sales Company South Africa , Editor's Choice, Electrical switching & drive systems & components
The more time humans spend working in mining conditions, and near mining vehicles, the more likely they are to be injured, contract illnesses or die in accidents. According to the UN's International 
...
Read more...
---
The Bloodhound
Fourth Quarter 2019, Bloodhound Technologies , Editor's Choice, News & events
The Bloodhound project is back on track. The British team developing a car capable of reaching 1600 kmph is in South Africa for several weeks of high-speed testing on the dry desert track at Hakskeenpan 
...
Read more...
---
Robot with air-water actuators has fluid motion
Fourth Quarter 2019 , Editor's Choice, Robotics & Mechatronics
Hydraulics and pneumatics are widely used for power transmission: hydraulics for moving heavy loads with highly controlled motion, and pneumatics for lighter loads and rapid, repetitive motions. Many 
...
Read more...
---
Future-proof chair lift system
Fourth Quarter 2019, Siemens Digital Industries , Editor's Choice, Electrical switching & drive systems & components
At Snow Space, a winter sports resort near Salzburg, Bergbahnen Wagrain operates the Sonntagskogelbahn 2, a chair lift for taking skiing enthusiasts to the piste. New innovative drive technology guarantees 
...
Read more...
---
Rescue from the sky
Fourth Quarter 2019, Siemens Digital Industries , Editor's Choice, Other technologies
Zipline International designs and builds autonomous flying drones that transport medical supplies in hard to reach regions. The company uses design solutions from Siemens PLM Software. This enables the 
...
Read more...
---
Does edge computing have the edge?
Third Quarter 2019, Omron Electronics , Editor's Choice, Other technologies
Implementing artificial intelligence in industrial manufacturing.
Read more...
---
Underwater robot with a unique fin
Third Quarter 2019, Festo , Editor's Choice, Robotics & Mechatronics
Swimming like the natural model
The longitudinal fins of the polyclad and the cuttlefish extend from the head to the tail along their backs, their undersides or the two sides of their torsos. To 
...
Read more...
---
Motors that let you know when it's time for a service
Third Quarter 2019, ABB South Africa, Robotics and Motion , Editor's Choice, Electrical switching & drive systems & components
A new smart sensing solution from ABB can reduce downtimes of low voltage motors by up to 70% and extend their lifetime by up to 30%.
Read more...
---