printer friendly version
Bolting systems calibration centre for Ghana
First Quarter 2020
News & events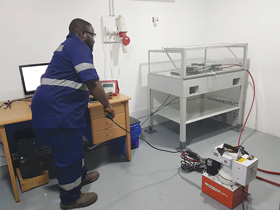 Bosch Rexroth Ghana has launched a new SPX FLOW Bolting Systems calibration centre to provide local calibration and services for its bolting systems technologies. Located at Bosch Rexroth's existing Ghana facility in Takoradi, the calibration service centre has installed two dedicated workbenches for the calibration of torque wrenches and pumps. The rigs can test and calibrate bolting systems, tools and equipment with capacities of up to 50 000 Nm.
"There is a great demand for local services and having this facility fits well with the Bosch Rexroth business and is great for local customers," says Alexander Booth, regional manager for Bosch Rexroth Ghana. West Africa is a recognised hub for minerals mining, and oil and gas exploration and production. Bosch Rexroth and SPX FLOW Bolting Systems have an established and trusted history in the supply of controlled bolting solutions and services in the area. The new calibration centre will offer enhanced local support to customers in West Africa.
The Bosch Rexroth South Africa Group of Companies has been an official distributor of the SPX FLOW Bolting Systems range of products for 35 years and the new calibration centre forms part of its wide distribution and service network in Africa and Bosch Rexroth's continuing customer service and support.
For more information contact Alexander Booth, Bosch Rexroth Ghana, +233 540 123766, alex.booth@boschrexroth.com, www.hytecgroup.co.za
Further reading:
BMG provides critical engineering support
First Quarter 2020, Bearing Man Group T/A BMG , News & events
BMG has been authorised to provide engineering components and support services to essential service providers during the country's COVID-19 lockdown period. Apart from the supply of necessary engineering 
...
Read more...
---
In memoriam: Vivienne Caroline Dorrington - 19 June 1958 – 21 April 2020
First Quarter 2020, Technews Publishing , News & events
It is with great sadness that we announce the death of our CEO, Vivienne Dorrington, after a long and brave battle with cancer. Like her father, Ray Beaumont, who founded Technews Publishing in 1985, 
...
Read more...
---
BI leverages synergies across Hudaco Group
First Quarter 2020 , News & events
Being part of the broader Hudaco Group allows Bearings International (BI) to leverage synergies across a broad range of companies, meaning it can offer a complete product basket at its extensive branch 
...
Read more...
---
IIoT, Industrie 4.0 or 4IR?
First Quarter 2020, Technews Publishing , News & events
We always overestimate the change that will occur in the next two years and underestimate the change that will occur in the next ten: Bill Gates
Read more...
---
Nidec extends warranty on Commander drives
First Quarter 2020, Nidec Industrial Automation Southern Africa , News & events
Control Techniques has launched a free, five-year warranty for its Commander range of general-purpose drives. Anyone who purchases a drive from the Commander range will now be able to register to extend 
...
Read more...
---
Stone-Stamcor boosts Cape Town operation
First Quarter 2020, Stone Stamcor , News & events
In order to enhance its service to its Western and Eastern Cape customers, Stone-Stamcor has embarked on a business improvement project for its Cape Town branch. The new location of the branch will make 
...
Read more...
---
Local finishing for switchgear
First Quarter 2020, Schneider Electric South Africa , News & events
Schneider Electric South Africa has announced that its PIX Easy Air Insulated Switchgear, previously 100% manufactured internationally, will now have a 68% local finishing process, reducing the customer 
...
Read more...
---
Training rigs for Coca-Cola bottler
First Quarter 2020 , News & events
The first on-site Bosch Rexroth pneumatic training rigs have been installed in Africa. The rigs were supplied to Nairobi Bottlers, the base for Coca-Cola Beverages Africa Kenya, by Bosch Rexroth Kenya, 
...
Read more...
---
Lubrication Engineers partners with Umuzi Engineers
First Quarter 2020 , News & events
Lubrication Engineers (LE) has partnered with Umuzi Engineers to tap the potential in new markets. Colin Ford, managing director at LE South Africa, says that Umuzi Engineers will operate as an independent 
...
Read more...
---
Sasol award for Actom Turbo Machines
First Quarter 2020 , News & events
Petrochemical giant Sasol has recognised Actom Turbo Machines with one of its top 2019 awards for exceptional service in repair, refurbishment and ongoing maintenance. Actom Turbo Machines is the only 
...
Read more...
---