printer friendly version
Pneumatic and hydraulic solutions
First Quarter 2020 Editor's Choice Pneumatic systems & components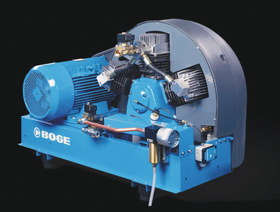 Berntel is expanding its footprint by offering its extensive range of pneumatic products through the Bearings International (BI) branch network. Acquired in 2014 as a complementary company to pneumatic and hydraulic automation solutions provider Ernest Lowe, Berntel expands the Hudaco Group's industrial offering in pneumatic, hydraulic, vacuum, process and automation solutions. It also manufactures its own pneumatic cylinders, as well as designing, building, and commissioning control systems, including PLC programming.
In addition, Berntel represents a range of well-known brands, such as JELPC, JORC Industrial (condensate drain management), VMECA (water-free units), Belef (actuation), Ober (air tools, air motors, and automation), Piab (vacuum technology), and BOGE (compressors and dryers). Target markets are food and beverage, automotive, general industry, sugar, pulp and paper, OEMs, machine builders, and agriculture.
Looking to 2020 GM, Neil Champion reveals that Berntel will introduce its latest Ober agency, an Italian designer and manufacturer of portable pneumatic tools, motors, automated machinery, and systems for drilling, tapping, threading and screwing, including power screwdrivers with electronic torque control. Another new agency is BOGE, a German producer of compressors for over 110 years. The Piab agency has also extended Berntel's offering into smart vacuum solutions. BI's smart solutions range from the efficient generation of clean, dry compressed air to condensate drain management, pneumatic, vacuum, process, and industrial components, and designing and programming control systems with PLC integration. Being part of the broader Hudaco Group allows BI to leverage synergies across a broad range of companies, meaning it can offer a complete product basket through its extensive branch network countrywide.
Further reading:
Land Cruiser wet brakes for mining
First Quarter 2021, Axiom Hydraulics , Editor's Choice, Hydraulic systems & components
Unfortunately, the vehicle's OEM brakes are not built for mining; they compromise safety while suffering frequent and expensive maintenance. Simply put, the brakes were never designed for use in the highly 
...
Read more...
---
PC-based control technology for next-generation telescope
First Quarter 2021, Beckhoff Automation , Editor's Choice, Electrical switching & drive systems & components
Key factors were the advantages of EtherCAT for site-wide real-time communication connecting all telescope functions. Various embedded PCs and AM8000 servomotors were also tested and specified, among 
...
Read more...
---
Surfing back to Earth
First Quarter 2021, Horne Technologies , Editor's Choice, Electrical switching & drive systems & components
How did life actually form on Earth? Even today this question still has not been definitively answered. There are, however, signs that asteroids or comets played an important role. In the search for additional 
...
Read more...
---
Treading in the footsteps of the space pioneers
First Quarter 2021, Siemens Digital Industries , Editor's Choice, Electrical switching & drive systems & components
The adventure park Euro Space Centre in Transinne in Belgium is home to a number of different simulators, including the original NASA multi-axis chair dating back to the 1960s which was used to familiarise 
...
Read more...
---
Miniature DC motors drive tattoo machine design forwards
First Quarter 2021 , Editor's Choice, Electrical switching & drive systems & components
All of this places stringent requirements on the motor – the prime mover in the tattoo machine and perhaps the most critical element of the machine design – as Vishal Sapale, assistant manager – design 
...
Read more...
---
The future of automation
First Quarter 2021, SEW-EURODRIVE , Editor's Choice, Electrical switching & drive systems & components
MOVI-C comprises four components: MOVISUITE engineering software, MOVI-C Controller control technology, MOVIDRIVE inverter technology, and MOVIGEAR, MOVIMOT decentralised drive technology comprising the 
...
Read more...
---
IoT communication without batteries
First Quarter 2021 , Editor's Choice, Other technologies
When we talk about IoT, we often gloss over the fact that all these interconnected things need batteries and electronics to carry out the job of collecting and processing data while they're communicating 
...
Read more...
---
From the editor's desk: Life after coal
Fourth Quarter 2020, Technews Publishing , Editor's Choice
Renewable energy has been around for a while. But as attractive as the concept might have been, the hard reality was always that it just did not make economic sense. I remember not so many years ago doing 
...
Read more...
---
maxon drives are heading to the Red Planet
Third Quarter 2020, DNH Tradeserve , Editor's Choice
NASA is sending its fifth rover to Mars. Its main mission is to collect soil samples that will be analysed on Earth at a later time. The rover will also carry a helicopter that will perform the first flights on the Red Planet. maxon's precision DC and BLDC motors will be used for numerous mission-critical tasks.
Read more...
---
The new mobility: how sensors control the cobots of the future
Third Quarter 2020, SICK Automation Southern Africa , Editor's Choice
The ongoing development of small, powerful and flexibly positionable robots that can collaborate with humans is progressing in leaps and bounds. Sensors from SICK Automation are an important component. 
...
Read more...
---