printer friendly version
Pneumatic and hydraulic solutions
First Quarter 2020 Editor's Choice Pneumatic systems & components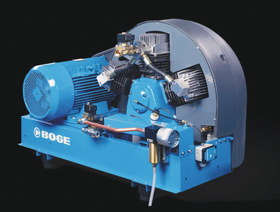 Berntel is expanding its footprint by offering its extensive range of pneumatic products through the Bearings International (BI) branch network. Acquired in 2014 as a complementary company to pneumatic and hydraulic automation solutions provider Ernest Lowe, Berntel expands the Hudaco Group's industrial offering in pneumatic, hydraulic, vacuum, process and automation solutions. It also manufactures its own pneumatic cylinders, as well as designing, building, and commissioning control systems, including PLC programming.
In addition, Berntel represents a range of well-known brands, such as JELPC, JORC Industrial (condensate drain management), VMECA (water-free units), Belef (actuation), Ober (air tools, air motors, and automation), Piab (vacuum technology), and BOGE (compressors and dryers). Target markets are food and beverage, automotive, general industry, sugar, pulp and paper, OEMs, machine builders, and agriculture.
Looking to 2020 GM, Neil Champion reveals that Berntel will introduce its latest Ober agency, an Italian designer and manufacturer of portable pneumatic tools, motors, automated machinery, and systems for drilling, tapping, threading and screwing, including power screwdrivers with electronic torque control. Another new agency is BOGE, a German producer of compressors for over 110 years. The Piab agency has also extended Berntel's offering into smart vacuum solutions. BI's smart solutions range from the efficient generation of clean, dry compressed air to condensate drain management, pneumatic, vacuum, process, and industrial components, and designing and programming control systems with PLC integration. Being part of the broader Hudaco Group allows BI to leverage synergies across a broad range of companies, meaning it can offer a complete product basket through its extensive branch network countrywide.
Further reading:
A very smart material
Second Quarter 2021 , Editor's Choice, Electrical switching & drive systems & components
Shape memory materials (SMMs) are strong, lightweight materials that have the ability to recover their original shape after being deformed if a stimulus is applied. They can be programmed to remember 
...
Read more...
---
The benefits of collaborative robots
Second Quarter 2021, SMC Corporation South Africa , Editor's Choice, Robotics & Mechatronics
While robotics led the way for the rapid growth of automation, cobots are the democratisation of robotics technology. They eliminate the cost and complex programming that robots usually require while providing much greater flexibility.
Read more...
---
Fast, safe transport on the factory floor
Second Quarter 2021, Omron Electronics , Editor's Choice
The Philips site in Klagenfurt produces over 23 million linear cutting elements for hair and beard trimmers each year. These beard trimmers use lift-and-trim technology: the beard hair is first lifted 
...
Read more...
---
SKF bearings help Mars Rover collect rock
Second Quarter 2021, SKF South Africa , Editor's Choice, Shaft power components
Enabling the Mars Rover's core operations in the harsh environment on Mars are Kaydon RealiSlim thin-section ball bearings, designed and manufactured by SKF at the company's global thin-section bearing 
...
Read more...
---
Hacking for a difference
Second Quarter 2021, RS Components SA , Editor's Choice, News & events
The annual Geekulcha Hackathon recently saw more than 100 coders, developers and programmers challenge each other in an online contest.The event has become a highlight in the African developer world. 
...
Read more...
---
Energy efficiency in the chemical industry
Second Quarter 2021, Danfoss , Editor's Choice
Danfoss has widespread experience and expertise in refrigeration and in controlling the speed of AC motors in all main chemicals sectors: petrochemicals, basic inorganics, polymers, specialty and 
...
Read more...
---
Mars helicopter makes history
Second Quarter 2021, DNH Tradeserve , Editor's Choice
This is the first time in the history of powered, unmanned spaceflight that a device has flown in a controlled manner on another planet – with the help of DC motors from maxon motor. The helicopter flew 
...
Read more...
---
Land Cruiser wet brakes for mining
First Quarter 2021, Axiom Hydraulics , Editor's Choice, Hydraulic systems & components
Unfortunately, the vehicle's OEM brakes are not built for mining; they compromise safety while suffering frequent and expensive maintenance. Simply put, the brakes were never designed for use in the highly 
...
Read more...
---
PC-based control technology for next-generation telescope
First Quarter 2021, Beckhoff Automation , Editor's Choice, Electrical switching & drive systems & components
Key factors were the advantages of EtherCAT for site-wide real-time communication connecting all telescope functions. Various embedded PCs and AM8000 servomotors were also tested and specified, among 
...
Read more...
---
Surfing back to Earth
First Quarter 2021, Horne Technologies , Editor's Choice, Electrical switching & drive systems & components
How did life actually form on Earth? Even today this question still has not been definitively answered. There are, however, signs that asteroids or comets played an important role. In the search for additional 
...
Read more...
---