printer friendly version
Control Techniques drives double production
January 2011 Electrical switching & drive systems & components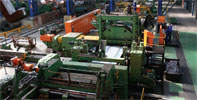 Macsteel sells steel and value-added steel products. As part of the company's production process, a FIMI heavy gauge cutting and shearing line cuts steel to length in thicknesses up to 12 mm. A new flying cut-to-length installation on a heavy gauge steel production line has doubled line throughput, reduced downtime and improved accuracy. The control system for this demanding task was a suite of 24 AC and DC drives designed by Control Techniques.
This was achieved with a flying shear that followed the line speed of the steel as the cut was made, avoiding stopping and starting of the line and maximising productivity. When the time came for an electrical and control upgrade of the system, Macsteel specified tighter tolerances on cut lengths as well as high reliability in order to cut machine down-time.
Before the upgrade, the machine had a throughput which was inadequate. As a major user of Control Techniques drives, Macsteel approached the local Control Techniques Drive Centre, knowing the company's experience in the steel industry and proven record on flying shear and cut-to-length systems in the steel industry worldwide. Local expertise, on-site support and stock-holding of spares was a further factor in their choice.
The system proposed by Control Techniques comprised a total of 24 drives which were housed in an eight metre suite of cubicles with three new control desks. The main desk had full line control on an 8,4 inch colour touch screen with graphics. The drives included a 340 kW/900 A Mentor DC drive for the leveller, 150 kW/ 420 A Mentor DC drives for the straightener and edge trimmer, and 75 k/210 A DC drives for the flying shear itself. 20 Unidrive SP AC drives were provided for other duties on the line, such as conveyors and run-out table.
The whole system was designed by Control Techniques and the panels were built at the company's Gauteng Drive Centre. Macsteel installed the system from drawings supplied by Control Techniques, after which the machine was fully commissioned by Control Techniques engineers.
The program for the FIMI line was written by Control Techniques software engineers using the company's software tool, Sypt Pro. A master/follower control philosophy was incorporated, with the leveller being the 'master' of the line. All drives on the line were connected using Control Techniques' high-speed network CT-Net, allowing extensive data collection as well as fault diagnosis.
Now the machine is capable of running at 2X faster and can accelerate, in absolute synchronism, from stop to full speed in under two seconds! The result? The upgraded FIMI machine has doubled its line speed. Downtime has been all but eliminated, increasing monthly throughput further thanks to the ultra-reliability of the Control Techniques AC and DC drives. What is more, Macsteel has reported that accuracies have improved well within the very tight tolerances specified and Macsteel is so delighted with the result that further orders on rotary knife applications have already been placed with the South African Drive Centre.
The Mentor digital drive encompasses a wide power range from 25 to 1850 amps in single or four-quadrant format. It has good systems potential and can be programmed locally using the main control panel, or remotely using serial communications. The powerful plug-in application coprocessor, MD29, gives the Mentor local intelligence, programmed in this case using the SYPT Pro and CT Net fieldbus communications interface.
For more information contact Hans Burri, DNH Tradeserve, +27 (0)11 468 2722, hans.burri@dnhtrade.co.za, www.dnhtrade.co.za
Credit(s)
Further reading:
Powerful pump set tested
First Quarter 2020 , Electrical switching & drive systems & components
With 1350 Kw of raw power produced by a massive V16 diesel motor, the SABS in conjunction with KSB Pumps and Valves has tested one of the most impressive pump sets to be assembled on South African soil 
...
Read more...
---
Magnetic levitation technology for the Far East
First Quarter 2020 , Electrical switching & drive systems & components
German construction engineering specialist, Max Bögl, is commissioning a local public transport system based on magnetic levitation in Chengdu, China. Beginning at Max Bögl's main factory in Sengenthal, 
...
Read more...
---
SEW-Eurodrive's pick-and-place solution for brick and block plant
First Quarter 2020, SEW-Eurodrive , Electrical switching & drive systems & components
When a local Original Equipment Manufacturer (OEM) of concrete brick, block, and paving machinery had the unique opportunity to build a greenfield plant for a longstanding customer in the East London area, it turned to SEW-Eurodrive for its easily configurable HandlingKinematics pick-and-place solution.
Read more...
---
Production boost for glass manufacturers
First Quarter 2020 , Electrical switching & drive systems & components
A pair of 5 MW standby power systems from Cummins are providing extra protection at two glass manufacturing facilities in Lahore, Pakistan that are growing their businesses, allowing production lines 
...
Read more...
---
New app supports predictive services for drive systems
First Quarter 2020, Siemens Digital Industries , Electrical switching & drive systems & components
With Predictive Services for Drive Systems, Siemens makes maintenance more efficient for Sinamics drive systems and/or Simotics motors in the low voltage range. With its new service portfolio including 
...
Read more...
---
Motor efficiency high on global agenda
First Quarter 2020, Zest WEG Group Africa , Electrical switching & drive systems & components
With electric motors consuming almost 70% of industry's energy, companies are always looking for better motor efficiencies. For many years, motor efficiency has been well defined; however, when driven 
...
Read more...
---
Modernised irrigation control system
First Quarter 2020, Varispeed (Div. of Hudaco Trading) , Electrical switching & drive systems & components
As a preferred supplier to the agricultural industry due to proven reliability and performance, Varispeed designs, manufactures and distributes constant pressure solutions. With a good knowledge of the 
...
Read more...
---
Cam clutches for bulk handling
First Quarter 2020, Bearing Man Group T/A BMG , Electrical switching & drive systems & components
New to BMG's extensive range of Tsubaki cam clutches is the BS-F series, designed for high speed inclined and long overland belt conveyors and bucket elevators used in the mining and bulk handling sectors. 
...
Read more...
---
New automated drive analyser
First Quarter 2020, Comtest , Electrical switching & drive systems & components
Fluke's MDA-500 Series is designed to help users easily test and troubleshoot typical problems on three-phase and single-phase inverter type motor-drive systems. The on-screen information, and step-by-step 
...
Read more...
---
Maximised precision and speed
First Quarter 2020, Beckhoff Automation , Electrical switching & drive systems & components
Due to the outstanding quality characteristics of its beam, the fibre laser has become the technology of choice in the fine cutting of metal sheets. It delivers highly precise cuts with very narrow kerfs 
...
Read more...
---