printer friendly version
R70 million BEE hydraulics and automation enterprise
Second Quarter 2004
News & events
Hytec Holdings and Khulile Investments announced (in May) the formation of Afripower the first empowered, full-spectrum hydraulics and automation enterprise in South Africa. Afripower will form part of the Hytec Holdings Group, with Khulile Investments holding an effective 25,1% and Hytec the remainder.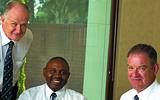 From left to right - Hytec Holdings MD, John Wingrove, executive chairman of Khulile Investments, Stephen Dondolo and Hytec Holdings chairman, Mike Burgess
"Afripower will commence operations with an asset base of approximately R70 million and employ 250 people in 13 branches nationally, and will be the first BEE enterprise to offer complete drive and control solutions to South African industry. In addition to the business opportunities which we believe will flow from this new venture, the establishment of Afripower will enable the Hytec Group to make significant progress towards achieving its BEE transformation objectives," says Mike Burgess, chairman of Hytec Holdings.
Hytec was established in 1966, and today the group operates from 28 separate local, regional and international locations and is recognised as the leading single-source provider of hydraulic, pneumatic and automatic technologies and services in South Africa. Afripower - which will trade under the Hytec banner, will be in the unique position of being able to draw from the established technical expertise of the Hytec Group on the one hand, and Khulile's exposure to business opportunities in the Eastern Cape and general marine industry on the other," says John Wingrove, Hytec Holdings' group managing director.
With extensive facilities, and offering technical expertise and service excellence, Hytec, as sole importer, distributes various leading international product brands, such as Rexroth, Hydac and Power Team. Over the years the Hytec Group has maintained strong relationships with OEMs, resellers and end-users in various industries, including marine, mining, mobile and general industrial markets. As a result, Hytec understands their requirements and in turn offers quality, reliable and innovative solutions to meet their fluid power and automation needs.

Standing left to right: M.W.J. Burgess – chairman, U. Hassdenteufel – engineering director, J.H. Dunmow – group financial manager, J.G. Wingrove – group managing director, V.T. Dondolo – director : Khulile Investments, M.J. Harrison – general manager : Coastal Seated left to right: M.S. Dondolo – chairman : Khulile Investments, G.B. van Rooyen – general manager: Inland
In addition to local and regional trading companies, Hytec operates a number of specialist companies, which include an ISO 9001 quality-assured hydraulic cylinder design and manufacturing company; a logistics company which co-ordinates procurement from Hytec's various international suppliers; an automation company which designs, manufactures and supplies pneumatic, servo-drive and linear motion products and systems; and a company specialising in high-pressure hydraulic maintenance tools and systems.
All trading companies are staffed and supported by expert design and sales engineers, quality assurance personnel, as well as installation, service and repair technicians. Repair and performance testing is carried out through Hytec's fully equipped repair facilities, with qualified personnel performing accurate damage and wear assessments. Genuine parts are expertly assembled with full performance testing up to 600 kW and all repairs are carried out to the manufacturers' original specification. The Hytec Group also provides high quality hydraulic and pneumatic cylinder repairs. Maintenance and service contracts provide the customer with access to our team of highly qualified technicians and engineers, trained to offer maintenance, technical assistance and system care.
Hytec's in-house capabilities extend to the engineering and delivery of complete turnkey systems for various industries, including mining, aluminium, iron and steel, construction and marine.
Established in 1998, Khulile Investments is a 100% empowered investment company with interests in a range of companies, including Pioneer Fishing, the fourth largest fishing company in South Africa. "Our stake in Afripower will open up opportunities to those previously excluded from the high-technology industries in the country. Hytec's commitment to training their BEE partners and members of communities previously excluded was a key reason for our decision to invest," says Stephen Dondolo, executive chairman of Khulile Investments.
Dondolo has been a non-executive director of Hytec Holdings since February 2003. He is a founder member of Pioneer Fishing (executive chairman), African Pioneer and Khulile Investments. He is a respected member of numerous boards, including Coca Cola, Fortune and African Legend Investments.
For more information contact John Wingrove, MD, Hytec Holdings, +27 (0) 11 979 4630.
Further reading:
From the Editor's desk: Building the telescopes of tomorrow
Third Quarter 2021, Technews Publishing , News & events
There are times when the news can get us down. Sadly the Bloodhound project aimed at breaking the world landspeed record at Hakskeen Pan in the Northern Cape has stalled, but there is other magic happening 
...
Read more...
---
Siemens supports the machine tool industry
Third Quarter 2021, Siemens Digital Industries , News & events
Under the motto 'Digitalisation in machine tool manufacturing - infinite opportunities from infinite data', Siemens is demonstrating at EMO Milano and at the virtual Siemens Machine Tool Days 2021 to 
...
Read more...
---
Goodbye Mr Chips of the hydraulics industry
Third Quarter 2021, Hydrasales , News & events
Reginald Pretorius, a veteran of the hydraulics industry, recently bade farewell to Hydrasales and the industry after a long and distinguished career. Popularly known as Oom Reg, this jovial personality 
...
Read more...
---
New B2C online shopping platform for engineering consumables
Third Quarter 2021, Bearing Man Group T/A BMG , News & events
BMG's online shopping platform now encompasses a newly launched E-commerce service, designed especially for consumers, to boost their buying experience of engineering consumables.
Read more...
---
RS Components trebles its SKF bearings portfolio
Third Quarter 2021, RS Components SA , News & events
RS Components has added 4000 SKF bearings to its portfolio, increasing the offering to a total of 6000. This is the first step in RS significantly increasing its SKF range offer across bearings, power 
...
Read more...
---
TurboDirect SA launches online store
Third Quarter 2021 , News & events
TurboDirect SA is launching an all new catalogue and online store. The brands include all international OEM leaders and a wide range of after-market turbochargers, such as Garrett, Mitsubishi, Borg Warner 
...
Read more...
---
Hytec Services Africa appoints new partner
Third Quarter 2021 , News & events
Hytec Services Africa has appointed a new Zimbabwean sales and distribution partner, Pace International, to offer the entire scope of Bosch Rexroth SA Group products and services to the actively growing 
...
Read more...
---
Hytec's Smart Inspection app
Third Quarter 2021 , News & events
Hytec South Africa has developed a new app that simplifies the inspection and servicing reporting processes for its customers. The 'Smart Inspection' app, developed in collaboration with Bosch Mining, 
...
Read more...
---
Virtual commissioning of thickener drive
Third Quarter 2021 , News & events
In a first for Bosch Rexroth South Africa, Hytec Services Africa (HSA) conducted its first online-based commissioning of a 3000 kN thickener drive for a Madagascan-based mine. The power pack had been 
...
Read more...
---
Africa's economic recovery
Third Quarter 2021, SEW-EURODRIVE , News & events
The Covid-19 pandemic has had a devastating impact on many African economies, particularly those dependent on oil exports, tourism and resources. According to the African Development Bank's recently released 
...
Read more...
---