printer friendly version
Meeting the demand for smaller, faster technology
Second Quarter 2004
Pneumatic systems & components
As customers' products are becoming smaller, faster and more intelligent, Festo's pneumatic automation technology is being continuously developed to fill the need for improved performance, smaller dimensions, faster cycle times, simple and quick installation, and intelligent automation technology by offering more additional functions in a given component.
Today, there are gigachips that are able to store the contents of 100 books each of 500 pages on an area the size of a thumbnail. Nokia alone is currently producing 150 000 000 mobile telephones each year equipped with this chip. Automation technology needs to keep up with the pace of development - and is doing so with the help of miniature pneumatic components and systems from Festo.
Festo offers a complete range of smart pneumatic products - from miniature slide units and short-stroke cylinders through to mini guide units, micro service units, miniature electromechanical drives and vacuum technology.
All these products are space saving and lightweight and allow precise motions and fast switching - thus satisfying the stringent requirements of customers in the electronics industry, light assembly, precision engineering and medical technology.
Nokia, Philips, Intel and Rohwedder frequently make use of Festo's range of miniature products for joining, lifting, transferring, clamping, positioning and assembly operations. Festo reports that its micro grippers, mini slides and rodless linear drives, products such as the CPV smart cubic and CPA smart cubic valves series are particularly popular. These allow small drives to be actuated even in very restricted spaces. The CPV smart cubic is claimed to be the smallest valve terminal in the world with a high flow rate of 150 l/min. These valve terminals and the CPA smart cubic individual valves are so small and light that they can even be installed on moving actuators (handling device or robot).

Claimed to be the smallest valve terminal in the world, the CPV Smart Cubic allows small drives to be actuated even in very restricted spaces
The high performance of Festo smart pneumatic products is demonstrated by examples from semiconductor production and involving the testing of cellular telephones and light assembly operations. Mechatronics and microsystem technology are a combination of intelligent mechanical devices and electronics. Machine tools, for example, can achieve high machining accuracy only if errors in their mechanical structure are detected by sensors and compensated by intelligent data processing.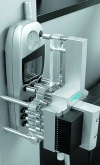 Final testing machine for mobile telephones: pneumatic automation components used for simulation
Festo also has products specially designed for clean rooms. The company's SMIF (standard mechanical interface) concept uses local enclosure of production equipment to provide a low-cost alternative means of achieving the absolute cleanliness vital in a clean room and thus offers an answer to the extreme pressure on production costs in the semiconductor market. With SMIF, highly sensitive silicon wafers are transported by operators not in open trays but in dustproof boxes and are fed automatically to processing machines. Pneumatics is a suitable choice here, since its components are airtight.
The manufacturers of cellular telephones use miniature pneumatic automation components not only in their production processes but also for simulation purposes. Here, the phone to be tested is inserted in a carrier within the testing machine. Festo short-stroke cylinders ADVU position the test specimens and align them correctly. Each individual key is then pressed by a micro cylinder to test all the keypad functions. The precise test sequence is stored in a Festo programmable logic controller.
Another application for Smart Cubic technology is a fully-automatic product line for miniature automotive lamp sockets, where the individual working steps are feeding, assembly and precision testing. The line, consisting of three longitudinal transfer systems and two rotary indexing tables, is used by an automobile-industry component supplier to produce various lamp sockets without costly and laborious re-setting. The cramped installation conditions are no problem at all for the Festo handling units. Assembled lamp sockets are transferred from the feed belt to the rotary indexing table by a pick-and-place unit, consisting of a linear module, mini slide and parallel gripper.
For more information contact Richard Teagle, managing director, Festo, +27 (0) 11 971 5500, richard_teagle@festo.com, www.festo.com
Credit(s)
Further reading:
Compressed air purity analyser
Second Quarter 2021, Artic Driers International , Pneumatic systems & components
Compressed air treatment using filters and dryers is an effective barrier to airline contamination. Until recently, auditing the compressed air quality in a system was difficult, but clients and professional 
...
Read more...
---
Critical compressed air on platinum mine
Second Quarter 2021 , Pneumatic systems & components
The mining industry is a vital cog in the economic workings of South Africa, in particular platinum mines, of which the country has significant reserves, that are among the largest worldwide. Yet, if 
...
Read more...
---
Tectra Automation contracted for PG Bison's MFB press upgrade
Second Quarter 2021, Tectra Automation , Pneumatic systems & components
Tectra Automation has provided all the pneumatic and vacuum equipment required for the installation and commissioning of PG Bison's sixth melamine-faced board (MFB) press. The press, which came online 
...
Read more...
---
Festo at the heart of absolute automation
Second Quarter 2021, Festo , Pneumatic systems & components
Festo is renowned as one of the leading pneumatic automation suppliers. Over the years, the company has also set the pace in both Process and Electric Automation. This is backed by its proven record of 
...
Read more...
---
Highly flexible pick and place with digitised pneumatics from Festo
First Quarter 2021, Festo , Pneumatic systems & components
A wide range of products, functions and complete solution packages are integrated into the Festo Motion Terminal. One of these products is Motion Apps, which heralds a new Industry 4.0 era. Motion Apps 
...
Read more...
---
Smart positioners of the future
First Quarter 2021 , Pneumatic systems & components
SMC's new range of smart positioners was designed to pair perfectly with a variety of process control valves and actuators.
Read more...
---
Locally built air dryers for hospitals
Fourth Quarter 2020, Artic Driers International , Pneumatic systems & components
Artic Driers recently partnered with an NGO (non-governmental organisation) called Save-P to develop a locally designed compressed air dryer and filter bank providing breathing-quality air for hospitals 
...
Read more...
---
Efficient pneumatic performance with multifunctional sensor
Fourth Quarter 2020, SICK Automation Southern Africa , Pneumatic systems & components
SICK Automation's recently introduced multifunctional FTMg (flow thermal meter for gases) flow sensor detects pneumatic system leakages well before pressure loss causes machine failure. It is engineered 
...
Read more...
---
Festo Motion Terminal VTEM bolsters productivity
Third Quarter 2020, Festo , Pneumatic systems & components
The world's first valve to be controlled by apps.
Read more...
---
SMC launches wireless valve bank in SA
Third Quarter 2020 , Pneumatic systems & components
In response to customer demand for a reliable communication system, which could limit the number of cables needed to communicate between multiple valve banks/field sensors and a PLC, a wireless communication 
...
Read more...
---