printer friendly version
Pneumatic drives for hygienic and corrosive environments
Fourth Quarter 2004
Pneumatic systems & components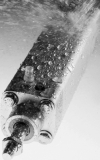 Specially designed for corrosive and hygienic environments, the CRDH and CDN pneumatic drives from Festo fulfil the requirements laid down by the industries that place great demands on cleanliness.
Beer brewing in accordance with German tradition, which has been regulated since 1516 by cleanliness requirements, is a case in point. The required mixing of water, hops and malt under strict hygiene conditions is entirely analogous to a variety of processes suitable for the application of Festo's CRDH and CDN pneumatic drives.
The cleaning of a production system is a necessary process in the daily running of a manufacturing operation. However, the longer the washing process lasts, the longer production is at a standstill. The Festo CRDH and CDN drive units have been designed to minimise downtime. Functional exterior surface features make them fully resistant to contamination and fluids. These capabilities have been tried and tested under aggressive and ambient conditions and have proved to be impervious to corrosion and contact with organic and/or inorganic substances as well as chemical products. The materials used in their design coupled with their easy-to-clean surfaces promote a long service life.
Festo's CDN is an optimised ISO/VDMA standard cylinder with an enclosed, smooth aluminium profile, distinguished by its curved outer surfaces. This makes it difficult for anything to stick to it. Economy and ease of cleaning are further enhanced through the integration of various functions. Optional sensors - available as reed switches or electronic sensors - are integrated into the profile, and are included as standard equipment. Large radii, no recess or gaps and a higher corrosion resistance, mean that the CDN is ideal for splash zones where it comes into contact with foodstuffs (that do not then enter the main product flow). The cylinders are also suitable for application in a host of other industries where intensive cleaning is required.
The CRDH is a high-end product for aggressive environments. Its stainless steel cylindrical design with exemplary corrosion resistance is uncompromisingly equipped for demanding applications such as food production zones, as specified by the European Standard EN 1672-2.
Minimised dirt traps and optimised surface quality prevent the accumulation of media, bacteria and microorganisms. As a favourable consequence, this reduces cleaning time, and thus downtime, to a minimum, and maximises economy. Various cover and bearing types, as well as different wiper materials and variants mean that the CRDH is versatile.
Cleaning agents made by leading manufacturers have been tested by Festo and approved for use with the CDN and the CRDH. In fact the CDN can even withstand the short-term action of cleaning agents at 100°C.
For more information contact Richard Teagle, MD, Festo, +27 (0) 11 971 5500.
Credit(s)
Further reading:
Compressed air purity analyser
Second Quarter 2021, Artic Driers International , Pneumatic systems & components
Compressed air treatment using filters and dryers is an effective barrier to airline contamination. Until recently, auditing the compressed air quality in a system was difficult, but clients and professional 
...
Read more...
---
Critical compressed air on platinum mine
Second Quarter 2021 , Pneumatic systems & components
The mining industry is a vital cog in the economic workings of South Africa, in particular platinum mines, of which the country has significant reserves, that are among the largest worldwide. Yet, if 
...
Read more...
---
Tectra Automation contracted for PG Bison's MFB press upgrade
Second Quarter 2021, Tectra Automation , Pneumatic systems & components
Tectra Automation has provided all the pneumatic and vacuum equipment required for the installation and commissioning of PG Bison's sixth melamine-faced board (MFB) press. The press, which came online 
...
Read more...
---
Festo at the heart of absolute automation
Second Quarter 2021, Festo , Pneumatic systems & components
Festo is renowned as one of the leading pneumatic automation suppliers. Over the years, the company has also set the pace in both Process and Electric Automation. This is backed by its proven record of 
...
Read more...
---
Highly flexible pick and place with digitised pneumatics from Festo
First Quarter 2021, Festo , Pneumatic systems & components
A wide range of products, functions and complete solution packages are integrated into the Festo Motion Terminal. One of these products is Motion Apps, which heralds a new Industry 4.0 era. Motion Apps 
...
Read more...
---
Smart positioners of the future
First Quarter 2021 , Pneumatic systems & components
SMC's new range of smart positioners was designed to pair perfectly with a variety of process control valves and actuators.
Read more...
---
Locally built air dryers for hospitals
Fourth Quarter 2020, Artic Driers International , Pneumatic systems & components
Artic Driers recently partnered with an NGO (non-governmental organisation) called Save-P to develop a locally designed compressed air dryer and filter bank providing breathing-quality air for hospitals 
...
Read more...
---
Efficient pneumatic performance with multifunctional sensor
Fourth Quarter 2020, SICK Automation Southern Africa , Pneumatic systems & components
SICK Automation's recently introduced multifunctional FTMg (flow thermal meter for gases) flow sensor detects pneumatic system leakages well before pressure loss causes machine failure. It is engineered 
...
Read more...
---
Festo Motion Terminal VTEM bolsters productivity
Third Quarter 2020, Festo , Pneumatic systems & components
The world's first valve to be controlled by apps.
Read more...
---
SMC launches wireless valve bank in SA
Third Quarter 2020 , Pneumatic systems & components
In response to customer demand for a reliable communication system, which could limit the number of cables needed to communicate between multiple valve banks/field sensors and a PLC, a wireless communication 
...
Read more...
---