printer friendly version
Soft-seal technology holds up to 800 bar
Second Quarter 2007
Other technologies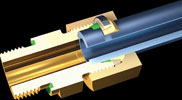 Hydraulic & Automation Warehouse (HAW), a member of the Hytec Group of Companies, has announced the addition of the newly launched WALRing tube connection system to its product range. The system features a two-edge cutting ring with captive soft-seal, and forms part of the Walterscheid steel tube fitting product range.
HAW is the appointed agent for Walterscheid in South Africa and according to HAW general manager, Richard van Rooyen, the WALRing system with its numerous benefits is a welcome addition to the Walterscheid metric tube fitting system series.
"The two-edge cutting ring and proven WALForm soft-seal technology allows for increased operating pressure, putting the product ahead of its closest competitors."
The connector is a pre-assembled unit comprising a standard nut, two edged cutting ring and support ring. It utilises the proven WALForm viton captive seal, making the unit economical, user-friendly and easy to re-assemble or replace if damaged. The new connection system is used in conjunction with any of the Walterscheid fitting bodies. No special nuts or fitting bodies are required.
Other features of the system include the interlocking of the cutting ring and the hardened outer support ring. The cone angle is optimised ensuring the continuous application of force throughout final assembly, while a large shoulder surface reduces friction and starting force required. Over-tightening and incorrect assembly of this connection system is not possible.
The WALRing system is designed specifically for use in hydraulic systems on in-plant industrial equipment, mobile on- and off-highway equipment, and numerous other applications.
The system is manufactured to ISO 8434-1/DIN 2353 and is offered in sizes from 6 mm to 42 mm thus providing for both the L and S series. The connection system has a 4:1 pressure safety factor and is capable of operating pressures ranging from 250 bar to 800 bar depending on tube size and fitting series.
The Walterscheid product line is available from either of the Hydraulic & Automation Warehouses or Hytec operations nationally.
For more information contact Richard van Rooyen, HAW, +27 (0)11 281 3800, richardvr@haw.co.za, www.haw.co.za
Further reading:
Seamless integrated connectivity for electric automation
Second Quarter 2020, Festo South Africa , Other technologies
The cloud is everywhere. We save data on the cloud and access it on our phones and computers from anywhere at our convenience. The same applies to seamless connectivity in industrial automation from your 
...
Read more...
---
Small torque monitoring
Second Quarter 2020, Instrotech , Other technologies
The growing demand for high speed miniature and micro machines has prompted Sensor Technology to develop a torque monitor that can accurately measure down to 10 mNm. This capability is combined with a 
...
Read more...
---
Safe, efficient cable sealing
Second Quarter 2020 , Other technologies
Proof Engineering Solutions has designed and manufactured the AMPgland double-compression cable gland range to provide the mining and oil and gas industries with an all-inclusive, safe and efficient electrical 
...
Read more...
---
A new world of automation
Second Quarter 2020, Tectra Automation , Editor's Choice, Other technologies
With ctrlX AUTOMATION, Bosch Rexroth is presenting the most open automation platform on the market, reducing engineering time and effort by between 30% and 50%. With this new platform, Bosch Rexroth has 
...
Read more...
---
Value packs from Lubrication Engineers
Second Quarter 2020 , Other technologies
Lubrication Engineers (LE) is making its industry leading products available in value packs designed to meet all the lubrication needs of everyday users. "We are bundling smaller sizes of our product 
...
Read more...
---
Schneider Electric brings digital competence to mining applications
First Quarter 2020, Schneider Electric South Africa , Other technologies
Schneider Electric is dedicated to the deployment of digital technologies in mining to address the rising pressures on business sustainability and reduced energy consumption. "The organisation has 
...
Read more...
---
Gearmotors for electrified monorail system
First Quarter 2020 , Other technologies
A leading systems integrator for the automotive industry has adapted a Maxolution electrified monorail system (EMS) and 23 HK Series gear units for overhead trolley systems, from SEW-Eurodrive, for a 
...
Read more...
---
Aluminium profiles for COVID-19 protection screens
First Quarter 2020, Tectra Automation , Other technologies
Rexroth aluminium profiles from Tectra Automation are used to safeguard personnel across a range of industries and numerous applications. The durable composition of these profiles and their adaptability 
...
Read more...
---
Lubrication is a misunderstood yet essential part of mining operations
Second Quarter 2020 , Other technologies
Lubrication is often the most misunderstood part of mining operations. However, it is one of the most important areas as it is essential to ensure mining equipment remains safe and fully operational. 
...
Read more...
---
3D printing of face masks
First Quarter 2020 , Other technologies
SEW-Eurodrive has joined a nationwide campaign to use 3D printing technology to produce much needed face masks and shields for healthcare workers and first responders. Since the announcement of a national 
...
Read more...
---