printer friendly version
International news digest
1st Quarter 2009
News & events
Bonfiglioli, Europe's third largest manufacturer of gear motors, and the University of Modena and Reggio, have signed a 3-year cooperative agreement. The two parties will create and develop joint study and research programmes in areas of mutual interest, with the assistance of the university's Department of Mechanical Engineering.
This agreement will see the group's own R&D department boosted by the advanced skill portfolio of a leading university for the design and industrialisation of future product ranges.
Over the years, R&D has enabled Bonfiglioli to anticipate many changes in the market. The group points to its dominant position in the wind turbine sector as proof of the effectiveness of this approach.
Bosch Rexroth and Ratos finalised the acquisition of Hägglunds Drives in December 2008. Hägglunds Drives' CEO, Per Nordgren, says that as a result of the acquisition the company will be able to develop deliveries of complete drive systems for new and exciting segments, such as renewable energy production.
The intention is to maintain the current structure of Hägglunds Drives, within the Bosch Rexroth framework.
Columbus McKinnon Corporation recently acquired Pfaff Beteiligungs GmbH ('Pfaff-silberblau'), a leading European supplier of lifting, material handling and actuator products, with a 2007 revenue of more than 62 million Euros. The purchase consideration was 36 million Euros cash and the transaction is expected to be accretive to Columbus McKinnon's earnings.
Columbus McKinnon made the deal to gain Pfaff-silberblau's technical engineering expertise in the actuator business, to access the growing European market and diversify its existing North American business. The purchaser plans to maintain the Pfaff-silberblau brand and management who will continue to operate the business and serve as key members of the post-closing integration team.
Columbus McKinnon's long-term goal is to achieve US$1 billion in revenue with 50% from international markets through organic growth and acquisitions.
Datalogic recently announced its quarterly interim report as of 30 September 2008.
Consolidated sales revenues of 284,3 million Euro were down by 4,4% vs the same period in the previous year. With constant Euro/US$ exchange rates the growth would have been approximately 1%. Consolidated net profit for the first nine months of the financial year was up 44% compared with that of 2007.
The company has also completed its related-party acquisition of Datasensor, Italian designer and manufacturer of photoelectric sensors and devices for the industrial automation sector. The acquisition was equity valued at 45 m Euro.
Motoman has been awarded US patent US 7,434,491 B1 for the MotoMount compliant tool-mounting system, a modular accessory for headstock/tailstock positioners that provides improved flexibility for tooling changeover as compared to hard-mounted systems.
MotoMount eliminates the need for costly machine bases and surveying tools for precise headstock/tailstock alignment.
SERCOS III and FDT user organisations have agreed to create an annex to the FDT specification for SERCOS III. Their news release claims that SERCOS III will be the first high-performance realtime Ethernet communication standard to support FDT technology.
This technology standardises the communication interface between fieldbus devices and engineering tools. Extending the FDT specification to SERCOS III will allow users to configure SERCOS III devices via FDTs DTM device drivers.
The collaboration promotes the trend towards open standards in factory automation from the field to machine control allowing design engineers and developers to combine products from different manufacturers in their automation systems through the clearly defined interfaces.
SKF has been awarded a 3-year contract to supply 600 000 Scotseal seals per year for trailer axles manufactured by Guangdong Fuwa Engineering Manufacturing Co. Fuwa is reputed to be the largest trailer axle manufacturer in the world.
Amy Wu, director of Fuwa, attributed SKF's success to the significantly longer service life, quality and performance benefits offered by the Scotseal.
The seals will be produced in the SKF factory in Wuhu, China.
SKF announced mid-December that it will be reducing capacity and costs in light of weakening demand in the automotive and industrial segments. The company estimates that fourth quarter volume will be down 15% vs the same period in the prior year. It is reducing its workforce by around 2500 people globally and has also introduced short-time working.
Demand from the industrial OEM and after-market is lower than for the same period last year, while segments like railway, aerospace and energy continue to develop well, although at a lower growth level than previously anticipated.
Siemens has received an order to equip four German navy Class F125 frigates with propulsion equipment and integrated automation and control systems. The order is worth just under 50 million Euros and delivery of the first frigate is scheduled for 2014.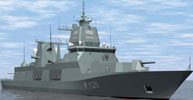 The F125 is the first German navy frigate to be fitted with a new CODLAG (combined diesel electric and gas-turbine) electric propulsion system. The advantages of the gas turbine drive, which is designed for high speed, are combined with the benefits of the electrical propulsion unit, which is designed for cruising speed with low noise signatures and high efficiency.
The scope of supply for each ship includes the electrical propulsion systems, consisting of two 4,5 MW electric motors with the associated converters, the electronic control unit and medium-voltage switchgear. An integrated control and automation system for on-board ship equipment, a battle damage control system and an on-board training system will be installed.
Sun Hydraulics recently reported a small rise in sales (up 7% to US$44,8m) and a significant rise in earnings for 2008Q3 (up 25% to $0,40 per share vs 2007Q3). The company is forecasting reduced sales (down 18% to $34m) and earnings per share (down 32% to $0,20 to $0,22) for 2008Q4.
2008 year-end sales are estimated to be approximately $180 million, an 8% increase compared to 2007. Earnings per share for 2008 are estimated to be between $1,60 and $1,62, up approximately 20% over last year.
A fourth quarter dividend of $0,09 per share was announced.
Further reading:
Port and rail upgrades essential for SA
News & events
Bearings International (BI) has welcomed the assertion by President Cyril Ramaphosa in his State of the Nation address on 10 February that the economy cannot grow without efficient ports and railways. 
...
Read more...
---
From the editor's desk: Making sense of the metaverse
Technews Publishing News & events
It wasn't so long ago that nobody had heard of IIoT. Then the hype began and now it's an integral part of the manufacturing environment. Recently I've been hearing more and more about the metaverse 
...
Read more...
---
Innovation for sustainable agriculture
News & events
Panasonic Industry has announced the Gold sponsorship of ETH Zurich's Robotic Weeding System (Rowesys) project and will assist the student team with engineering know-how, as well as components and products 
...
Read more...
---
New head office and warehouse for Fuchs Lubricants
News & events
The new head office and warehouse for Fuchs Lubricants South Africa is on track to be completed this month. The company is investing over R250 million in the expansion at its existing location in Isando, 
...
Read more...
---
Bosch Rexroth Africa Development appoints Tanzanian distributor
News & events
Bosch Rexroth Africa Development has appointed a Tanzanian company as its in-country distributor. Transec is a general mining equipment supplier with an established countrywide presence. In line with 
...
Read more...
---
YES to youth employment
News & events
Bosch Rexroth South Africa has participated in local government's 2021 Youth Employment Service (YES) Programme, which took place from 1 March 2021 to 28 February 2022. This experiential learning programme 
...
Read more...
---
Appointments
News & events
Read more...
---
Appointments
News & events
Read more...
---
Cummins offers a lifeline to the mining industry
News & events
With the bulk of its business in Africa driven by mining, Cummins has continued to support its major mining clients throughout the Covid-19 pandemic. From blasthole drills and front-end loaders to 360 
...
Read more...
---
WorldSkills Africa collaborates with Festo to host the 2022 competitions
News & events
WorldSkills is a global competition organisation that raises the profile of skilled individuals worldwide. This organisation also demonstrates how skills are essential in achieving economic growth. Their 
...
Read more...
---