printer friendly version
The Jim Pinto Column: The Big Five and California Dreamin'
1st Quarter 2009
News & events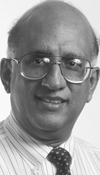 South Africa and The Big Five
I arrived safe and happy in Johannesburg, South Africa. A good flight (10,5 hours from London) and on time. Good people, good stimulation of good thinking.
After a stimulating conference (where I spouted Technology Futures as the keynote speaker) I went with my hosts on a visit to sight 'The Big 5' – lion, leopard, elephant, rhino and buffalo.
We drove to the Pilansburg Game Reserve, a couple of hours from Johannesburg. The hotel was as luxurious as anywhere in the world, with separate jungle-huts, outfitted with all the amenities and conveniences – private bath and outdoor shower and a settee on a porch to lounge in the late evening, listening to jungle noises.
The next day we went off on the Big 5 drive with a wonderful local guide – a 23-year-old white South African who had a zoology degree and work experience in several major game reserves in southern Africa.
We went out twice a day – 5:30 am (the guide gave you a wake-up call at 5:00 am, to catch the sunrise as we set out; and 4:30 pm (back at about 9:00 pm).
We saw herds of zebra and wildebeest grazing together with many different species of antelope. Interestingly, one of our group was colour-blind and midst the jungle camouflage, he would always be the first to spot animals from a distance – giraffe, elephant, rhino, lion, hyena, and buffalo. During the first night drive, a big female elephant was protecting her herd, blocking the road back to base; the guide thought it safer to return via another roundabout route, which took another hour, in pitch darkness.
The second day we watched two young lions (brothers) stalking a herd of zebra and wildebeest.
This was my very first trip to South Africa, and I spent a remaining day trying to catch up with my thoughts about this beautiful country.
Thoughts on returning
Having progressed happily with my 3-month bucket-list trip – like flowing down a river – I have now arrived back home in San Diego, California.
I left San Diego when gasoline was over $4 per gallon, and returned at less than $2. I left America when the DOW stock index was just dropping below 10 000, saw it plummet to 7500 and then settle nervously above 8000 after infusions of billions and promises of trillions more.
I saw the pundits' prognostications that this had not happened since 2000, then 1992, then 1982, then the 1960s – and finally the Great Depression of the 1930s. There is an obsession with rear-view-mirror analysis, with no recognition that the world has changed so much, making it useless to look backwards.
I left when the Bush Administration was still stubbornly calling the decline a 'recession' until the world finally recognised that this was something never before experienced. And they kept throwing money to bailout banks, and then the automakers – they could not think of anything else to do.
After the 'dotcom' bust came the housing boom fuelled by 'liars' loans' and banking excesses which are now being bailed out. Credible financial observers have been forecasting this collapse for more than a decade, but no one wanted to hear bad news. And the profligate practices progressed.
Europe and most other parts of the world are also in recession, as foreign investments fled and their markets plunged. I actually gained with my dollar exchanges when the British pound and the Indian rupee plummeted.
My own view is that this is indeed an inflection point, an event as serious as a financial 9/11, a serious break from the past, a wake-up call from the illusions of 'the good old days'.
It is good for America, and the world, to get back to basic bedrock concepts such as hard-work, productivity, knowledge, innovation, competition, discipline, education, friendship, loyalty, patriotism.
Stop for a moment to add to the list the things that YOU care about.
Jim Pinto is an industry analyst and commentator, writer, technology futurist and angel investor. His popular e-mail newsletter, JimPinto.com eNews, is widely read (with direct circulation of about 7000 and web-readership of two to three times that number). His areas of interest are technology futures, marketing and business strategies for a fast-changing environment, and industrial automation with a slant towards technology trends.
Further reading:
Port and rail upgrades essential for SA
News & events
Bearings International (BI) has welcomed the assertion by President Cyril Ramaphosa in his State of the Nation address on 10 February that the economy cannot grow without efficient ports and railways. 
...
Read more...
---
From the editor's desk: Making sense of the metaverse
Technews Publishing News & events
It wasn't so long ago that nobody had heard of IIoT. Then the hype began and now it's an integral part of the manufacturing environment. Recently I've been hearing more and more about the metaverse 
...
Read more...
---
Innovation for sustainable agriculture
News & events
Panasonic Industry has announced the Gold sponsorship of ETH Zurich's Robotic Weeding System (Rowesys) project and will assist the student team with engineering know-how, as well as components and products 
...
Read more...
---
New head office and warehouse for Fuchs Lubricants
News & events
The new head office and warehouse for Fuchs Lubricants South Africa is on track to be completed this month. The company is investing over R250 million in the expansion at its existing location in Isando, 
...
Read more...
---
Bosch Rexroth Africa Development appoints Tanzanian distributor
News & events
Bosch Rexroth Africa Development has appointed a Tanzanian company as its in-country distributor. Transec is a general mining equipment supplier with an established countrywide presence. In line with 
...
Read more...
---
YES to youth employment
News & events
Bosch Rexroth South Africa has participated in local government's 2021 Youth Employment Service (YES) Programme, which took place from 1 March 2021 to 28 February 2022. This experiential learning programme 
...
Read more...
---
Appointments
News & events
Read more...
---
Appointments
News & events
Read more...
---
Cummins offers a lifeline to the mining industry
News & events
With the bulk of its business in Africa driven by mining, Cummins has continued to support its major mining clients throughout the Covid-19 pandemic. From blasthole drills and front-end loaders to 360 
...
Read more...
---
WorldSkills Africa collaborates with Festo to host the 2022 competitions
News & events
WorldSkills is a global competition organisation that raises the profile of skilled individuals worldwide. This organisation also demonstrates how skills are essential in achieving economic growth. Their 
...
Read more...
---