printer friendly version
Experts debate encoder safety: Will Machinery Directive 2006/42/EC affect encoder design?
1st Quarter 2009
News & events
Safety and Innovation were the themes at Kübler's year-end Customer Days. Safety is especially topical this year because on 29 December 2009 the European Parliament's Machinery Directive 2006/42/EC will come into force.
Time to act …
There is a growing trend for safety in automation, which is given top priority at management level within Kübler. Fritz Kübler made this point very clear in his welcoming speech, when he drew a comparison between the Safety Integrity Level 'SIL' in the field of automation and the routine safety precautions that are taken for granted today. He concluded, "Just as no-one today would think of driving a car without wearing a seatbelt or letting his child ride a bicycle without wearing a safety-helmet, then functional safety in an industrial environment will take hold and grow to become the accepted standard."
Gerhard Bauer, managing director of BBH Products, a company that specialises in technical safety systems, also reminded guests again that "now is the time to act". His speech clearly stressed one point: the new Machinery Directive 2006/42/EC from the European Parliament will come into force without fail on 29 December 2009. "Every business that is well advised will be preparing and planning for this." This new directive reminds all manufacturers of plant and machinery (or of separately driven safety components) of their obligations. For Bauer one element is crucial for businesses, when it comes to keeping the costs and effort involved in these new tests and approvals manageable: "It is all a matter of finding the right partner!" He was emphatic in pointing out that good advice not only keeps costs in check, but also eliminates unnecessary measures and action-taking right from the start.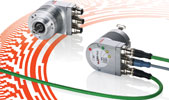 Will Machinery Directive 2006/42/EC motivate manufacturers to increase or decrease the level of complexity in encoders?
… in three steps.
According to Bauer, three vital steps should be observed when implementing any safety project:
1. First of all it is important to have the right support when selecting the functional safety system configuration and in the validation process. Qualified manufacturers of components, which in turn are suitable for functional safety applications, come into consideration here.
2. Only logic controllers that have been tested in accordance with Appendix IV of the Machinery Directive, or alternatively centralised or decentralised controls with integrated safety functions according to DIN EN 61800-5-2, should be used. The manufacturer himself determines the necessary values for validation according to DIN EN 13849.
3. If, moreover, only such components are used, which for their part are suitable for functional safety systems, then nothing more stands in the way of a safe new system and its approval.
Safety is a 4-level system
'SIL' – the much cited Safety Integrity Level – classifies the safety-related performance or reliability of electronic or electrical control systems fundamentally into four levels. With SIL the so-called safety-chain stands in the foreground of the assessment – this is also known as the SIF 'Safety Instrumented Function'. Behind this lies simply the functional combination of controller, actuator and sensor. Once the decision has been made to develop the functional safety to the latest levels of technology, the question often arises, "When and how should I sensibly introduce the existing standards?"
Continued on the web
For the complete article visit www.motioncontrol.co.za/+091Q09
For more information contact Rodney Topham, RET Automation, +27 (0)11 453 2468, [email protected], www.retautomation.com
Credit(s)
Further reading:
Port and rail upgrades essential for SA
News & events
Bearings International (BI) has welcomed the assertion by President Cyril Ramaphosa in his State of the Nation address on 10 February that the economy cannot grow without efficient ports and railways. 
...
Read more...
---
Encoders with SAE J1939 interface
Turck Banner Other technologies
Turck Banner has extended its encoder portfolio with new encoders featuring the SAE J1939 interface, which is used particularly in mobile equipment.
Read more...
---
From the editor's desk: Making sense of the metaverse
Technews Publishing News & events
It wasn't so long ago that nobody had heard of IIoT. Then the hype began and now it's an integral part of the manufacturing environment. Recently I've been hearing more and more about the metaverse 
...
Read more...
---
Innovation for sustainable agriculture
News & events
Panasonic Industry has announced the Gold sponsorship of ETH Zurich's Robotic Weeding System (Rowesys) project and will assist the student team with engineering know-how, as well as components and products 
...
Read more...
---
New head office and warehouse for Fuchs Lubricants
News & events
The new head office and warehouse for Fuchs Lubricants South Africa is on track to be completed this month. The company is investing over R250 million in the expansion at its existing location in Isando, 
...
Read more...
---
Bosch Rexroth Africa Development appoints Tanzanian distributor
News & events
Bosch Rexroth Africa Development has appointed a Tanzanian company as its in-country distributor. Transec is a general mining equipment supplier with an established countrywide presence. In line with 
...
Read more...
---
YES to youth employment
News & events
Bosch Rexroth South Africa has participated in local government's 2021 Youth Employment Service (YES) Programme, which took place from 1 March 2021 to 28 February 2022. This experiential learning programme 
...
Read more...
---
Appointments
News & events
Read more...
---
Appointments
News & events
Read more...
---
Cummins offers a lifeline to the mining industry
News & events
With the bulk of its business in Africa driven by mining, Cummins has continued to support its major mining clients throughout the Covid-19 pandemic. From blasthole drills and front-end loaders to 360 
...
Read more...
---