printer friendly version
Festo introduces new Control for Motion range
1st Quarter 2009
Other technologies
For point-to-point movements, pre-calculated positions or complete path control, the new Control for Motion range from Festo is scalable and modular, forming an integral part of the company's mechatronic modular handling system.
CPX control module
The control module CPX-CM-HPP provides access to the new world of control systems. It enables the Festo electric axes to be controlled via all the fieldbus nodes available in CPX. Up to four individual electric axes can be connected via a CAN bus interface. As a result, the electric drives are compatible with all industrial communication interfaces. The FHPP (Festo Handling and Positioning Profile) connection is used here, integrating the electric drives in the CPX system. The access module can control the axes individually and independently of one other. The CPX-CMXX multi-axis interface is available for additional functions.
Display with embedded control
The integration of the controller into the FED display and control units saves space. The CANopen Master interface enables Festo's valve terminals and electric drives to be connected directly to the FED-CEC display. The display communicates via its Ethernet interface with other controllers that are also programmed in CoDeSys.
Multi-axis synchronous movement
Festo is launching the multi-axis interface CPX-CMXX, which can execute both simple, individual axis movements and coordinated movements of several electric drives. Using the FCT users can configure two axis groups with a maximum of four axes per group without the need for time-consuming programming. With the 'synchronous movement' configuration, the axes simultaneously reach the target position.
The PLC-based motion controller CECX-X-M1 is now available for coordinated multi-axis movements with interpolations and thus simple path applications. It enables users to program machines and systems individually with extensive PLC functionality. The motion controller is integrated in the overall concept of the modular controller CECX, which is the new fieldbus master controller from Festo.
Robot controller
The highlight of the new control system is the CMXR-C1motion controller with robotic functions. It opens up the possibility of spatial path applications with three-dimensional interpolation within a Cartesian space. The robotic controller permits multi-axis applications with five or even six spatial degrees of freedom.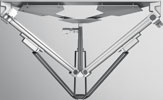 The Festo CMXR robot controller can control Cartesian systems like this kinematic tripod robot
The controller interpolates and positions all axes that can trace contours on a centre line, as needed for gluing, laser welding or water jet cutting. However, it can also spatially position the gantry robot tool. The point of the tool is always guided along the programmed path, even if the tool orientation changes.
Design tools
Design times are significantly reduced with the Festo configuration tool FCT and the Festo programming language, Teach Language FT, thus allowing users to concentrate on application development.
For more information contact Joanne Dix, Festo, +27 (0)11 971 5560, [email protected], www.festo.com
Credit(s)
Further reading:
Encoders with SAE J1939 interface
Turck Banner Other technologies
Turck Banner has extended its encoder portfolio with new encoders featuring the SAE J1939 interface, which is used particularly in mobile equipment.
Read more...
---
Expansion modules for functional safety
Parker Hannifin - Sales Company South Africa Other technologies
Parker Hannifin, the global leader in motion and control technologies, now offers its IQAN-XC41, -XC42 and -XC43 expansion modules with certification according to IEC 61508 safety integrity level 2 (SIL2). 
...
Read more...
---
Vibration and temperature monitor
Comtest Other technologies
Vibration testing in rotating machinery − such as drive motors, driven devices and the bearings, shafts, gears, belts and other elements that make up mechanical systems − provides a way to determine where 
...
Read more...
---
Reduced costs for packaging process
SICK Automation Southern Africa Editor's Choice Other technologies
To address Tetra Pak's requirements, SICK recommended the utilisation of its sHub sensors with EDS/EDM35 feedback system. This motor feedback system incorporates an acceleration sensor and enables comprehensive 
...
Read more...
---
Mini-mobile encoder for construction and agriculture
Instrotech Other technologies
When it comes to construction machinery, whether agricultural technology or forklift trucks, design engineers are often challenged with space limitations when fitting existing rotary encoders and measurement 
...
Read more...
---
Impact of innovative technologies on the mining industry
Parker Hannifin - Sales Company South Africa Other technologies
"Harnessing the complex data from a connected mine's equipment is key to maximising uptime. Parker's Mobile IoT makes it easy to identify usage trends and field-based problems with unparalleled intellectual 
...
Read more...
---
Festo Process Automation solutions for all production levels
Festo South Africa Editor's Choice Electrical switching & drive systems & components
The first leg of the campaign creates an analogy between the human heart and its Process Automation solutions. The heart is at the centre of the vascular system, which is a network of blood vessels 
...
Read more...
---
Festo solenoid valves for everyday tasks
Festo South Africa Electrical switching & drive systems & components
In the automation industry, machine users are continually confronted with new challenges. The only way to achieve lasting success is by selecting the perfect components. Festo offers over 2200 Core Product 
...
Read more...
---
Experience-based diagnosis of machine mechanical problems
Comtest Other technologies
Comtest is offering the unique Fluke 810 vibration tester. This is the most advanced troubleshooting instrument available for vibration, enabling maintenance teams to rapidly collect data and diagnose 
...
Read more...
---
Digital prototyping grows sales 500%
Siemens South Africa Editor's Choice Other technologies
"Solid Edge has enabled us to enter a new world of product design and manufacturing," says Reid. "With its 3D design and sheet metal capabilities, we can now design equipment that is far more functional 
...
Read more...
---