printer friendly version
Good news, bad news and robots
Second Quarter 2008
News & events
The economic environment
We really seem to be getting mixed messages on the economic front. It is quite depressing if one only reads the newspapers, and yet there is good news to be found as well. Amongst all the gloom many failed to notice that the JSE All Share Index reached a new all-time high in April and looking at the results and forecasts of local and international players in the automation and motion control markets there have been some excellent numbers coming through. For the 2007 financial year Beckhoff Automation recently reported 22% growth in turnover and Hägglunds Drives reported net sales up 14%, while Bosch Rexroth is predicting a double-digit percentage sales increase for financial 2008.
A worrying factor is the rapid escalation in food prices which is happening globally and looks likely to continue. This impacts on overall inflation figures and may lead central banks to raise interest rates too far. The consequence of doing so will be that economic growth will be stifled rather than inflation tamed. The current rise in food prices is being attributed to two primary factors: US and other government policies which have encouraged agricultural resources to be used for non-food, ethanol production and rising oil prices which impact food transport and packaging costs.
Unfortunately food forms a higher percentage of household expenditure in the poorest households and so these price increases hit them more severely than wealthier households. There have already been riots or unrest related to high food prices in many African countries, India, Indonesia and Latin America.
As new rounds of wage negotiations start in South Africa we can expect some very hard bargaining to take place with unions being mandated by their members to demand rises that compensate them for these price rises. I suspect that we are in for a long, hard winter of discontent in this regard, so keep those gas bottles full and candles at the ready.
Educational robotics
Educational robotics is a rapidly growing branch of robotics which can help to stimulate an interest in mathematics, science, programming, technology and engineering amongst scholars.
In our last issue we reported that a group of local engineers had made a bid to stage the 2010 RoboCup in South Africa. Unfortunately it looks like that bid has been unsuccessful. The message that is filtering back is that we need to gain RoboCup experience before we will have the ability to confidently hold an international RoboCup competition in this country.
André Hoffmann attended the German Open RoboCup event at Hannover Fair in April and it was suggested to him that South Africa hold robotics workshops and local events, to which experienced teams could be invited. South African universities would need to send teams to China and Austria to attend the 2008 and 2009 RoboCup competitions and to gain experience. These people could then form the core of a technical team which would then have the expertise to host a future world event.
RoboCupJunior is an important initiative of RoboCup which sponsors local, regional and international robotic events for primary and secondary school children and to undergraduates lacking the resources to get involved in the more advanced leagues. The focus of RoboCupJunior league is on education. The tournament offers the opportunity to participate in international exchange programmes and to share the experience of meeting peers from other countries.
There are also various simulation leagues which offer the chance to compete in virtual robotic competitions using simulated robots to achieve specified tasks. The virtual robots closely mirror the actual platforms of their current technology physical counterparts.
The RoboCupJunior and Simulation leagues are just two of many educational robotic initiatives which could be used to introduce this exciting technology into our schools and universities and I look forward to bringing you more information about such possibilities in our next issue of Motion Control.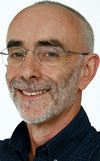 Andrew Ashton
Credit(s)
Further reading:
From the editor's desk: Making sense of the metaverse
Technews Publishing News & events
It wasn't so long ago that nobody had heard of IIoT. Then the hype began and now it's an integral part of the manufacturing environment. Recently I've been hearing more and more about the metaverse 
...
Read more...
---
Innovation for sustainable agriculture
News & events
Panasonic Industry has announced the Gold sponsorship of ETH Zurich's Robotic Weeding System (Rowesys) project and will assist the student team with engineering know-how, as well as components and products 
...
Read more...
---
New head office and warehouse for Fuchs Lubricants
News & events
The new head office and warehouse for Fuchs Lubricants South Africa is on track to be completed this month. The company is investing over R250 million in the expansion at its existing location in Isando, 
...
Read more...
---
Bosch Rexroth Africa Development appoints Tanzanian distributor
News & events
Bosch Rexroth Africa Development has appointed a Tanzanian company as its in-country distributor. Transec is a general mining equipment supplier with an established countrywide presence. In line with 
...
Read more...
---
YES to youth employment
News & events
Bosch Rexroth South Africa has participated in local government's 2021 Youth Employment Service (YES) Programme, which took place from 1 March 2021 to 28 February 2022. This experiential learning programme 
...
Read more...
---
Appointments
News & events
Read more...
---
Appointments
News & events
Read more...
---
Cummins offers a lifeline to the mining industry
News & events
With the bulk of its business in Africa driven by mining, Cummins has continued to support its major mining clients throughout the Covid-19 pandemic. From blasthole drills and front-end loaders to 360 
...
Read more...
---
WorldSkills Africa collaborates with Festo to host the 2022 competitions
News & events
WorldSkills is a global competition organisation that raises the profile of skilled individuals worldwide. This organisation also demonstrates how skills are essential in achieving economic growth. Their 
...
Read more...
---
From the editor's desk: Another dimension
Technews Publishing Editor's Choice
      It is with great sadness that I am communicating the news of the passing of my colleague Steven Meyer, who was the editor of our sister publication,
SA Instrumentation & Control
. It was a privilege 
...
Read more...
---