printer friendly version
Hydraulic performance with energy efficiency
Second Quarter 2020
Hydraulic systems & components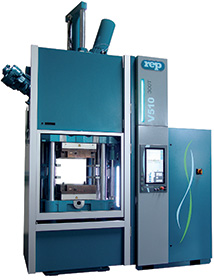 Technologically advanced industrial machinery requires hydraulics to provide more efficient and quieter solutions with a smaller footprint, while maintaining the benefits traditionally associated with hydraulic systems, including high power density, precise control and enduring performance. But historically these benefits have typically come hand in hand with inefficient energy allocation, heat generation and noise.
Conventional hydraulic power units require large-capacity pumps and motors to ensure steady performance during the highest duty cycle of the system. When energy costs were significantly lower and environmental regulations less stringent, the wasted energy and resulting carbon emissions were seen as inconsequential. However in today's eco-conscious and globally competitive economy, changing to systems where power is tightly modulated to the requirements of specific tasks within highly complex hydraulic systems is essential.
In light of this, REP International, a specialist in the construction of injection moulding machines for the rubber, thermoplastic and other polymer industries, was looking for an innovative solution that would add energy efficiency as one of the defining features of its machines. The company turned to the research and development expertise of Parker Hannifin to develop an innovative immersed servo pump system to reduce the energy consumption of its machines significantly.
A complete, single-source system solution
Hydraulic power has long been utilised in industrial processes such as injection moulding. This is due to the inherent advantage of being able to transmit a large amount of power via a relatively compact system of pipes and hoses. In many of these systems, the source of pressurised hydraulic fluid is the hydraulic power unit (HPU).
The most energy efficient alternative was an immersed servo motor pump system consisting of three separate elements: a pump, a servo motor and a drive for control. The idea was to replace the self-regulating pumps with a solution that could very accurately match a flow rate to a real need.
"The principle is this: if I adapt the flow, I also adapt the speed," explains sales manager, Vincent Sinot. "The general principle is to use the rotational speed of the motor to control the flow rate at the pump outlet."
With plastics machinery, there are many auxiliary movements in addition to opening and closing the moulds, plasticising and injecting. These movements take place partly sequentially but also occur in parallel. They must therefore be supplied centrally with the required flow and pressure. The often brief cycle times also demand supply with the highest dynamics. With the maximum speed of a small pump, a very high-volume flow can be achieved. This significantly reduces investment costs.
The flow and pressure regulation – controlled by the speed and torque of the servomotor – offers undeniable advantages; not only in regard to the reduction of energy consumption, but also the simplicity of the installation of the hydraulic components.
Developing drive controlled pump technology
Based on this fundamental modification of hydraulic constant pressure systems, Parker has developed an entire new generation of efficient hydraulic drives. The hydraulic electromechanical drive can be connected to a speed-controlled, electrohydraulic full-system solution called the drive controlled pump (DCP).
By utilising an alternating current drive controller, the speed range can be regulated and tailored in advance to a predefined cycle. The precise amount of hydraulic energy required can therefore be generated for any particular point in time during the machine's duty cycle, leading to cost savings for cycles with high part load amounts.
When selecting pumps, the most important considerations should not only be output but also minimum and maximum speeds. A smaller size generally enables higher speeds and causes lower noise emissions. In contrast, the minimum speed depends more on the design than on the size. When considering the various requirements, two pump technologies are preferable: the vane pump (best for fixed displacement pumps) and the axial piston pump (recommended for high peak or long term pressures).
In order to put together an energy efficient motor pump combination, the individual components must be selected in such a way that the sum of all losses in the specified operating points is at a minimum. Parker's DriveCreator software tool enables the selection of the best combination of components with the highest degree of energy efficiency.
For more information contact Lisa de Beer, Parker Hannifin SA, +27 11 961 0700, lisa.debeer@parker.com, www.parker.com/za
Credit(s)
Further reading:
Supplying essential hydraulic services
Third Quarter 2020 , Hydraulic systems & components
Hytec Secunda was tasked with overseeing the urgent repair of two hydraulic cylinders for a large regional customer. Working with Hytec Engineering, the cylinders were delivered and installed in just 
...
Read more...
---
New Range of Bosch Rexroth AquaSensors
Third Quarter 2020, Hytec Fluid Technology , Hydraulic systems & components
Hytec Fluid Technology (HFT) recently launched the Bosch Rexroth AquaSensor range of humidity sensors. Branded Humidity Sensor WGM, the range was developed to serve as a preliminary warning system on 
...
Read more...
---
Sophisticated electro-hydraulic closed-loop control
Third Quarter 2020, Axiom Hydraulics , Hydraulic systems & components
Sun Hydraulics has announced the release of the new CANpoint XMD Configuration Software, available as a free download from its website. This expands the capabilities of the company's line of XMD mobile 
...
Read more...
---
Hydraulic bolt tensioners remove uncertainty from couplings
Third Quarter 2020, SKF South Africa , Hydraulic systems & components
Hydrocam hydraulically operated bolt tensioners offer far greater accuracy compared to other fixing methods. With their superior control and safety, damage to bolts and associated structures is avoided, 
...
Read more...
---
Rethinking pneumatic technology for the factories of the future
Third Quarter 2020, Parker Hannifin Sales Company South , Editor's Choice, Pneumatic systems & components
As manufacturing continues its rapid journey to digitalisation, one must ask, what will become of conventional technologies? Take pneumatics for example, which remains based on the age old principle of 
...
Read more...
---
Highest reliability, lowest leakage
Second Quarter 2020, Axiom Hydraulics , Hydraulic systems & components
Sun has just released the DWBF, a new FLeX Series 3-way, direct-acting, solenoid-operated directional blocking poppet valve with two extremely low-leakage poppet configurations. They are ideal for load-holding 
...
Read more...
---
Bladder accumulator recertification by HFT
Second Quarter 2020, Hytec Fluid Technology , Hydraulic systems & components
As part of its accumulator service package, Hytec Fluid Technology (HFT) conducts legal parameter conformance testing on bladder accumulators. The offering proves accumulator conformance to PER and SANS 
...
Read more...
---
New method of battery leak testing
Second Quarter 2020, ATEQ South Africa , Hydraulic systems & components
Leak testing has come to be known as an essential quality test in the automotive industry for decades. A single car has more than 30 000 parts and hundreds of those parts require leak testing to make 
...
Read more...
---
Hydraulic pumps with higher flow
Second Quarter 2020, Bearing Man Group T/A BMG , Hydraulic systems & components
BMG has recently launched a new range of portable hydraulic electric Enerpac E-pulse pumps, which are critical to all 700 bar operating hydraulic systems. These E-pulse pumps have intelligent auto-cycle 
...
Read more...
---
HFT offers fluid conditioning equipment for hire
Second Quarter 2020, Hytec Fluid Technology , Hydraulic systems & components
To aid plants that are unable to procure capital equipment for their fluid power applications, Hytec Fluid Technology (HFT) offers a range of Hy-Pro filtration fluid conditioning equipment for hire. These 
...
Read more...
---