printer friendly version
Five reasons why smart pneumatics boosts packaging performance
Third Quarter 2021
Pneumatic systems & components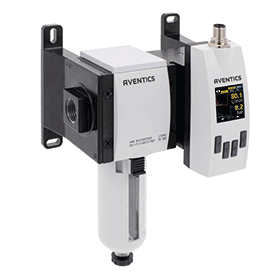 Today's advanced automation systems found in the packaging industry often rely on pneumatics. While the material handling benefits of pneumatics are apparent, the extensive range of benefits that modern pneumatics offers packaging lines should not be overlooked.
The intelligence built into smart pneumatic components unlocks valuable machine data that can transform operations. OEMs and end-users can know more about the performance of their machines and packaging lines than ever before. With these insights, they can make better decisions that increase machine availability and save energy, significantly improving packaging line effectiveness.
Packaging relies on pneumatic technology
Pneumatics is a fundamental machine technology the packaging industry has depended on for packaging, material handling and even labeling. From the dairy aisle to the cereal aisle, most products in the grocery store have interacted with pneumatics.
Pneumatic systems are perfect packaging solutions for many reasons, namely their cost savings and impressive flexibility. They affordably add motion to machinery and unlike many other complex packaging components, are easy to diagnose and fix. Pneumatic components also easily adapt to environmental operating changes like small temperature or humidity fluctuations or new packaging material.
In fact, when it comes to encountering new products or package sizes on the line, pneumatic actuators have greater operational tolerance than complex servo systems. Even when components and materials are not exactly aligned, pneumatic actuators can still grab them. This flexibility sidesteps issues associated with servo systems that can cause downtime and require expensive correction.
Improving machinery with smart pneumatics
Pneumatics has long been considered a steadfast and cost-effective technology, especially when compared to all-electric solutions. Now, however, pneumatic systems are getting a fresh look from the OEM community, as technology suppliers like Emerson add intelligence to what were previously considered 'dumb' devices.
In the past, it did not make sense financially to monitor data from a low cost pneumatic actuator; you simply replaced it when it broke and dealt with the downtime. However, in reality, a R1500 actuator could be a pinch point to the entire machine. Today, as sensing technology has advanced, it is now easier to monitor these actuators and get actionable data without being cost prohibitive.
The challenge for technology suppliers, OEMs and end-users is to work together to create systems that deliver useful intelligence. For example, agreeing on key performance indicators (KPIs) upfront can help ensure consistent machine performance that aligns with expectations. But end users might not communicate the critical KPIs they need to manage. One solution is for OEMs to stay involved with the end user after the equipment installation. This creates an opportunity for them to collect valuable feedback that can help solve customers' pain points.
Pneumatics can tie in with an overall automation system to provide comprehensive, actionable performance data that can improve overall equipment effectiveness (OEE). Here are five key considerations for adding IoT-enabled pneumatics solutions that can make a difference.
1. Integrate pneumatics into the automation system
The advent of IO-Link, an internationally standardised input/output technology for machine communication at the sensor/actuator, allows for a new level of intelligence in data coming from sensors on the machine. IO-Link is independent of upper-level fieldbus systems and is available for almost all major fieldbus protocols. Machine sensor upgrades can increase functionality, while keeping expansion costs to a minimum by using existing PLC controls.
As a result, it's becoming easier than ever to integrate smart pneumatics into existing automation platforms without changing the PLC, even with legacy systems. For example, as machines become increasingly high-tech, machine builders and end users are trying to get more from their investment by running multiple levels of package sizes and weights on the same line. Sensors are now smart enough to adapt and collect different data depending on what is coming down the packaging line. For pneumatics, that can include an automatic valve adjustment for an actuator handling a larger container size. The sensor can recognise the change in the packaging on the line and adjust its data collection parameters accordingly.
The combination of new digital technology and reduced implementation costs is allowing machine makers to leapfrog from basic data collection to advanced information that drives flexibility and freedom to maximise new machine platforms from day one. Taking an holistic view of data collection also allows improvements across the entire pneumatic system, from the compressor room to the operating environment and from the machine to the operator.
2. Compressed air consumption and leak detection
In the past, end-users had no clear or concise insight into analysing air consumption. So if a compressor reached 80% capacity, for example, many consumer packaged goods (CPG) companies would often purchase another compressor to address the issue, sometimes costing up to R1,5 million.
Smart pneumatics allows CPGs to evaluate their compressor's ability to drive new and existing equipment. Sensors can collect flow, pressure and temperature data, enabling advanced diagnosis of the operating parameters. For example, the Emerson Aventics AF2 flow sensor provides real-time insights on flow, while also capturing pressure and temperature data in the feed line. An increase in air temperature, for example, could indicate a compressor problem. Information on the current or cumulative energy consumption can be passed straight to the relevant parent system without requiring the machine control.
With this information, end-users can look at differences and decide what levels are acceptable within a specific range. For a new plant, smart pneumatics presents an ideal opportunity to establish a usage baseline and then analyse leaks or other energy inefficiencies over time.
3. Device life cycle management
Often, companies will add counters in their PLC to count cycles on their actuators. Traditionally, a valve might be rated for a half million or a million cycles and when that point is reached the valve is replaced whether it is faulty or not. But a counter cannot account for changes, such as constant stopping and starting, that can significantly affect a component's life cycle. As a result, the component may fail unexpectedly and cause expensive, unplanned downtime.
Pneumatic sensors allow for better 'real-use' data than a calculation based on numbers from a spec sheet. Now users can access data based on actual stroke and movement as well as speed. Sensors measuring speed are a recent innovation that can detect if actuators are pushed past a specific percentage, much like knowing the state of a car's brakes based on gently using the brake pedal or slamming on it.
4. Actuator velocities, mechanical cushioning wear and vibration monitoring
Measuring actuator velocity can also help ensure better OEE. With smart pneumatics, end-users can now measure the consistency of an actuator's acceleration and deceleration rates. The machine operator can use velocity to see if the action measures the same across time or if there are aberrations that require attention. Likewise, smart pneumatic technology can help monitor internal cushion wear to determine how aggressively the actuator is running into the cushion. Looking into data from these areas can review potential problems, such as worn cushions or misaligned pneumatic cylinder rods. The end result is scheduling maintenance accordingly to minimise downtime on the machine and keep OEE levels as high as possible.
For many OEMs, vibration monitoring serves as a starting point for IIoT-enabled technology. The next level of smart pneumatics incorporates vibration technology built into the actuators. This technology has been used for some time in other areas, such as racing or robotics and is being leveraged to identify the characteristics of specific machine components.
5. Operator adaption parameter changes
Many users think increasing data generates new layers of complexity. However, when implemented properly, IIoT-enabled components can simplify data into maximums and minimums to help operators adjust machine or sequence performance. For example, if a machine drops beyond 10% of its optimal range, the operator will see more than a basic notification that something is wrong. The alert can also provide the issue's location, like an indicator showing specifically which door of a car is ajar, saving time when troubleshooting by identifying the specific problem rather than working down a time-consuming checklist.
Smart pneumatics can also make it easier to implement and track parameter changes to ensure consistency across production shifts. For example, a beverage manufacturer running three shifts might regularly run into situations where different operator adjustments are made from shift to shift. Now at the start of each shift, an operator can easily reset the machine components to automatically align with established settings, saving time during shift changes.
Pneumatics technology: A good fit for packaging machines
Smart pneumatics technology is being used to help companies with digital transformation. It offers more efficient preventive maintenance, as well as energy savings. In addition, smart pneumatics is scalable, whether on a new machine or legacy equipment that needs a retrofit. Ultimately, success hinges on partnering with an experienced pneumatics technology provider that understands the specific algorithms and applications where pneumatics is used. This can provide smart pneumatic monitoring systems with those algorithms embedded upfront, providing ready to leverage data so machine makers and end-users can improve OEE.
For more information contact Giles Wilcox, Emerson Automation Solutions, +27 73 347 1534, giles.wilcox@emerson.com, www.emerson.com
Credit(s)
Further reading:
High performance hydraulic hose
Gates Pneumatic systems & components
Gates is a global manufacturer of innovative, highly engineered power transmission and fluid power solutions. The company has further expanded its PRO Series hydraulic hose portfolio with the launch of 
...
Read more...
---
How do you audit a compressed air system?
Artic Driers International Pneumatic systems & components
The British and American governments estimate that as much as 10% of all electricity generated is consumed by air compressors, and that some 50% of this energy is wasted. Air leaks alone can account for 
...
Read more...
---
Pneumatics and digital transformation: overcome what's holding you back
Emerson Automation Solutions Editor's Choice Pneumatic systems & components
While IIoT offers the promise of a revolutionary impact on manufacturing, implementation of the technology has its challenges. What holds us back from a broader embrace of digital transformation, especially in pneumatics? And how do we move past the challenges to embrace the opportunity for real improvement in productivity and efficiency?
Read more...
---
How smart pneumatics enhances machine safety and operation
Emerson Automation Solutions Editor's Choice Pneumatic systems & components
Pneumatics and safety
Machine manufacturers and end-users have always used pneumatic devices to provide cost-effective and efficient motion and actuation on a wide range of systems; pneumatics has also 
...
Read more...
---
The 'P' in predictive maintenance represents progress, not pain
Editor's Choice Pneumatic systems & components
There are three main types of maintenance: reactive, preventative and predictive. But how do you make sense of these terms? Human health can provide an analogy to machine health. Take diabetes, for 
...
Read more...
---
Oil-free air for petrochemical pipelines
Pneumatic systems & components
Rand-Air recently took a bold decision which has changed the way its customers – and Rand Air – will approach future hires. Working in the petrochemical sector requires critical attention to detail, with 
...
Read more...
---
How to embrace the benefits of smart pneumatics
Emerson Automation Solutions Editor's Choice Pneumatic systems & components
Understand how this challenge creates opportunities
It is important to consider how insights from data can help end-users react to real-time events or even predict the future. For example, the Emerson 
...
Read more...
---
Remove water from factory air
Pneumatic systems & components
Read more...
---
New energy efficient, compact compressor range
Pneumatic systems & components
CompAir has launched a new series of energy-efficient oil-lubricated, rotary screw compressors, offering best-in-class performance in a compact design. Part of the CompAir L-Series range, the new compressors 
...
Read more...
---
Use compressed air efficiently
Artic Driers International Pneumatic systems & components
With air compressors being one of the bigger consumers of energy in many plants, it pays to keep tight control of compressor station power costs. Focus points include:   
• Compressor performance testing. • 
...
Read more...
---