printer friendly version
Passenger trains with traction motors
Fourth Quarter 2021
Electrical switching & drive systems & components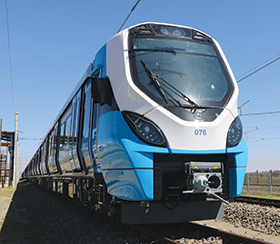 It is important that commuter trains waste as little time as possible when leaving platforms, not only to save passengers time when travelling from station to station, but also to allow for trains to arrive at the station in quick succession, especially during peak periods.
In order to allow this, the motor that drives the train must be designed to provide high torque at low speed for fast acceleration from the platform, while displaying low torque once the train is running at high speed. Gibela uses traction motors – electric motors that do just this – in its passenger trains. These specially-designed traction motors are now being locally produced by Gibela.
"Gibela's trains use an electric multiple unit or EMU. This implies that each carriage or car is self-propelled and does not need a separate locomotive to pull the coaches. The four middle cars are propelled each with four separate traction motors. The 16 motors work in unison to ensure a fast but smooth, departure for commuters," says Dr Buyiswa Mncono-Liwani, corporate services and traction motors operation executive at Gibela. "The train is also made from lightweight stainless steel to further assist with this rapid acceleration, while being energy efficient."
Traction motors can be self-cooled, while exhibiting easy speed control with high motor efficiencies. Furthermore, the traction motor has low maintenance and running costs. The Gibela traction motors are manufactured to stringent tolerances in order to last 40 years. Mncono-Liwani explains that longevity is essential, because motors are the most expensive part of the train to replace. "To change a faulty motor, one needs to decouple the gangways and lift the chassis of the car in order to detach the bogie to gain access to the motor. Most other subsystems can be removed with a forklift or crane from beneath or top of the train."
Gibela's passenger trains are designed specifically for South Africa's gauge tracks. "From the mid-19th century, the 1067 m Cape gauge rail track became widespread in the British Empire. This was selected in South Africa to reduce the cost of building tracks across and through the mountains found in several parts of the country and is still the predominant gauge in South Africa," explains Mncono-Liwani.
To take advantage of high speed and axle load, most countries (55% of the lines in the world) have adopted the wider 1435 m standard gauge and a universal traction motor can be used on such tracks. The width of the Cape gauge tracks do not allow for use of a universal traction motor. The Gibela traction motor had to be specifically designed to overcome the width constraints of South Africa's tracks and still provide the same power characteristics as a universal traction motor. "The same effective torque profile was achieved by designing a very narrow motor with a larger circumference," says Mncono-Liwani.
Engineers are trained as generalists and it has been several decades since train design – a specialist field – last took place in South Africa. To ensure that they are equipped with the requisite skills to build trains in the country, Gibela sent its team of local engineers to various European and South American sites to work directly with the design teams at those locations and to participate in the design process to get hands-on experience.These engineers learnt the generic stage-gate development process, a strategic approach guiding innovation in design and developed the specific train design now being manufactured at Gibela's plant at Dunnottar in Nigel, Gauteng – where there is now also a dedicated traction motor workshop.
The engineering team is responsible for incremental design improvements to Gibela's passenger trains, which are implemented at intervals known as 'baselines'. Initially imported systems or components are used and these then undergo a baseline change when a locally supplied system replaces the imported system.
Gibela was formed in 2013 as a black economic empowerment company. The Gibela Rail Transport Consortium is a venture between French rail company Alstom and South Africa's Ubumbano Rail. Gibela has a R51 billion contract with the South African government to manufacture 600 trains for PRASA. The scope of the contract includes train maintenance, technical support and the manufacture and supply of spare parts.
Today, state-of-the-art commuter trains are rolling off the production line at Gibela's bespoke R1 billion Ekurhuleni factory. In fulfilment of contractual obligations to PRASA, Gibela is training thousands of historically disadvantaged South Africans – mainly women – in technical skills for both Gibela and the manufacturing industry at large.
For more information contact Khaya Thwala, Flow Communications, +27 78 349 0668, khayat@flowsa.com, www.flowsa.com
Further reading:
Air operated diaphragm pumps
Bearing Man Group T/A BMG Electrical switching & drive systems & components
BMG's range of Ingersoll Rand ARO fluid management equipment comprises FDA-compliant air operated diaphragm pumps that provide solutions for the food and beverage sector, as well as in pharmaceutical 
...
Read more...
---
Conditioning monitoring with intelligent drives
Danfoss Electrical switching & drive systems & components
Industry 4.0 refers to the combination of physical assets and advanced digital technologies that communicate, analyse and act upon information. This in turn enables organisations and consumers to be flexible 
...
Read more...
---
Africa is ripe for investment
Electrical switching & drive systems & components
The South African Department of Trade and Industry recently met with SEW-EURODRIVE to discuss its R200 million investment into the country at the organisation's new headquarters in Aeroton, Johannesburg. 
...
Read more...
---
Quick and easy simulation of drives
Siemens Digital Industries Electrical switching & drive systems & components
The new Sinamics DriveSim Basic software solution from Siemens allows drive constellations and their behaviour in machines and plants to be simulated, adapted and optimised. With the new solution, Siemens 
...
Read more...
---
Total drive solutions
Electrical switching & drive systems & components
Hudaco Power Transmissions, formerly Bauer Geared Motors South Africa, delivers total drive solutions to customers across the southern African region. The company has southern Africa distributor agreements 
...
Read more...
---
Faster and more flexible digital printing
Beckhoff Automation Electrical switching & drive systems & components
In just a few years Danish machine builder, Refine Finishing, has created a secure position among the world's leading suppliers of machines that convert digitally printed labels. Equipped with PC-based 
...
Read more...
---
Tailoring the motor to the application through coil selection
Electrical switching & drive systems & components
During the selection of a miniature DC motor, the design engineer will consider the dimensions needed to fit the desired space as well as the working point (the torque and speed at which the motor is 
...
Read more...
---
Powerful and extremely miniaturised
Horne Technologies Electrical switching & drive systems & components
With the new MC3001 motion controllers, available as MC 3001 B (board-to-board connectors) or MC3001P (28-pin plug connector), Faulhaber rounds out the MC V3.0 generation of controllers at the lower end 
...
Read more...
---
Cool move for rotor hubs
Editor's Choice Electrical switching & drive systems & components
At the company's new Mechatronic Competence centre, machine houses and rotor hubs are produced for the entire Enercon range of products. After painting, the large volume cast bodies of the rotor 
...
Read more...
---
Eliminating resonance in stepper motor applications
Electrical switching & drive systems & components
Engineers are increasingly turning to stepper motors for a simple and cost-effective positioning solution. However, due to the design of these motors and the way they are driven, there is an inherent 
...
Read more...
---