printer friendly version
Safety blocks for hydraulic accumulators
First Quarter 2022
Hydraulic systems & components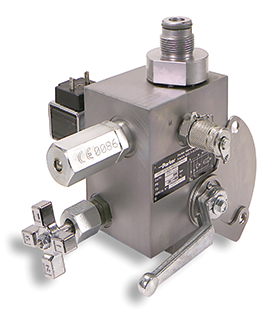 Parker Hannifin's new safety block (SB) series for hydraulic accumulators simplifies the selection, installation and maintenance process of these important system components. Safety blocks enable hydraulic accumulators to be isolated for maintenance work, repairs or system tests, acting as an emergency shut-off device to protect against system failure. The versatile SB series offers full functionality in a single product: isolation, drain, peak pressure protection and pressure control. Choosing the right safety block is now far easier. Typical markets set to benefit from the new concept include industrial, mobile and oil and gas.
As a result of feedback from customers, the improved design helps to minimise space requirements and ease installation, The series is available in sizes 10, 20 and 32, with a standardised temperature range of -20 to 80°C and high corrosion resistance compliant with ISO 9227. In addition, the SB series is PED-certified and suitable for use in ATEX environments.
Ideal for all bladder, diaphragm and piston-type accumulators, customers can select from models with electric or manual relief valves. The series features either a BSPP or SAE accumulator connection, with size 32 offering an SAE accumulator connection as standard. Furthermore, size 32 offers the choice of flanged or threaded hydraulic connection. A variety of voltage options ensures the range is suitable for all types of industrial applications, with the pressure range corresponding to an accumulator operating pressure up to 350 bar.
For more information contact Lisa de Beer, Parker Hannifin SA, +27 11 961 0700, lisa.debeer@parker.com, www.parker.com/za
Credit(s)
Further reading:
Expansion modules for functional safety
Parker Hannifin - Sales Company South Africa Other technologies
Parker Hannifin, the global leader in motion and control technologies, now offers its IQAN-XC41, -XC42 and -XC43 expansion modules with certification according to IEC 61508 safety integrity level 2 (SIL2). 
...
Read more...
---
Destructive cavitation in hydraulic systems
Hydrasales Hydraulic systems & components
Cavitation results from excessive vacuum conditions at the inlet to a pump. High vacuum creates vapour bubbles within the oil, which are carried to the discharge (pressure) side. These bubbles then 
...
Read more...
---
Optimising hydraulic controls
Parker Hannifin - Sales Company South Africa Hydraulic systems & components
Parker Hannifin has launched two components − the Parker Automation Controller PAC120 and the electro-hydraulic controller module PACHC − that together offer an innovative solution for the automation 
...
Read more...
---
Concept to solution the short way
Axiom Hydraulics Editor's Choice Hydraulic systems & components
QuickDesign streamlines your custom design process, delivering complete designs in as little as ten minutes.
Read more...
---
3D printing for hydraulics
Hydraulic systems & components
Hydraulic components are traditionally manufactured through machining or casting. Now hydraulic equipment manufacturers are producing manifolds, servo valves and hydraulic adapter blocks using 3D printing. 
...
Read more...
---
Impact of innovative technologies on the mining industry
Parker Hannifin - Sales Company South Africa Other technologies
"Harnessing the complex data from a connected mine's equipment is key to maximising uptime. Parker's Mobile IoT makes it easy to identify usage trends and field-based problems with unparalleled intellectual 
...
Read more...
---
Position sensor detection for hydraulic cylinders: a world first
Instrotech Hydraulic systems & components
Instrotech has on offer SIKO's SGH wire-actuated encoders that measure the cylinder stroke as well as its speed in the hydraulic cylinder with impressive efficiency, flexibility and robustness.
...
Read more...
---
Do not neglect to monitor your lube oil system's filtration
Hydrasales Hydraulic systems & components
The viscosity of oil in a lube system can adversely affect the bearings within the system. This is especially so if the maintenance of the hydraulic system is neglected. Failure to filter the oil and 
...
Read more...
---
Regeneration valve assemblies
Axiom Hydraulics Hydraulic systems & components
Sun regeneration valve assemblies are standard products that are easy to order. Regenerative circuits divert the oil from the rod end of a cylinder back to the bore end, instead of channeling the fluid 
...
Read more...
---
New optimised quick coupling series
Parker Hannifin - Sales Company South Africa Shaft power components
Parker Hannifin has launched the new optimised FEM Quick Coupling Series which offers an increased working pressure up to 350 bar and a decreased pressure drop for better flow properties. The revised 
...
Read more...
---