printer friendly version
Hydraulic bolt tensioning
Third Quarter 2023
Hydraulic systems & components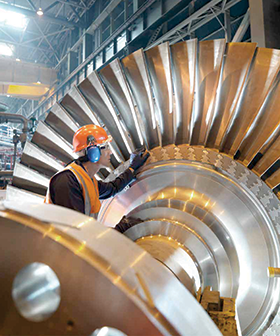 BMG's Nord-Lock bolting solutions include Boltight hydraulic bolt tensioning tools, which can be used to tighten bolts simultaneously, ensuring even preload in industrial applications and extreme environments, where bolt load accuracy is critical.
"BMG specialists work closely with customers in numerous industries to meet challenging bolting requirements. The company offers a wide range of standard and customised bolt tensioning tools to optimise bolt tightening during the construction of new plants and equipment, or for maintenance operations," says national product manager, Wean Marais. "Advanced bolting technology in large machines and equipment eliminates the risk of loose or over-tightened bolts and is critical to ensuring optimum performance and safety on industrial sites. As bolts increase in size, so the load critically increases, and operators are faced with the challenge of achieving the correct bolt elongation to ensure bolt load accuracy.
"When tightening a bolt using traditional torque methods, it can be difficult, and sometimes impossible, for the operator to achieve the correct bolt elongation, due to friction. Boltight tools provide continuous performance, without the need for frequent maintenance and repair. Added to this, the fast and efficient turnaround and reliability of these tensioners is vital to saving time on site and for the control of running costs."
Boltight hydraulic bolt tensioners − manufactured to stringent global quality and safety specifications − use high-pressure hydraulics and a pre-determined pressure to make on-site bolting jobs safer, faster, and more efficient. These tools have been specially developed to stretch the bolt axially. The nut is then rotated down the joint face, accurately locking in the bolt load.
The Boltight operating principle is based on the flow of hydraulic oil into the load cell. The load generated by the load cell is transferred into the puller and the puller then transfers the load directly into the bolt. The nut lifts clear of the flange mating surface due to bolt stretch and the socket is used to turn the nut down, retaining the load.
Boltight hydraulic bolt tensioning equipment is suitable for use in all industries where critical bolting requires accurate and reliable tightening. In power generation, these tools are used for bolts on pipes, pumps, valves, and engines.
In the wind sector, the Boltight range provides reliable tensioning solutions for critical joints on offshore and onshore wind turbines, and on associated structures.
Boltight tools are also used extensively throughout the mining, marine, and oil and gas industries, where reliable and accurate bolt tightening is critical to operational efficiency. Standard bolt tensioners are used on onshore and offshore pipeline flanges, compact flanges, heat exchangers, cranes, pumps, and valves, and for other critical bolting applications. Xtra load bolt tensioners are recommended for higher loads and for restricted space applications.
BMG's Fasteners team, which offers an extensive range of quality branded fasteners and specialist solutions for every application, is committed to eliminating breakdowns, controlling downtime and ensuring optimum safety in diverse industries.
For more information contact Wean Marais, BMG, +27 11 620 7410, weanm@bmgworld.net, www.bmgworld.net
Credit(s)
Further reading:
How to protect against water hammer
SA Gauge Editor's Choice Hydraulic systems & components
Water hammer is a high-pressure surge or wave created by the kinetic energy of moving fluid when it is rapidly forced to stop or change direction, altering the liquid's velocity. The progression of the water hammer shockwave needs to be detained and slowed before reaching the instrument sensor. SA Gauge manufactures several such devices in order to achieve this.
Read more...
---
Industrial gear units for lifting drives in mining
Bearing Man Group T/A BMG Electrical switching & drive systems & components
BMG has launched a new range of Nord industrial gear units, designed to enhance the efficiency of lifting gear used in many industries, including the mining sector. Lifting applications place great demands 
...
Read more...
---
High-efficiency motors for mining
Bearing Man Group T/A BMG Electrical switching & drive systems & components
The electric motor is known as the workhorse in the mining industry, and plays a critical role in ensuring optimum productivity at every plant; but a major problem is that they are mostly not optimised for maximum efficiency.
Read more...
---
Axiom ups its game
Axiom Hydraulics Editor's Choice Hydraulic systems & components
In today's competitive market, manufacturers of hydraulic components are constantly challenged to find better, faster and cheaper ways of producing parts. Axiom Hydraulics has met the challenge, and can now deliver a product with superior performance and significant cost savings for its customers.
Read more...
---
Condition monitoring for critical hydraulic equipment
Hydrasales Hydraulic systems & components
Systems maintenance personnel often classify equipment as critical, based solely on its value. Instead, critical equipment should be determined by its importance to the operation and the objectives of the organisation.
Read more...
---
Fasteners and tools for machine tools sector
Bearing Man Group T/A BMG Shaft power components
BMG's extensive portfolio of fasteners, tools, and related equipment has been carefully selected for dependable operation, flexibility, enhanced safety, and extended service life in diverse sectors, including 
...
Read more...
---
How to get the best of both worlds with hydraulics and electric
Editor's Choice Hydraulic systems & components
While battery technologies continue to evolve and overcome challenges that have previously restricted more rapid electrification adoption rates, hybrid electric systems are well positioned as an ideal interim solution.
Read more...
---
Create and recover energy all in one check valve
Axiom Hydraulics Hydraulic systems & components
Energen is a new, high-efficiency check valve from Sun Hydraulics that allows free flow from inlet to outlet, and blocks flow in the opposite direction. Composed of an integrated generator that converts 
...
Read more...
---
Bending the law of size, power and speed
Hagglunds Drives SA Editor's Choice Hydraulic systems & components
The Hägglunds Quantum hydraulic motor range exceeds previous performance limits in torque, speed and efficiency. Hägglunds Quantum is the new name for the Hägglunds CB range, and these direct drives can be used in heavy-duty and mobile applications.
Read more...
---
How to solve the pressure connection problem
Hydraulic systems & components
Quick couplings offer a quick, practical, and safe solution for the connection and disconnection of multiple parts of hydraulic circuits; coupling is carried out without the need for tools and stays sound, preventing leakage while the fluid is under residual pressure.
Read more...
---