printer friendly version
R200 part saves recycler millions
Third Quarter 2023
Other technologies
A simple switch to a polymer bearing, in place of stainless steel, has saved lead acid battery recycler, Frys Metals, tens of thousands of rands in maintenance costs, and much more in preventing lost production time. Due to the aggressive, acid environment of the Germiston-based recycler the company had grown accustomed to losing up to four full days of production per month due to premature failure of a critical conveyor idler bearing. That is until plant engineer, Erasmus Smit, revisited the requirement for a stainless steel bearing and tried other options to prolong the period between changes.
Having experimented with various stainless steel types and ruled out other materials, he decided to turn to polymer bearing manufacturer, igus to find a solution. With the assistance of igus product specialists, Juan-Eric Davidtz and Kabelo Maimane, the team determined that an igubal JEM insert bearing would be the ideal substitution due to its high load handling ability, abrasion- and chemical-resistance.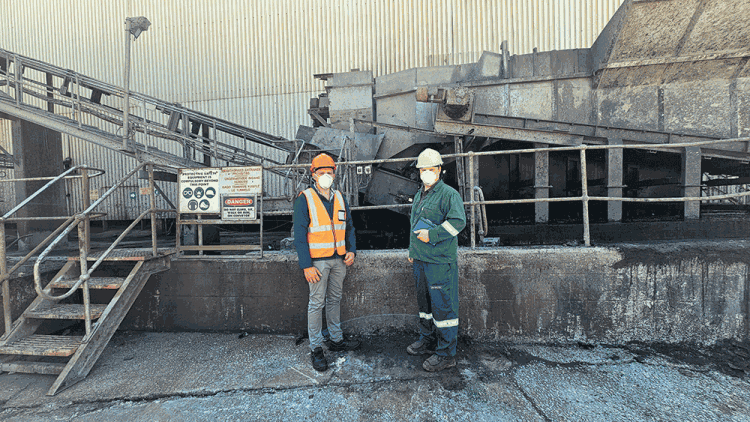 Igus' Juan-Eric Davidtz and Frys Metals plant engineer, Erasmus Smit at the Germiston plant in front of the acid-soaked conveyor.
Saving time and money
"Ultimately, when the last stainless steel bearing failed we stopped the conveyor and split the belt to get access to the bearing and shaft that would invariably be damaged and in need of refurbishing due to the slow failure and abrasion. Once the shaft was replaced and the bearing inserted into the existing steel housing, we had a specialist resplice the belt and restarted the process. That was five months ago and we have not changed it since.
"While the part cost just over R200, it has saved us a fortune in downtime prevention and substantially improved the overall productivity of the plant. Its success has also led to us seeking other areas of improvement where we can use igus bearings and other motion plastics solutions to replace steel throughout the plant. We have already identified a number of applications that will benefit from these wonder materials, including bearings, bushing, and cable management solutions. Considering that our whole business is built around the smashing and recycling of batteries containing aggressive acids, it is needless to say that only the toughest materials will do," says Erasmus.
Treasure from scrap
Frys Metals' process includes the collection of car, truck and similar lead acid batteries. These are stockpiled and loaded into a chute by means of front-end loaders, which usually leads to substantial damage of the casings and starts the process. The chute releases the mostly broken batteries onto the incline conveyor in question and these make their way up to a specially adapted hammer mill, leaking all the way.
With a pH of around 3, the acid spills over the conveyor and is present throughout the rest of the process. The batteries are further pulverised and the lead extracted. In further processes, the plastic is recycled and the lead smelted, and both materials are then made ready for resale to battery manufacturers.
The entire process is demanding, and requires high levels of safety and environmental management to prevent accidents and damage to the environment. By reducing the amount of human intervention, these more efficient engineered materials contribute to an all-round improvement of the entire process.
The idler shaft lies in the acid water.
German engineering
igus is the world's pre-eminent manufacturer of motion plastics. Its wide range of iglidur polymers are specially formulated to meet a wide array of applications in the harshest of environments. With extensive resources made available annually for further research and development, the company is able to adapt and customise its solutions for specific applications.
For more information contact Ian Hewat, igus South Africa, +27 11 312 1848, ihewat@igus.net, www.igus.co.za
Credit(s)
Further reading:
Automation solutions for underground material handling on mines
Other technologies
Deep Automation is Epiroc's cutting-edge set of automation systems and applications, used to orchestrate loaders and trucks in underground mining operations.
Read more...
---
Lube tip: thermal failure in lubricants
WearCheck, a division of Synerlytic Services Other technologies
One of the most common causes of thermal failure in hydraulic fluids and some lubricating oils relates to aeration.
Read more...
---
Megatrends shaping the auto industry
Other technologies
The automotive industry is in the midst of a technology-driven revolution that will not only advance the safety and sustainability of transportation, but also transform how consumers interact with their vehicles and the OEM brands behind them.
Read more...
---
Lube tip: foaming is affected by oil level
WearCheck, a division of Synerlytic Services Other technologies
In a circulating system, it is crucial to check the oil level before introducing anti-foam agents to address a foaming problem.
Read more...
---
Powerful diagnostic tool for condition monitoring
SKF South Africa Other technologies
SKF has extended its Microlog Analyser family of data collection devices with a new model that offers faster measurement collection and greater diagnostic power. "The new SKF Microlog Analyser that is 
...
Read more...
---
Going underground for energy storage
Editor's Choice Other technologies
The idea of using gravity to store energy is not new. Hydro has been a feature of mature electricity grids for decades. While this may be ideal for large-scale storage, it requires very specific geographies and comes with a huge capital cost. Gravitricity, an Edinburgh-based green engineering startup, is working to make gravity energy storage a reality.
Read more...
---
World's largest concentrated solar farm
Editor's Choice Other technologies
Sub-title: Noor power station in Morocco is the largest concentrated solar power plant on the planet, and uses molten salt storage to produce electricity at night.
Read more...
---
The world's largest magnet
Editor's Choice Other technologies
The world's largest and most powerful magnet is the Central Solenoid magnet in the ITER fusion reactor in France. Built by General Atomics, it is the result of over five years of research and development, and the statistics are mind-blowing.
Read more...
---
Lubrication solutions for coastal environments
Other technologies
Oxidation, rust, corrosion, and water exposure can be significantly higher along South Africa's coastal belt. So much so that coastal conditions are often classified as 'extreme condition environments'. 
...
Read more...
---
Troubleshooting with Fluke
Comtest Other technologies
Few things are as disposable as paper towels. But the next time you nonchalantly toss one away, keep in mind that there's a lot more to it than meets the eye. Paper towels are manufactured through a finely 
...
Read more...
---