printer friendly version
New generation of hydraulic filter elements
4th Quarter 2017
Hydraulic systems & components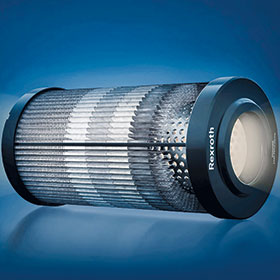 Bosch Rexroth has introduced a new range of hydraulic filter elements incorporating new materials that enhance filtration performance while reducing operating costs through increased service life. The Pure Power range of elements has a new micro-glass material that, due to the very small diameter of the fibres, increases interstitial spaces to trap and retain 50% more contaminant particles. The β-values of the new Pure Power filter material have exceeded 1000 in real world tests, so hydraulic fluids are cleaned to an optimum condition. This also prevents further contamination and damage to the system by removing a very high proportion of the contaminants in the first pass through the filter.
All elements in the range have an additional antistatic conductive woven filter medium to reduce the risk of electrostatic charge and discharge in the filter. End users of hydraulic systems increasingly use zinc- and ash-free oils which typically have reduced conductivity. If this is less than 300 pS/m, the danger of electrostatic discharge increases. This reduces the retention rate and increases the danger of particles passing through the filter and causing damage in the system. The antistatic conductive woven filter medium helps negate the risk of these issues.
Filtration efficiency is even more effective when used with Rexroth filter housings with patented Cycloclean cyclone technology, where a doubling in dirt-holding capacity has been measured according to the ISO 16889 multi-pass test, while retention capability increases tenfold using the same test. This is a direct result of the cyclone design maximising filter capacity by effectively pre-filtering the fluid.
For more information contact Sandor Bottyan, Hytec Fluid Technology, +27 (0)11 976 7300, sandor.bottyan@hft.co.za, www.hytecgroup.co.za
Credit(s)
Further reading:
Destructive cavitation in hydraulic systems
Hydrasales Hydraulic systems & components
Cavitation results from excessive vacuum conditions at the inlet to a pump. High vacuum creates vapour bubbles within the oil, which are carried to the discharge (pressure) side. These bubbles then 
...
Read more...
---
Optimising hydraulic controls
Parker Hannifin - Sales Company South Africa Hydraulic systems & components
Parker Hannifin has launched two components − the Parker Automation Controller PAC120 and the electro-hydraulic controller module PACHC − that together offer an innovative solution for the automation 
...
Read more...
---
Concept to solution the short way
Axiom Hydraulics Editor's Choice Hydraulic systems & components
QuickDesign streamlines your custom design process, delivering complete designs in as little as ten minutes.
Read more...
---
3D printing for hydraulics
Hydraulic systems & components
Hydraulic components are traditionally manufactured through machining or casting. Now hydraulic equipment manufacturers are producing manifolds, servo valves and hydraulic adapter blocks using 3D printing. 
...
Read more...
---
Position sensor detection for hydraulic cylinders: a world first
Instrotech Hydraulic systems & components
Instrotech has on offer SIKO's SGH wire-actuated encoders that measure the cylinder stroke as well as its speed in the hydraulic cylinder with impressive efficiency, flexibility and robustness.
...
Read more...
---
Do not neglect to monitor your lube oil system's filtration
Hydrasales Hydraulic systems & components
The viscosity of oil in a lube system can adversely affect the bearings within the system. This is especially so if the maintenance of the hydraulic system is neglected. Failure to filter the oil and 
...
Read more...
---
Safety blocks for hydraulic accumulators
Parker Hannifin - Sales Company South Africa Hydraulic systems & components
Parker Hannifin's new safety block (SB) series for hydraulic accumulators simplifies the selection, installation and maintenance process of these important system components. Safety blocks enable hydraulic 
...
Read more...
---
Regeneration valve assemblies
Axiom Hydraulics Hydraulic systems & components
Sun regeneration valve assemblies are standard products that are easy to order. Regenerative circuits divert the oil from the rod end of a cylinder back to the bore end, instead of channeling the fluid 
...
Read more...
---
HFT appointed distributor of Femco oil drain equipment
Hytec Fluid Technology Other technologies
Hytec Fluid Technology (HFT) has been appointed a distributor of Femco oil drainage equipment in South Africa. Femco oil drain plugs deliver spill-free, toolless oil changes. They are ideal for use across 
...
Read more...
---
Testing flow and system pressure
Hydrasales Hydraulic systems & components
A Business Day headline recently cried: 'Oil prices rise as energy markets tighten'. The price of Brent Crude has soared from $20 a barrel in April 2020 to $85 a barrel currently − an increase of 325% 
...
Read more...
---