printer friendly version
Valve island for end of arm tooling
Third Quarter 2019
Pneumatic systems & components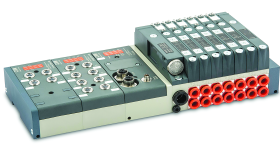 The Metal Work EB80 BOXI Valve Island, now also available with IO-Link, is a suitable candidate for end of arm tooling (EOAT).This is an integral part of robotic technology. It refers to the equipment that interacts with other parts and components of the manufacturing process, typically at the end of a robotic arm. The EOAT gives a robot a specific functionality and can be changed to fit different applications or even be built to accommodate several processes at once. Either way, advancements in EOAT capabilities are parallel to advancements in robotic capabilities.
Pneumatic EOAT's have proven to be the most popular, since they are easy to integrate, are energy efficient and pack a lot of power in a small package. Pneumatic grippers are a popular EOAT for robots, as pick and place applications are prime targets for automation and the gripping capabilities of robots have advanced significantly in recent years.
The Metal Work EB 80 electro-pneumatic valve island system features the utmost modularity and allows for the construction of all types and sizes of valve islands. IIoT ready, with most of the commonly used Fieldbus protocols or multi-pin connection available, this solution has enormous potential. This potential, however is not commonly exploited to the full when only a few valves are needed and there is no need to manage electrical input or output signals.
The EB80 BOXI was designed to best meet the requirement for simplicity. It consists of a solid base that accommodates pneumatic and electrical connections, all electronics and up to four valves. A comparison with a modular EB 80 for four valve shows that BOXI weighs 35% less and saves 30% space, in addition to its competitive price, while maintaining many of the advantages that have made the EB 80 so popular, namely:
• All the valve functions from the trusted EB 80 range can be installed.
• The island can be powered at 12 or 24 V DC.
• Fully interchangeable cartridge fittings.
• Energy consumption of only 0,3 W for each valve.
• Diagnostics (open circuit, over-under voltage and short-circuit) with LED indication lights.
• Possibility of connecting multi-function modules to the pneumatic outputs.
There are two options for the electrical connection, a 9 pin multi-pin connection (digital hard wired) and an IO-Link option. With IO-Link, the control signal of the valves and the power supply can be conveyed in a single standard M12 connector (Port Class A or A-Coded). If the IO-Link master cannot supply enough electrical current to the valves or if you want to keep the signal separate from the power, it is possible to use a special connector to dedicate an auxiliary electric power supply (M8) separate from the control signal (Port Class B or B-Coded).
For more information contact Johan Bester, Metal Work Pneumatic South Africa, +27 31 569 1584, johanb@metalworkpneumatic.co.za, www.metalworkpneumatic.co.za
Credit(s)
Further reading:
Locally built air dryers for hospitals
Fourth Quarter 2020, Artic Driers International , Pneumatic systems & components
Artic Driers recently partnered with an NGO (non-governmental organisation) called Save-P to develop a locally designed compressed air dryer and filter bank providing breathing-quality air for hospitals 
...
Read more...
---
Efficient pneumatic performance with multifunctional sensor
Fourth Quarter 2020, SICK Automation Southern Africa , Pneumatic systems & components
SICK Automation's recently introduced multifunctional FTMg (flow thermal meter for gases) flow sensor detects pneumatic system leakages well before pressure loss causes machine failure. It is engineered 
...
Read more...
---
Festo Motion Terminal VTEM bolsters productivity
Third Quarter 2020, Festo , Pneumatic systems & components
The world's first valve to be controlled by apps.
Read more...
---
SMC launches wireless valve bank in SA
Third Quarter 2020 , Pneumatic systems & components
In response to customer demand for a reliable communication system, which could limit the number of cables needed to communicate between multiple valve banks/field sensors and a PLC, a wireless communication 
...
Read more...
---
The role of hydraulics and pneumatics in smart mining technologies
Third Quarter 2020 , Editor's Choice, Pneumatic systems & components
A Bosch Rexroth South Africa perspective.
Read more...
---
Quick, easy leak detection
Third Quarter 2020, SKF South Africa , Pneumatic systems & components
Compressed air production is an integral part of manufacturing plants but it is also one of the largest energy consumers. Air leaks amplify the load on a compressor, leading to higher electricity consumption 
...
Read more...
---
Rethinking pneumatic technology for the factories of the future
Third Quarter 2020, Parker Hannifin - Sales Company South Africa , Editor's Choice, Pneumatic systems & components
As manufacturing continues its rapid journey to digitalisation, one must ask, what will become of conventional technologies? Take pneumatics for example, which remains based on the age old principle of 
...
Read more...
---
SA-built air dryer for food and beverage
Third Quarter 2020, Artic Driers International , Pneumatic systems & components
The SA Series of air dryer offers an ideal solution for cleaning and drying compressed air for any food and beverage operation.
Read more...
---
Do all wireless solutions solve real industry problems?
Third Quarter 2020, Festo South Africa , Editor's Choice, Pneumatic systems & components
Wireless technology makes use of devices that allow us to communicate without using cables or wires and it plays a role in solving complex engineering problems. With this platform machines can communicate 
...
Read more...
---
SMC offers services as well as components
Second Quarter 2020 , Pneumatic systems & components
Besides being a leading supplier of industrial automation components, SMC South Africa also offers value-added services. One of these is in-house control panel design and construction. This takes a labour-intensive 
...
Read more...
---