printer friendly version
Valve island for end of arm tooling
Third Quarter 2019
Pneumatic systems & components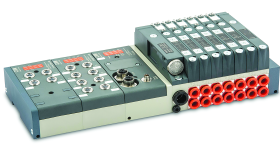 The Metal Work EB80 BOXI Valve Island, now also available with IO-Link, is a suitable candidate for end of arm tooling (EOAT).This is an integral part of robotic technology. It refers to the equipment that interacts with other parts and components of the manufacturing process, typically at the end of a robotic arm. The EOAT gives a robot a specific functionality and can be changed to fit different applications or even be built to accommodate several processes at once. Either way, advancements in EOAT capabilities are parallel to advancements in robotic capabilities.
Pneumatic EOAT's have proven to be the most popular, since they are easy to integrate, are energy efficient and pack a lot of power in a small package. Pneumatic grippers are a popular EOAT for robots, as pick and place applications are prime targets for automation and the gripping capabilities of robots have advanced significantly in recent years.
The Metal Work EB 80 electro-pneumatic valve island system features the utmost modularity and allows for the construction of all types and sizes of valve islands. IIoT ready, with most of the commonly used Fieldbus protocols or multi-pin connection available, this solution has enormous potential. This potential, however is not commonly exploited to the full when only a few valves are needed and there is no need to manage electrical input or output signals.
The EB80 BOXI was designed to best meet the requirement for simplicity. It consists of a solid base that accommodates pneumatic and electrical connections, all electronics and up to four valves. A comparison with a modular EB 80 for four valve shows that BOXI weighs 35% less and saves 30% space, in addition to its competitive price, while maintaining many of the advantages that have made the EB 80 so popular, namely:
• All the valve functions from the trusted EB 80 range can be installed.
• The island can be powered at 12 or 24 V DC.
• Fully interchangeable cartridge fittings.
• Energy consumption of only 0,3 W for each valve.
• Diagnostics (open circuit, over-under voltage and short-circuit) with LED indication lights.
• Possibility of connecting multi-function modules to the pneumatic outputs.
There are two options for the electrical connection, a 9 pin multi-pin connection (digital hard wired) and an IO-Link option. With IO-Link, the control signal of the valves and the power supply can be conveyed in a single standard M12 connector (Port Class A or A-Coded). If the IO-Link master cannot supply enough electrical current to the valves or if you want to keep the signal separate from the power, it is possible to use a special connector to dedicate an auxiliary electric power supply (M8) separate from the control signal (Port Class B or B-Coded).
For more information contact Johan Bester, Metal Work Pneumatic South Africa, +27 31 569 1584, johanb@metalworkpneumatic.co.za, www.metalworkpneumatic.co.za
Credit(s)
Further reading:
Identifying energy wastage in compressed air
Fourth Quarter 2019, Artic Driers International , Pneumatic systems & components
Auditing is a real need and the cost savings that can be achieved are huge. What do the various components of a comprehensive air audit tell you?      
Air flow testing
Often older compressors deliver air 
...
Read more...
---
Class 0 oil-free versus technically oil-free air
Fourth Quarter 2019 , Pneumatic systems & components
Oil-free compressed air is used throughout industry, where the purest compressed air quality is critical to the end product and to the processes involved – in the pharmaceutical or food and beverage sectors, 
...
Read more...
---
Ultrasonic leak detector
Fourth Quarter 2019, SKF South Africa , Pneumatic systems & components
SKF's TKSU 10 ultrasonic leak detector helps users to quickly find leakages in compressed air or vacuum systems. The instrument is very simple to use and features adjustable sensitivity and intuitive 
...
Read more...
---
Externally monitored pneumatic safety exhaust valve
Fourth Quarter 2019, Parker Hannifin - Sales Company South Africa , Pneumatic systems & components
Parker Hannifin has introduced a new safety exhaust valve that rapidly exhausts compressed air in the event of a fault condition or when a machine has an emergency stop. The P33 is designed for two-channel 
...
Read more...
---
SMC is here to stay
Third Quarter 2019, SMC Corporation South Africa , Pneumatic systems & components
SMC has been making its presence known in the South African market since 2015. Motion Control's editor paid a visit to incoming general manager, Peter Findlay, to find out more about the company's progress.
Read more...
---
How the latest pneumatics can reduce plant costs
Third Quarter 2019, Parker Hannifin - Sales Company South Africa , Pneumatic systems & components
Growing demand for greater functionality and capability means that the latest pneumatic components are becoming increasingly complex. Plant engineers seeking cost-effective solutions need to know the 
...
Read more...
---
Suction cup for sheet metal handling
Third Quarter 2019, Tectra Automation , Pneumatic systems & components
Tectra Automation has introduced the new SAX bell-shaped suction cup from Schmalz to its range of vacuum components. This is a single-piece suction cup with a vulcanised connection nipple made of reinforced 
...
Read more...
---
Air-operated diaphragm pumps
Third Quarter 2019, Bearing Man Group T/A BMG , Pneumatic systems & components
BMG has been appointed by Ingersoll Rand as distributors of the ARO Pro series diaphragm pumps. ARO air-operated diaphragm pumps have been designed to pump virtually any type of liquid with ease – ranging 
...
Read more...
---
Long-term equipment hire is a cost-saver
2nd Quarter 2019 , Pneumatic systems & components
A factor in favour of long-term rentals is that the mine does not have to employ skilled people specifically to service and maintain compressors or generators.
Read more...
---
Refrigeration compressed air dryers
2nd Quarter 2019, Artic Driers International , Pneumatic systems & components
The R Class range of compressed air refrigeration dryers and RSXW chemical adsorption dryers have consistently low dew points, with an attractive entry price and a low cost of ownership once in operation.
Read more...
---