printer friendly version
Ready for smart manufacturing
1st Quarter 2019
Pneumatic systems & components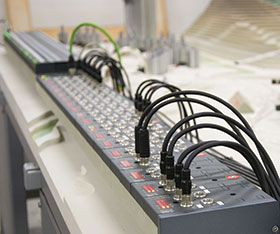 Metal Work's new EB80 is an electro-pneumatic system consisting of a solenoid valve assembly with fieldbus or multi-pin control, and modules to manage analog or digital input/output signals. It can accommodate solenoid valves with varying functions (2/2 NC, 3/2 NC and NO, 5/2 monostable and bistable, 5/3), with electric and manual controls, inlet connections with fittings up to 12 mm and output connections from 4 to 8 mm, with 10 mm to be introduced recently. Flow rate reaches 800 Nl/min in the 8 mm pipe version and 1200 Nl/min for the high flow version, which supports pipes of 10 mm.
Maintenance and diagnostics
The EB 80 was designed to be powered electrically with a large voltage range from 10,8 to 31,2 V DC in order to prevent surge or low voltage issues that can affect system behaviour. Powerful diagnostic functions for troubleshooting and replacing damaged parts are also included.
All multi-pin or fieldbus-controlled versions have an error LED for the electrical connection modules in addition to warning LEDs for each individual valve. The LED system shows solenoid valve status when there is a short circuit or a valve is missing or malfunctioning. It also shows surges, insufficient voltage and interruptions to electrical signal transmission. The presence of a fault is transmitted to the island control system, and in the case of a fieldbus connection the type of fault is also shown.
The user interface is particularly convenient. All information to be viewed and elements to be worked on are on one side of the island. Faulty parts can be replaced without dismantling the island, as can fieldbus and input/output modules.
Smart components
The diagnostic functions of the EB 80 and its ability to store large amounts of data and interface with various fieldbuses make it ideal for use in Industry 4.0 environments. Some typical applications that can be achieved with EB 80 functionality are outlined below.
The first application is the collection of self-diagnostic data, i.e. the behaviour of solenoid pilots fitted to the valves themselves. The EB 80 processor collects data, stores it in the internal memory, and sends it to the external controller via the fieldbus. It can then be processed in the field or sent to suitable storage systems in the company or a cloud server. This function enables systems to be monitored locally or from a company maintenance centre in another physical location, or even remotely by Metal Work.
The second smart function is the control of cylinder response times. A typical use of island valves is to operate pneumatic cylinders, which normally have limit sensors that read the position of the piston. The digital signals sent from the sensors are read by the EB 80 input modules, completing a control ring on the cylinder itself. The island controls the movement of the cylinder and reads the signal linked to the movement itself. This is done locally without going via the PLC. As a result, the island can assess potential delays in cylinder operation, due for example to faults, pipe interruptions, seized parts or anything else. In the event of changes, an error message is generated, which can be managed locally or remotely.
The third application is the control of cylinder speed. The EB 80 can control the motion of the cylinder in both directions, and read the signals generated by the two limit switches. By doing so it can detect and monitor the average speed of the cylinder and the number of strokes completed. The island can therefore log the distance travelled and monitor speed variations, which could be due to adjustments, an increase in friction, or changes to loads applied. An unexpected reduction in speed can cause a fall in productivity, whereas a sudden increase can break the actuators or mechanical machine parts.
A standard value can be inserted for the speed and a range of tolerance. In the event of unexpected changes an error message is generated, which can be managed by the user. Verification is local, in real time and directly in the field, without the need for developing additional applications on the control system. This makes the EB 80 a very powerful and flexible smart component with no need for additional modules.
The potential applications for smart manufacturing do not end here. Use is limited only by the imagination of developers, and this is the challenge of Industry 4.0.
For more information contact Johan Bester, Metal Work Pneumatic South Africa, +27 31 569 1584, johanb@metalworkpneumatic.co.za, www.metalworkpneumatic.co.za
Credit(s)
Further reading:
SMC is here to stay
Third Quarter 2019, SMC Corporation South Africa , Pneumatic systems & components
SMC has been making its presence known in the South African market since 2015. Motion Control's editor paid a visit to incoming general manager, Peter Findlay, to find out more about the company's progress.
Read more...
---
How the latest pneumatics can reduce plant costs
Third Quarter 2019, Parker Hannifin - Sales Company South Africa , Pneumatic systems & components
Growing demand for greater functionality and capability means that the latest pneumatic components are becoming increasingly complex. Plant engineers seeking cost-effective solutions need to know the 
...
Read more...
---
Suction cup for sheet metal handling
Third Quarter 2019, Tectra Automation , Pneumatic systems & components
Tectra Automation has introduced the new SAX bell-shaped suction cup from Schmalz to its range of vacuum components. This is a single-piece suction cup with a vulcanised connection nipple made of reinforced 
...
Read more...
---
Air-operated diaphragm pumps
Third Quarter 2019, Bearing Man Group T/A BMG , Pneumatic systems & components
BMG has been appointed by Ingersoll Rand as distributors of the ARO Pro series diaphragm pumps. ARO air-operated diaphragm pumps have been designed to pump virtually any type of liquid with ease – ranging 
...
Read more...
---
Valve island for end of arm tooling
Third Quarter 2019, Metal Work Pneumatic South Africa , Pneumatic systems & components
The Metal Work EB80 BOXI Valve Island, now also available with IO-Link, is a suitable candidate for end of arm tooling (EOAT).This is an integral part of robotic technology. It refers to the equipment 
...
Read more...
---
Long-term equipment hire is a cost-saver
2nd Quarter 2019 , Pneumatic systems & components
A factor in favour of long-term rentals is that the mine does not have to employ skilled people specifically to service and maintain compressors or generators.
Read more...
---
Refrigeration compressed air dryers
2nd Quarter 2019, Artic Driers International , Pneumatic systems & components
The R Class range of compressed air refrigeration dryers and RSXW chemical adsorption dryers have consistently low dew points, with an attractive entry price and a low cost of ownership once in operation.
Read more...
---
V-lock system and co-operative robots
2nd Quarter 2019, Metal Work Pneumatic South Africa , Robotics & Mechatronics
Metal Work has developed applications for the automation of the assembly process together with producers of co-operative robots.
Read more...
---
How to select an air motor
1st Quarter 2019, Parker Hannifin - Sales Company South Africa , Pneumatic systems & components
To maximise the gains made available by leveraging the benefits of the simple design principle and the low number of moving parts, selecting the correct air motor for the application is paramount.
Read more...
---
Support for new space telescope
1st Quarter 2019, Tectra Automation , This Week's Editor's Pick, Pneumatic systems & components
Tectra Automation designed and supplied a purpose-built assembly tower to integrate and align the telescope lenses for a new space telescope, using the Bosch Rexroth range of heavy duty modular aluminium profiles and accessories.
Read more...
---