printer friendly version
Making the move to weld-free piping
2nd Quarter 2019
Hydraulic systems & components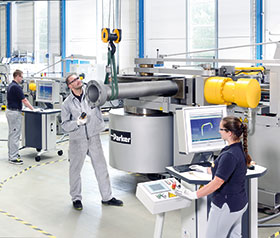 There are numerous issues associated with modern welded pipes, not least those concerning accuracy, reliability and cost. Although welded connections have been the traditional solution, there are a number of inherent problems with welded pipe joints that are driving demand for an alternative solution. Moving to a weld-free piping solution presents many potentially advantageous opportunities, particularly if this can be backed by onsite support to help optimise system performance and uptime.
Inherent problems with welded joints include the potential for stress cracking and subsequent corrosion, while ongoing weld integrity can only be proven with regular, expensive and time-consuming X-ray testing or other non-destructive methods. Then there are the costs to consider. Not only does welding consume high levels of energy, but there are numerous time and cost issues around cleaning, degreasing agents and anti-corrosion resources. Safety is another concern, particularly those relating to welding fumes and fire risks. Indeed, increased system pressure, especially in hydraulic systems, means there is growing industry focus on safety, a fact supported by a new European directive for pressure vessels. For these reasons, some industries, such as oil and gas, shipbuilding and mining, have already started specifying the use of weld-free technology.
Go weld-free
It is well documented that weld-free technologies such as flange connection systems deliver superior performance in comparison with welded joints, especially where compressive strength, reduced leakage and contamination-free lines are critical. Furthermore, cold forming is much quicker, enables conformity with regulation and facilitates integrated connection into existing hydraulic systems. Unlike welding, such solutions can also be prefabricated off-site to further accelerate on-site installation, while flanges that can be oriented make assembly easier and quicker.
Additional benefits include the elimination of degreasing or anti-corrosion agents, increased safety with no dangerous gases or fire risks, reduced energy consumption, less downtime and extended piping lifespan.
Onsite support
Ensuring the effective delivery of these advantages, however, can only be assured through the support of onsite services/solutions. Considerable added value can be achieved using a complete onsite solution provider. This single point of contact can offer everything from expert advice, design and pre-configuration, to delivery and installation, not only saving time and money through faster installation and reduced downtime, but maximising system efficiency and reliability.
Technical competence
Onsite resources offer up a number of technical competences, not least regarding the development and design of new systems or upgrades. This task can be supported by the latest CAD and simulation software to optimise pipe layout and dimensioning, as well as advanced measurement systems, the data from which can be used to enhance quality control and reliability further.
Additional technical competencies offered by reputable onsite support providers should include pipe bending, tube-end processing, tube cleaning and flushing, and pressure testing – all backed with expert assembly, installation and customer training.
Parker Engineered Service Centres
One such service is the Complete Piping Solutions (CPS) programme from Parker. This global service network has been established in response to identified market needs for service partners with expert knowledge of weld-free piping and connector solutions, providing both MRO services to large OEMs and to end-use customers via distributors,
By appointing distributors, the service can quickly be delivered at a local level. Accredited certified distributors can offer specific competencies – including bending, end forming using Parker Parflange onsite at larger customers for pipe diameters up to 50/60 mm; from the distributor's own premises for pipes up to 120-170 mm; and supported by a specialist at Parker's Engineered Services Centres for pre-bending larger pipe sizes and for complex design and solutions support.
Parker's Engineered Services locations utilise the latest IT-based design and offer workshops that can process pipes with external diameters up to 220 mm on the latest CNC bending machines. These machines can realise 2xD to 3xD bending radii defined for relevant pipe diameters. The connections of Parker's Parflange F37 system comply with standards that include ISO 6162-1; SAE J518, 3000 psi interface (Code 61); ISO 6162-2; 6000 psi interface (Code 62); and ISO 6164 flange pattern. The manufacture of other system components, such as blocks or manifolds, can also be undertaken.
Among the latest additions to CPS are onsite containers and hot oil flushing containers. The containers house all of the assembly machines required for pipes up to an outside diameter of 170 mm. Hot oil flushing units ensure that pipeline systems are clean and debris-free before going into operation.
For more information contact Lisa de Beer, Parker Hannifin SA, +27 11 961 0700, lisa.debeer@parker.com, www.parker.com/za
Credit(s)
Further reading:
Addressing evolving hydraulics application challenges - Full article
Fourth Quarter 2019 , Hydraulic systems & components
Using materials science and design technologies, Gates engineers come up with innovative hydraulic hose solutions for ever-changing needs and challenges.
Read more...
---
Smart sensors for motion control
Fourth Quarter 2019, Parker Hannifin - Sales Company South Africa , Other technologies
They can also receive commands and parameter information from the controller and thus adapt to new requirements on a continuous basis. Two-way data flow helps facilitate what can be defined as a true 
...
Read more...
---
Addressing evolving hydraulics challenges
Fourth Quarter 2019 , Editor's Choice, Hydraulic systems & components
Using materials science and design technologies, Gates' engineers come up with innovative hydraulic hose solutions for ever-changing needs and challenges.
Read more...
---
On the way towards fully electrified mining machines
Fourth Quarter 2019, Parker Hannifin - Sales Company South Africa , Editor's Choice, Electrical switching & drive systems & components
The more time humans spend working in mining conditions, and near mining vehicles, the more likely they are to be injured, contract illnesses or die in accidents. According to the UN's International 
...
Read more...
---
Precision hydraulics for the local market
Fourth Quarter 2019, Dosco Precision Hydraulics , Hydraulic systems & components
Dosco Precision Hydraulics is a member of the Hudaco group, which was established in 1989. The company has been specialising in pump and motor remanufacturing for the past 30 years. With a world class 
...
Read more...
---
Encoders for hydraulic cylinders
Fourth Quarter 2019, Instrotech , Hydraulic systems & components
SIKO's SGH wire-actuated encoders measure cylinder stroke as well as speed in a hydraulic cylinder with impressive efficiency, flexibility and robustness.      
The technology
SGH sensors use a wire 
...
Read more...
---
Adjustable priority flow control solutions
Fourth Quarter 2019, Axiom Hydraulics , Hydraulic systems & components
Sun Hydraulics has developed a range of customisable, adjustable priority flow control solutions. These provide simple, efficient control of auxiliary hydraulic power to a range of mobile equipment attachments. 
...
Read more...
---
Externally monitored pneumatic safety exhaust valve
Fourth Quarter 2019, Parker Hannifin - Sales Company South Africa , Pneumatic systems & components
Parker Hannifin has introduced a new safety exhaust valve that rapidly exhausts compressed air in the event of a fault condition or when a machine has an emergency stop. The P33 is designed for two-channel 
...
Read more...
---
The optimised factory floor
Third Quarter 2019, Hytec Engineering , Hydraulic systems & components
Established in 1979, Hytec Engineering is one of the few hydraulics cylinder companies in sub-Saharan Africa with in-house cylinder design, manufacturing, testing and repair services in a single workshop. 
...
Read more...
---
How the latest pneumatics can reduce plant costs
Third Quarter 2019, Parker Hannifin - Sales Company South Africa , Pneumatic systems & components
Growing demand for greater functionality and capability means that the latest pneumatic components are becoming increasingly complex. Plant engineers seeking cost-effective solutions need to know the 
...
Read more...
---