Company profile: Goldquest Hydraulics
Fourth Quarter 2006, Hydraulic systems & components

Fifty years of growth continues
While the perception still exists in many quarters that South Africa needs to take a back seat when it comes to innovation, Goldquest Hydraulics is a company with a 50-year history of market-leading innovation in the local hydraulic engineering industry that shatters this myth.
The company was started in the 1950s creating hydraulic components for the industry. In 1968 it was bought by Vickers, a US concern, and mainly used to distribute and support the US organisation's products in South Africa. At this stage of the company's evolution, it basically operated as a conduit to supply its products to the South African market adding value with support services and multiple branches throughout the country.
In the 1980s, Vickers, in line with its international marketing strategy, decided to convert its solely owned subsidiary into a distribution outlet by selling off the company to a locally owned entity as a going concern. The local operation which bought Vickers Hydraulics continued trading under its name and continued to support the many customers it had gained over the preceding years. This continued until the 1990s, when a management buyout occurred and the company's name was changed to Goldquest.

Cylinder manufacture
At this stage, Goldquest's James Leach says the company made a move away from simply being a Vickers outlet and adopted a service-centric approach. "The industry had changed and we needed to change with it," he explains. "We therefore further expanded our product offerings in addition to our already formidable range. This afforded us a greater scope of supply to a diverse South African market and enhanced our ability to design, build and support our own systems from a single source of supply."
Leach adds that in today's competitive market Goldquest is focused on quality and delivery as it combines its years of experience, highly skilled staff and state-of-the-art technology for the benefit of its clients. Moreover, he says it is not enough just to deliver pin-point accuracy, strength and untouchable reliability anymore, the company also complements this with support in the form of expert technical assistance, repair and maintenance facilities."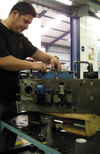 Repairs
Immediate, guaranteed service
To best serve its customers, Goldquest carries over R40 million of stock, including a broad spectrum of premium brands such as Kawasaki, Marzocchi, Larzep, EPE, Stucchi, OMT, Bieri, Galtech, Pister Blago, Western and Schroeder which it also supports. And, of course, its support for Vickers has not diminished. To complement its brands, the company also employs skilled technicians and the latest technology for its repair and manufacturing services.
In fact, the company's technical capabilities are of such a high standard that, having carried out repairs on its branded products, it is confident enough in its work to reinstate the product's initial guarantee terms. Leach says this is simply another way in which the company puts its money where its mouth is when it comes to being the industry's best service provider.
Additionally, to ensure it provides a superior service to its customers, Goldquest spans a range of niche industry areas to be able to offer a broader and more effective range of products, solutions and services, from design to manufacture to support, all from a single source. The services on offer include a call centre to assist customers telephonically with queries or to log service calls; manifold and cylinder design and manufacturing, and even a mobile workshop that can handle certain jobs at customers' premises.

Manifolds
When it comes to the design and implementation of full solutions, Goldquest has set up a project department to manage assignments from the initial design to final delivery. The department's experts have centuries of experience in the industry and use this to devise reliable solutions to customers' exact needs.
The final guarantee that quality permeates all aspects of the company is Goldquest's ISO 9001: 2000 accreditation from two internationally recognised accrediting bodies, IQNET and DQS.
And the innovation from Goldquest is set to continue for many years to come. The company is already a leading player in industrial hydraulics and intends to expand its sphere of influence into the agricultural sector. Leach says mobile hydraulics and industrial filtration are additional areas Goldquest will focus on in the coming years. To this end, it has already secured the agency for Scroeder Industries.
Goldquest employs over 120 people from diverse backgrounds. Although the industry generally suffers from a lack of skills and experience, Leach says the competencies developed and retained in its workforce give Goldquest an advantage over its competitors and keep its employees ahead of the pack.