SAFPA: President's letter
1st Quarter 2012, SAFPA

Take the 'tablet PC' for instance; I see no relevance to this device. It does not replace a cellphone and it does not replace the laptop. Yes it performs most of their functions in an alternate way, but can you imagine some suit walking around the airport with a gadget the size of an A4 book held against his ear yelling "buy, buy, buy, the market is right!" It just does not make sense. I have even seen people pull them out in meetings, however, it is eventually followed by a fold-up keyboard, a mouse, and some cables to make them all work. Well done APPLE! They have very successfully created something that nobody really needs but everybody wants.
I have also recently been issued with a Blackberry cellphone, which took me about two months to switch on just because of my resistance to technology. Now that I have mastered the basics, I must admit that it is very useful. Whilst reading one of my outdoor magazines I came across a few useful applications for smartphones that I can identify with, these include:
* Using the camera flash as a torch.
* Sasol's Birds of Southern Africa: incorporating a smart search function.
* Universe: an application that labels the stars when you hold your cell up against the night sky.
* 4X4App: visually indicates your 4X4's pitch and roll as you push the limits of your vehicle's centre of gravity.
* MotionX-GPS: this basically mimics a smart GPS, with the added benefit of relaying live data so your friends (read wife) can track your progress on any trip.
Will I download any of these, probably not! Whenever I do try to get out of the city, the cellphone is normally off and buried deep in the glove box.
At the time of writing this message, the council had not yet met for the first time in 2012, but I do have some feedback.
Market survey
TUT has concluded the fluid power market survey for the year 2010. The previous survey was done in 2005 and the results were interesting considering there has been both an economic boom and a recession in between. SAFPA thanks all the companies that contributed to the survey. There was a far greater response this time around. The results will be released to all those that contributed, and for a fee, the results can be purchased by any other entity.
Soccer tournament
The soccer tournament was due to be played last year around November, and due to the fields being repaired it was postponed until January 2012. Unfortunately, because of all the rain in January, the fields were too wet to play on, and with a record turnout of teams, the one field that was playable was just not enough to get through all the scheduled games. SAFPA apologises for the second cancellation, we hope all participants understand.
2012
Serving on the SAFPA council is always a rewarding experience. I have plenty of opportunity to meet various people from industry, and what I am hearing so far is that 2012 is looking like it is going to be good for the fluid power industry. There have been some good orders placed on some of the bigger suppliers.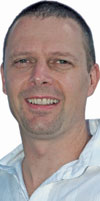 Regards
Norman Hall