printer friendly version
Critical compressed air on platinum mine
Second Quarter 2021
Pneumatic systems & components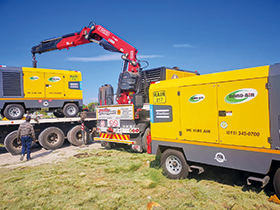 The mining industry is a vital cog in the economic workings of South Africa, in particular platinum mines, of which the country has significant reserves, that are among the largest worldwide. Yet, if critical machinery such as compressors break down, the resulting downtime could potentially significantly impact productivity and revenue. Therefore, when a customer in the platinum mining sector recently made the call for reliable and easy-to-use compressor equipment, following a critical compressor breakdown at their operations, Rand-Air was there to answer the call.
"In this new hire to what is already a long-standing customer, we 'sparked' to quickly provide 17 diesel compressors within 24 hours," says sales representative, Marinda Enslin, who collaborated closely with the mine to ensure that their requirements for a swift response and efficient supply of compressed air were met in record time. "Compressed air is the heart of every mine and factory – in fact, of every industry. Therefore, if the compressor breaks down, it is like a heart which stops beating," she explains.
Therefore, in order to secure the customer's operational continuity with the required 17 000 CFM of air, Rand-Air's strategic solution included various oil-free, oil-injected and high pressure diesel compressors. While Rand-Air maintains strong and intuitive relationships with its customers, resulting in the company being able to anticipate customer needs, the magnitude of this latest hire resulted in the company sourcing additional compressors from its branches in Gauteng and the North West.
The hire comprised three PTS800Mk1 D800 CFM compressors, three XAMS527 D1000 CFM diesel oil-injected screw compressors, two XRHS3662 HP750 CFM compressors, one ZATS377 D1000 CFM compressor, one PTS9 D1500 CFM compressor, one PTS800 MK1 OF800 CFM compressor and one PNS1 OFH 1200 CFM compressor. Another five D1200 compressors were also provided.
The Atlas Copco-manufactured diesel compressors are ISO 9001, 14001 and 18001 certified and feature the latest compressed air technology. Meanwhile, the compressors' technical design results in economic fuel consumption, while their full portability allows for easy transportation and convenient on-site installation.
Rand-Air also supplied more than 300 metres of hoses and compressor coupling accessories.
For short-term hires, as in this particular case where the compressors were used for nine days, the use of diesel compressors is ideal. Enslin points out that it is a plug-and-play solution, as the customer can connect the compressors immediately without worrying about an electric connection, which may be time-consuming.
As the compressors were also supplied with a same-day turnaround delivery, this ensured a smooth operational transition, while no stoppages or losses in production for the next shift were incurred – a key advantage to the customer.
Moreover, the investment in this hire is money well spent from the customer's perspective, given that these compressors are used in mission critical applications. With the guiding ethos of making agility count for customers, Rand-Air has a continuous commitment to quality customer service, by ensuring the availability of its technicians on site to assist with the connections and startups in all hires. "We will never ever leave our customers to do an installation without our assistance," Enslin emphasises.
Enslin says that in addition to providing this 24/7 technical assistance, Rand-Air anticipates and plans for additional equipment rental requirements, adding that the company provides quick release couplings with its compressors to ensure fast and time-saving connection of the compressors.
In a further reflection of the company's exceptional customer service, Enslin notes that Rand-Air's speedy response not only lies in sourcing and providing the appropriate equipment tailored to the customer's specific needs, but in continuously keeping the customer in the loop with detailed and transparent communication throughout the hire process, right from when the equipment is sourced to when it is loaded, transported, delivered and installed. This dedication in providing top class rental requirements ensures that customers can focus on their core business, with the peace of mind that their needs are being taken care of.
"With this hire, the customer was extremely happy due to our quick response, efficient logistics, the excellent quality of compressors and our dedicated service," she comments. To this end, Enslin believes that this particular hire has placed Rand-Air on the map in terms of being a reliable and efficient supplier of compressed air to the wider mining sector. "Based on the success of this hire and our sound track record in the mining sector, should there be any unforeseen breakdowns, I am confident that our mining customers will contact Rand-Air because they know they can rely on us to meet their needs and keep them up and running," she concludes.
For more information contact Mpho Ngamlane, Rand-Air, +27 11 345 0700, mpho.ngamlane@randair.com, www.rand-air.com
Further reading:
Compressed air purity analyser
Second Quarter 2021, Artic Driers International , Pneumatic systems & components
Compressed air treatment using filters and dryers is an effective barrier to airline contamination. Until recently, auditing the compressed air quality in a system was difficult, but clients and professional 
...
Read more...
---
Tectra Automation contracted for PG Bison's MFB press upgrade
Second Quarter 2021, Tectra Automation , Pneumatic systems & components
Tectra Automation has provided all the pneumatic and vacuum equipment required for the installation and commissioning of PG Bison's sixth melamine-faced board (MFB) press. The press, which came online 
...
Read more...
---
Festo at the heart of absolute automation
Second Quarter 2021, Festo , Pneumatic systems & components
Festo is renowned as one of the leading pneumatic automation suppliers. Over the years, the company has also set the pace in both Process and Electric Automation. This is backed by its proven record of 
...
Read more...
---
Highly flexible pick and place with digitised pneumatics from Festo
First Quarter 2021, Festo , Pneumatic systems & components
A wide range of products, functions and complete solution packages are integrated into the Festo Motion Terminal. One of these products is Motion Apps, which heralds a new Industry 4.0 era. Motion Apps 
...
Read more...
---
Smart positioners of the future
First Quarter 2021 , Pneumatic systems & components
SMC's new range of smart positioners was designed to pair perfectly with a variety of process control valves and actuators.
Read more...
---
Locally built air dryers for hospitals
Fourth Quarter 2020, Artic Driers International , Pneumatic systems & components
Artic Driers recently partnered with an NGO (non-governmental organisation) called Save-P to develop a locally designed compressed air dryer and filter bank providing breathing-quality air for hospitals 
...
Read more...
---
Efficient pneumatic performance with multifunctional sensor
Fourth Quarter 2020, SICK Automation Southern Africa , Pneumatic systems & components
SICK Automation's recently introduced multifunctional FTMg (flow thermal meter for gases) flow sensor detects pneumatic system leakages well before pressure loss causes machine failure. It is engineered 
...
Read more...
---
Festo Motion Terminal VTEM bolsters productivity
Third Quarter 2020, Festo , Pneumatic systems & components
The world's first valve to be controlled by apps.
Read more...
---
SMC launches wireless valve bank in SA
Third Quarter 2020 , Pneumatic systems & components
In response to customer demand for a reliable communication system, which could limit the number of cables needed to communicate between multiple valve banks/field sensors and a PLC, a wireless communication 
...
Read more...
---
The role of hydraulics and pneumatics in smart mining technologies
Third Quarter 2020 , Editor's Choice, Pneumatic systems & components
A Bosch Rexroth South Africa perspective.
Read more...
---