printer friendly version
Class 0 oil-free versus technically oil-free air
Fourth Quarter 2019
Pneumatic systems & components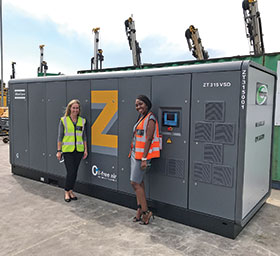 Oil-free compressed air is used throughout industry, where the purest compressed air quality is critical to the end product and to the processes involved – in the pharmaceutical or food and beverage sectors, for example. "As the leading provider of portable power and air solutions in the country, Rand-Air has the right solution for our customers, in that we are able to supply oil-free compressors which have a TUV Class 0 certification under the ISO 8573-1 standard. With this assurance, customers can have peace of mind that they are guaranteed 100% oil-free compressed air," explains Rand-Air's fleet manager, Craig Swart.
The evolution of this stringent standard reflects the ever-increasing requirement for quality air for processes and end products. Class 0 is a more stringent industry standard where the total oil content is measured – not only aerosols and liquids but vapours as well – by the internationally recognised TUV organisation.
Rand-Air sources its oil free compressors from Atlas Copco, which puts these units through the most rigorous tests available, and which is now the first manufacturer to receive Class 0 Certification for all its oil-free products.
Swart adds that in the field of air compressors there are two terms which need to be understood – Class 0 and technically oil-free. The latter term means that oil is injected into the compressed air and then removed afterwards using a filtration process. This involves an oil separator in the compressor, coalescing filters to remove most liquid oil, and then an activated carbon filter to remove oil vapours.
With technically oil-free compressors, during the filtration process failures can potentially occur – for example separators can break and filters can become saturated. These factors are exacerbated when the operating temperatures are high. When using a technically oil-free system, there are also other issues to consider, such as ensuring that filters are regularly changed, treatment of the condensate and higher energy costs.
"At Rand-Air, all our PT-, PN- and Z- range of compressors are Class 0 oil-free, TUV-certified and we have a range of oil-free compressors to suit most applications," he adds. "So if your requirement is for oil-free compressed air, one has to ask why its necessary to take the risk of potential damage to equipment or reputation. A Class 0 oil-free compressor from Rand-Air is your optimal solution."
Further reading:
Compressed air purity analyser
Second Quarter 2021, Artic Driers International , Pneumatic systems & components
Compressed air treatment using filters and dryers is an effective barrier to airline contamination. Until recently, auditing the compressed air quality in a system was difficult, but clients and professional 
...
Read more...
---
Critical compressed air on platinum mine
Second Quarter 2021 , Pneumatic systems & components
The mining industry is a vital cog in the economic workings of South Africa, in particular platinum mines, of which the country has significant reserves, that are among the largest worldwide. Yet, if 
...
Read more...
---
Tectra Automation contracted for PG Bison's MFB press upgrade
Second Quarter 2021, Tectra Automation , Pneumatic systems & components
Tectra Automation has provided all the pneumatic and vacuum equipment required for the installation and commissioning of PG Bison's sixth melamine-faced board (MFB) press. The press, which came online 
...
Read more...
---
Festo at the heart of absolute automation
Second Quarter 2021, Festo , Pneumatic systems & components
Festo is renowned as one of the leading pneumatic automation suppliers. Over the years, the company has also set the pace in both Process and Electric Automation. This is backed by its proven record of 
...
Read more...
---
Highly flexible pick and place with digitised pneumatics from Festo
First Quarter 2021, Festo , Pneumatic systems & components
A wide range of products, functions and complete solution packages are integrated into the Festo Motion Terminal. One of these products is Motion Apps, which heralds a new Industry 4.0 era. Motion Apps 
...
Read more...
---
Smart positioners of the future
First Quarter 2021 , Pneumatic systems & components
SMC's new range of smart positioners was designed to pair perfectly with a variety of process control valves and actuators.
Read more...
---
Locally built air dryers for hospitals
Fourth Quarter 2020, Artic Driers International , Pneumatic systems & components
Artic Driers recently partnered with an NGO (non-governmental organisation) called Save-P to develop a locally designed compressed air dryer and filter bank providing breathing-quality air for hospitals 
...
Read more...
---
Efficient pneumatic performance with multifunctional sensor
Fourth Quarter 2020, SICK Automation Southern Africa , Pneumatic systems & components
SICK Automation's recently introduced multifunctional FTMg (flow thermal meter for gases) flow sensor detects pneumatic system leakages well before pressure loss causes machine failure. It is engineered 
...
Read more...
---
Festo Motion Terminal VTEM bolsters productivity
Third Quarter 2020, Festo , Pneumatic systems & components
The world's first valve to be controlled by apps.
Read more...
---
SMC launches wireless valve bank in SA
Third Quarter 2020 , Pneumatic systems & components
In response to customer demand for a reliable communication system, which could limit the number of cables needed to communicate between multiple valve banks/field sensors and a PLC, a wireless communication 
...
Read more...
---