printer friendly version
Ready for smart manufacturing
1st Quarter 2019
Pneumatic systems & components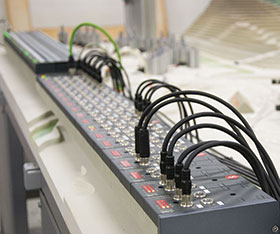 Metal Work's new EB80 is an electro-pneumatic system consisting of a solenoid valve assembly with fieldbus or multi-pin control, and modules to manage analog or digital input/output signals. It can accommodate solenoid valves with varying functions (2/2 NC, 3/2 NC and NO, 5/2 monostable and bistable, 5/3), with electric and manual controls, inlet connections with fittings up to 12 mm and output connections from 4 to 8 mm, with 10 mm to be introduced recently. Flow rate reaches 800 Nl/min in the 8 mm pipe version and 1200 Nl/min for the high flow version, which supports pipes of 10 mm.
Maintenance and diagnostics
The EB 80 was designed to be powered electrically with a large voltage range from 10,8 to 31,2 V DC in order to prevent surge or low voltage issues that can affect system behaviour. Powerful diagnostic functions for troubleshooting and replacing damaged parts are also included.
All multi-pin or fieldbus-controlled versions have an error LED for the electrical connection modules in addition to warning LEDs for each individual valve. The LED system shows solenoid valve status when there is a short circuit or a valve is missing or malfunctioning. It also shows surges, insufficient voltage and interruptions to electrical signal transmission. The presence of a fault is transmitted to the island control system, and in the case of a fieldbus connection the type of fault is also shown.
The user interface is particularly convenient. All information to be viewed and elements to be worked on are on one side of the island. Faulty parts can be replaced without dismantling the island, as can fieldbus and input/output modules.
Smart components
The diagnostic functions of the EB 80 and its ability to store large amounts of data and interface with various fieldbuses make it ideal for use in Industry 4.0 environments. Some typical applications that can be achieved with EB 80 functionality are outlined below.
The first application is the collection of self-diagnostic data, i.e. the behaviour of solenoid pilots fitted to the valves themselves. The EB 80 processor collects data, stores it in the internal memory, and sends it to the external controller via the fieldbus. It can then be processed in the field or sent to suitable storage systems in the company or a cloud server. This function enables systems to be monitored locally or from a company maintenance centre in another physical location, or even remotely by Metal Work.
The second smart function is the control of cylinder response times. A typical use of island valves is to operate pneumatic cylinders, which normally have limit sensors that read the position of the piston. The digital signals sent from the sensors are read by the EB 80 input modules, completing a control ring on the cylinder itself. The island controls the movement of the cylinder and reads the signal linked to the movement itself. This is done locally without going via the PLC. As a result, the island can assess potential delays in cylinder operation, due for example to faults, pipe interruptions, seized parts or anything else. In the event of changes, an error message is generated, which can be managed locally or remotely.
The third application is the control of cylinder speed. The EB 80 can control the motion of the cylinder in both directions, and read the signals generated by the two limit switches. By doing so it can detect and monitor the average speed of the cylinder and the number of strokes completed. The island can therefore log the distance travelled and monitor speed variations, which could be due to adjustments, an increase in friction, or changes to loads applied. An unexpected reduction in speed can cause a fall in productivity, whereas a sudden increase can break the actuators or mechanical machine parts.
A standard value can be inserted for the speed and a range of tolerance. In the event of unexpected changes an error message is generated, which can be managed by the user. Verification is local, in real time and directly in the field, without the need for developing additional applications on the control system. This makes the EB 80 a very powerful and flexible smart component with no need for additional modules.
The potential applications for smart manufacturing do not end here. Use is limited only by the imagination of developers, and this is the challenge of Industry 4.0.
For more information contact Johan Bester, Metal Work Pneumatic South Africa, +27 31 569 1584, johanb@metalworkpneumatic.co.za, www.metalworkpneumatic.co.za
Credit(s)
Further reading:
Compressed air purity analyser
Second Quarter 2021, Artic Driers International , Pneumatic systems & components
Compressed air treatment using filters and dryers is an effective barrier to airline contamination. Until recently, auditing the compressed air quality in a system was difficult, but clients and professional 
...
Read more...
---
Critical compressed air on platinum mine
Second Quarter 2021 , Pneumatic systems & components
The mining industry is a vital cog in the economic workings of South Africa, in particular platinum mines, of which the country has significant reserves, that are among the largest worldwide. Yet, if 
...
Read more...
---
Tectra Automation contracted for PG Bison's MFB press upgrade
Second Quarter 2021, Tectra Automation , Pneumatic systems & components
Tectra Automation has provided all the pneumatic and vacuum equipment required for the installation and commissioning of PG Bison's sixth melamine-faced board (MFB) press. The press, which came online 
...
Read more...
---
Festo at the heart of absolute automation
Second Quarter 2021, Festo , Pneumatic systems & components
Festo is renowned as one of the leading pneumatic automation suppliers. Over the years, the company has also set the pace in both Process and Electric Automation. This is backed by its proven record of 
...
Read more...
---
Highly flexible pick and place with digitised pneumatics from Festo
First Quarter 2021, Festo , Pneumatic systems & components
A wide range of products, functions and complete solution packages are integrated into the Festo Motion Terminal. One of these products is Motion Apps, which heralds a new Industry 4.0 era. Motion Apps 
...
Read more...
---
Smart positioners of the future
First Quarter 2021 , Pneumatic systems & components
SMC's new range of smart positioners was designed to pair perfectly with a variety of process control valves and actuators.
Read more...
---
Locally built air dryers for hospitals
Fourth Quarter 2020, Artic Driers International , Pneumatic systems & components
Artic Driers recently partnered with an NGO (non-governmental organisation) called Save-P to develop a locally designed compressed air dryer and filter bank providing breathing-quality air for hospitals 
...
Read more...
---
Efficient pneumatic performance with multifunctional sensor
Fourth Quarter 2020, SICK Automation Southern Africa , Pneumatic systems & components
SICK Automation's recently introduced multifunctional FTMg (flow thermal meter for gases) flow sensor detects pneumatic system leakages well before pressure loss causes machine failure. It is engineered 
...
Read more...
---
Festo Motion Terminal VTEM bolsters productivity
Third Quarter 2020, Festo , Pneumatic systems & components
The world's first valve to be controlled by apps.
Read more...
---
SMC launches wireless valve bank in SA
Third Quarter 2020 , Pneumatic systems & components
In response to customer demand for a reliable communication system, which could limit the number of cables needed to communicate between multiple valve banks/field sensors and a PLC, a wireless communication 
...
Read more...
---