printer friendly version
Somebody turned the lights on
Second Quarter 2005
News & events
Ever struggled to source a particular product or service to get your project moving?
This quarter sees the first distribution of the new Motion Control Buyers' Guide. Those familiar with the Instrumentation and Control Buyers' Guide will grab this new directory and hide it somewhere safe. (They tend to grow legs!)
Now it will be far easier to find all you need to address all your hydraulic, pneumatic, and electrical drive related needs. Compiled with a philosophy similar to its sister publication, MCBG contains directories that will make it easy to find vendors, manufacturers and service providers - as well as which suppliers offer the brands you are looking for. The core directory area is divided into the three main, colour-coded areas: Electrical, Hydraulics and Pneumatics. For the more PC-inclined, the directory is also accessible on-line at www.mcbg.co.za - for even quicker results.
If you can think of any way that our printed directory can be improved, please e-mail your suggestions to john@technews.co.za, and we will see how the next issue can be made even better.
Using Ex motors with variable speed drives
The SA Flameproof Association has proposed an improved strategy for testing Ex rated motors when running from variable speed drives. The association is inviting comment on its proposal, which is featured in 'Certification of Ex motors with variable speed drives'.
Pump parts piracy
We may think we are being smart when using pirate parts to make quick and cheap repairs... Goldquest Hydraulics discusses the bigger picture in 'Pump parts piracy'.
Hannover Messe
Both my colleague, Graeme Bell, and myself were privileged to be part of a tour to Germany (organised by Siemens and élan communications), which culminated in a day or two at this grandfather of all trade shows. Words are hardly enough to capture the vastness of this collection of exhibitions. The Siemens stand dominated the entire one side of Hall 9; it featured a live coldrink brewing and bottling plant that was running at a deliberately slow pace so that show visitors were able to consume the coldrink as it came off the line.
Of course Festo was there too. This innovative 'mechatronics' leader featured more than 40 active displays covering over a thousand square metres. Having grown to encompass a larger and larger selection of automation's requirements, Festo is in the position to offer full, single-source solutions. Read more about this in 'Responding to trends at Hannover Messe, 2005'.
You may notice that the magazine is a little thicker this quarter. In fact it has grown by eight pages, from 40 to 48 - Enjoy!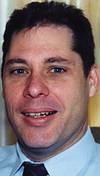 John Gibbs - editor
Send your letters to john@technews.co.za
For all your hydraulic, pneumatic and electrical drive shopping: www.mcbg.co.za
For all Instrumentation & Control shopping: www.ibg.co.za
Credit(s)
Further reading:
Obituary: Steven James Meyer
January 1957 - January 2022
Technews Publishing News & events
It is with deep sadness and shock that we announce the sudden death of SA Instrumentation & Control Editor, Steven Meyer. Steven joined Technews in October 2007 in the position of Deputy Editor. His 
...
Read more...
---
From the editor's desk: Would you like an NFT?
Technews Publishing News & events
One of my favourite light-hearted books is called Fifty Flippen Brilliant South Africans and Elon Musk stands out as one of the giants. He is one of the most iconic inventors and entrepreneurs of our 
...
Read more...
---
Fuchs Lubricants sees major growth in Africa
News & events
Moving to a centralised new head office in Isando, Johannesburg and launching a new unified product brand image in mid-November is all part of a long-term strategy for sustained growth and expansion at 
...
Read more...
---
Hytec Rustenburg establishes permanent site in Marikana
News & events
Hytec Rustenburg has established its first 24/7 satellite mine site at a prominent mine in the North West province. This enables Hytec SA to provide a tailored maintenance programme and stock a selection 
...
Read more...
---
Danfoss acquires Eaton's hydraulics business
Danfoss News & events
Danfoss has officially finalised its $3,3 billion acquisition of Eaton's hydraulics business. The move will see the Danfoss Group grow in size by a third and establish itself as a global leader in mobile 
...
Read more...
---
Festo Didactic helps customers unpack their full learning potential
Festo News & events
Technological changes are continually transforming tasks in companies today. Investment in technologies and machines alone is not enough to ensure success. Festo recognises that skilled employees are 
...
Read more...
---
Engineering Solutions Group achieves Level 2 B-BEEE status
News & events
Invicta Holdings' Engineering Solutions Group (ESG) − distributors of engineering consumables, automotive components, technical services and related solutions − has achieved recognition as a Level 2 contributor 
...
Read more...
---
BMG opens new branch in Maun
News & events
BMG has extended its service in Botswana, with the opening of a new branch in Maun. "BMG now has two dedicated branches in Botswana – one in Gaborone, which was established in 1998 to service and supply 
...
Read more...
---
Fuchs Lubricants achieves top certification
News & events
Fuchs Lubricants South Africa has achieved IATF 16949:2016 certification, which aims at providing improved quality products to automotive customers worldwide. IATF 16949, specified by The International 
...
Read more...
---
Festo's life science webinar on gas handling opens up new horizons
Festo News & events
How piezo technology more efficiently regulates flow rate and pressure.
Read more...
---