SAFPA president's letter
3rd Quarter 2011, SAFPA

Winter, a love/hate relationship! I doubt anybody really looks forward to the cold other than huskies, but I always look forward to sitting in front of a roaring fire, feeding it with wood that I have collected through the summer months. Sometimes I think the winters are getting colder, but it may just be me getting older. In an attempt to escape the icy claws of Johannesburg, the Knysna Oyster festival beckoned us. Unfortunately this was not as successful as planned as a loitering cold front kept us indoors during the first few days.
Knysna certainly stepped up to the plate in arranging a host of activities. It was impossible to attend all due to the sheer number of them. A very professionally assembled booklet was available just about anywhere in Knysna which listed all you can do during the week, including who sold oysters and at what price! By far the most well attended events were the cycling and running over the first and second weekend. That being said, the Garden Route is still going through some tough times, with loads of properties for sale, a buyer's market for those with some spare cash. We even came across some liquidated hotels.
On the SAFPA front, I have the following update:
Technical meetings
A well attended but bitterly cold walk around SAA Technical was arranged by SAFPA. Not being an aeronautical enthusiast, I found it very interesting. If there is anybody with a loose million or so lying around, SAA is looking for a sponsor to help move the old Constellation to a museum site.
Other technical meetings due in the near future will include Filtration and Specialised Hydraulic Control and Cylinder Design. Neither dates nor venues for these have been confirmed.
Hose assembly safety
The first Hose Assembly safety training course has been scheduled, with plenty of further interest. This is controlled training and participants will be registered on the SAFPA website. SAFPA has accredited trainers ready to start training in the main business centres of South Africa.
Market survey
If you are a first tier importer of hydraulics or pneumatics into South Africa, and have not received a copy of the survey questionnaire, please contact the SAFPA secretariat as soon as possible and they will make it happen. SAFPA has commissioned Tshwane University of Technology to do an independent survey of the Fluid Power industry and all input helps. There is a cost for participation but a copy of the results will be available to all participants. Anonymity is guaranteed.
Regards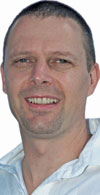 Norman Hall